Sports
Sachin Gifted Sehwag BMW Worth 1.14 Crores. Twitter Trolled Sehwag For Free Gift
Our Indian cricketers share a wonderful bond. Our senior players are in touch with each other even after retirement. The best example would be that of Virender Sehwag & Sachin Tendulkar.
We got to see the best example of their friendship when Sehwag posted a pic on Twitter thanking Sachin Tendulkar. Want to know why? Well, Sachin gifted him his dream car BMW 7 series worth Rs 1.14 crores.
They have been the best opening pair of India and such a gesture adds to sweetness. Here's what Sehwag posted on Twitter;
Thank you @sachin_rt paaji and @bmwindia .Grateful for this ! pic.twitter.com/8PQd9NxO11

— Virender Sehwag (@virendersehwag) September 26, 2017
He said, "Thank you @sachin_rt paaji and @bmwindia .Grateful for this !"
Here's the pic in case the tweet isn't loading..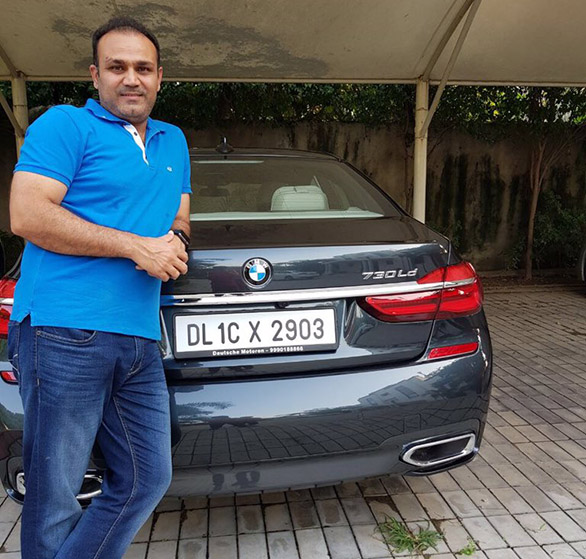 However, this didn't go down well with Twitter. They criticized Sehwag for taking this BMW as a gift from Sachin and flaunting it on the social media platform. Twitter is one such platform wherein one has to be ready for negative criticism too. Even on such a good occasion, Sehwag had to hear it from them. Check out some tweets;
Gaadi free mein milgayi?
Gaadi free mein mil gayi?????
India mein log bhuke marr rhe hai yaha 1.5 cr ki gaadiya gift horahi hai.

— P. Gaindaswamy (@GaindaSwamy) September 26, 2017
Sad bro!
India me log bhuke marr rahe hai, aur yaha log Internet/smartphone me paise waste karke tweet kar rahe hai… Sad bro !

— Atanu Das (@Atanu_SRT) September 26, 2017
Pet andar kijiye!
Photo acchi hai lekin pet andar kiya hua hai Viru! Congratulations

— Prish Thakkar (@PrishThakkar) September 26, 2017
Garib factor!
Hum jaise gareebon ko do toh faayda bhi ho kuch

— Chandler Sing (@chandler_sing) September 27, 2017
Thanks for pollution!
Paji is it hybrid ?If not then thanks for more pollution.

— Hemant Chaudhary (@hemantc12) September 26, 2017
Waah re duniya!
https://twitter.com/sameer_air/status/913066703612895232
So what do you have to say all these trolls? Are they justified? We would like you to put forth your thoughts.
Share Your Views In Comments Below