Sports
Sachin Tendulkar Told Fan He Shouldn't Celebrate His Historic 200 In ODI 9 years Ago, Here's Why
If I were to go around asking people on the streets about their favourite cricketer, most of them would unanimously reply "Sachin Tendulkar."
To call him the God of Indian Cricket is really not an understatement. The man, who is the epitome of class and grace, has done more for Indian cricket than one can possibly imagine.
Incidentally, exactly 9 years ago, Sachin had scored his historic 200 in the ODI series, and he was the first cricketer to have achieved something like that back then.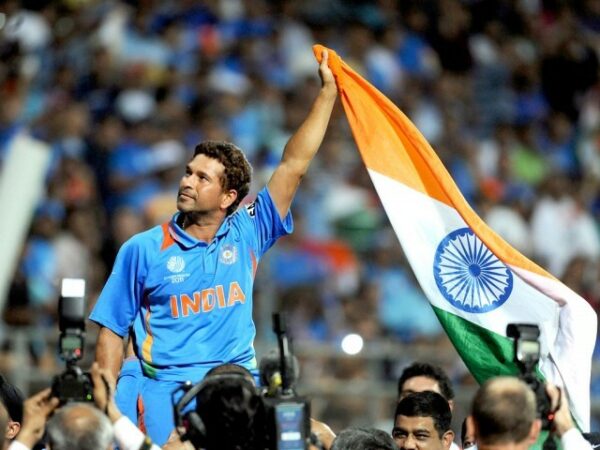 In light of the Pulwama tragedy which wreaked havoc in the nation on 14th Feb, Indians had demanded that India pull out of any match against Pakistan in the upcoming World Cup series.
Sachin had expressed a personal opinion on Twitter, where he said that he would hate to see India losing two points to Pakistan in the series.
While many praised his opinion, celebrated journalist Arnab Goswami had a different opinion altogether. He insulted Sachin on live TV, and called him an anti nationalist for having expressed his opinions.
However, Sachin proved his "patriotism" in another event recently. A fan of his, Nitin Sachinist, had recently approached Sachin in order to celebrate his landmark achievement.
The fan had made a sketch of him and even baked a cake for him, in order to honour him. While Sachin was seemingly moved by the gesture, he said that he really did not feel like celebrating, since the whole nation has been in a state of mourning since the Pulwama tragedy.
Check out what happened here:
God is always God.
When I ask him to cut cake today he said "Mujhe lagta hai hume ye cake cut nai karna chaiye! Ye acha thought hai but jo hua hai humare country mein toh hume jawaano ke respect mein cake cut karna nai chaiye."#ArnabStopLying #SachinSpeaks#ISupportSachin pic.twitter.com/vR5GWrFBHx

— Nitin Jain (@nitinsachinist) February 23, 2019
For some, the concept of nationalism and patriotism is pretty convoluted. To them, screaming on live television and imposing their opinions on others is what constitutes responsible journalism.
On the other hand, we have people like Sachin Tendulkar, who have been representing their country on international platforms and have defended her honour every step of the way.
You, my friend, can decide for yourself. 🙂
Share Your Views In Comments Below