Bollywood & TV
Salman & Bhansali Trolled For Casting Alia; Fans Asked If She Is Salman's Daughter In "Inshallah"
We have already told you that superstar Salman Khan and director Sanjay Leela Bhansali are coming back together after almost 20 years for a movie "Inshallah" and this announcement was made by none other than the "Sultan" actor himself through his Twitter handle.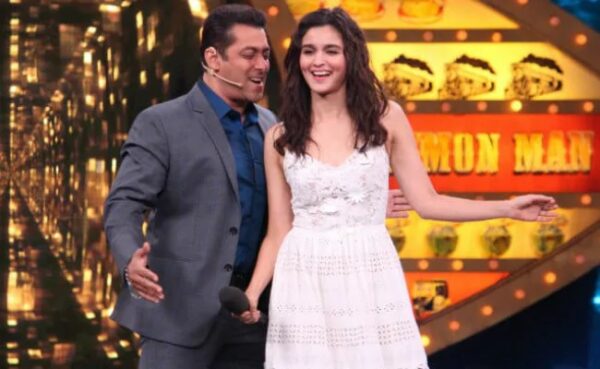 The female lead in this movie will be played by beautiful Alia Bhatt and she also took to the micro-blogging site to express her happiness as she is getting a chance to work with the two stalwarts of Bollywood.
Here are the tweets made by Salman and Alia:
It's been 20 years but I am glad Sanjay and I are finally back in his next film, Inshallah. Looking forward to work with Alia and inshallah we will all be blessed on this journey.#Inshallah #SLB @aliaa08 @bhansali_produc @SKFilmsOfficial

— Salman Khan (@BeingSalmanKhan) March 19, 2019
Dream with your eyes wide open they say & I did. Sanjay Sir and Salman Khan are magical together & I can't wait to join them on this beautiful journey called "Inshallah" ❤#Inshallah #SLB @BeingSalmanKhan @bhansali_produc @SKFilmsOfficial @prerna982

— Alia Bhatt (@aliaa08) March 19, 2019
However, there was a possibility that Sanjay Leela Bhansali would be signing Priyanka Chopra Jonas for this flick as the actress spoke on a talk show that she is in talks with the director for a film. But Alia was seen outside Bhansali's house just one day before the announcement and the very next day, people came to know about the new developments.
Salman's last movie with Bhansali as a lead actor was "Hum Dil De Chuke Sanam" in 1999 and since then, they have not collaborated together, although Salman played a cameo in "Saawariya" (2007).
The social media was flooded with congratulatory messages and fans were excited as they would get to see both their favorite actors together but then slowly, they realised that both of them have a huge age difference and the matter got escalated further when a fan shared a throwback photo of Salman and Alia.
Check out the pic:
In this image, Salman is a grown up man while Alia is a kid. The caption that the Twitter user wrote is, "Who would've thought they will work together as a lead pair. 😂 #Inshallah"
Who would've thought they will work together as a lead pair. 😂 #Inshallah pic.twitter.com/nTw6DlHuTw

— Sky! (@being_Akash_) March 19, 2019
Alia is almost 27 years younger to Salman and this made Twitterati ask Bhansali whether he is making a movie on father-daughter relationship. Well, this is certainly nothing new as many times we have seen not-so-young actors romancing young and beautiful actresses who are around half of their age.
Here are some reactions from the Twitter users:
#1
Alia 21 , salman 55
I think Father daughter story hogi

— Vicky singh (@vickysWarrior) March 19, 2019
#2
Baap beti ki story kab se bnane lag gya sanjay leela bhanshali🙄🙄

— RAHUL TYAGI🇮🇳🔱 (@rahulastic) March 19, 2019
#3
It's like Uncle romancing a niece.

— Chowkidar Juggernaut (@Bhakt97865883) March 19, 2019
#4
Director Sanjay – Grand Grandparent
Actor Salman– Grand Parent
Actor Alisa — Kid
What A Trio
Can't wait to see you guys#Inshallah

— Chowkidar Rajat jakhotiya (@JakhotiyaRajat) March 20, 2019
#5
Me after reading this news: pic.twitter.com/6qLJ5kvH1z

— Sid (@SidKSchrute) March 19, 2019
#6
10 years later, sallu will cast himself opposite Aaradhya Bachchan.

— Mohammad Meraj (@Anti_31Percent) March 20, 2019
#7
If Alia Bhatt is playing Salman Khan's love interest in #Inshallah I'm leaving this planet. pic.twitter.com/icYhqUAeMp

— BTS IS COMING!!! (@rubeenawarpa) March 19, 2019
#8
— रफीक फरहाज (رفیق فرہاز) (@farhaz98) March 19, 2019
#9
Grandchildren @aliaa08
Nd
Grandfather @BeingSalmanKhan

SLB ne bana di jodi…#InshaAllah

— SHANAYA MEHTA 🇮🇳 (@SHANAYAMEHTA_) March 19, 2019
#10
Salman and Alia as a romantic couple ? pic.twitter.com/K1zRaPZcsE

— ᏚᎪᎷᏴᏆᎢ (@Palaaaaat) March 19, 2019
#11
5 saal me Alia Bhat will play Salman's mom and bhai will still play happy-go-lucky spy/cop/chor/whatever. https://t.co/eErJgc4RIM

— tila thakela (@BucketheadCase) March 19, 2019
There is no confirmation as to what characters Salman and Alia will be playing in the movie and hence, it will be too early to pass comments in this regard. What do you say?
Share Your Views In Comments Below