Bollywood & TV
Salman Khan Ignores Arjun Kapoor At Sonam's Wedding. See Video Of Arjun's Reaction
The relationship between Arjun Kapoor and Salman Khan has always made headlines. There was a time when the duo shared a good relation; however, they are having a cold war for long now and the same could be seen at the reception ceremony of Sonam Kapoor.
A video is going viral on social media which proves that there's still a rift in the relations of Salman and Arjun. Salman went to the party with his "Race 3" co-star Jacqueline Fernandez and as he entered the venue, he met Katrina. Boney Kapoor was also standing nearby and he went to greet him.
Boney appeared to be very happy to see Salman and he kissed him on forehead. Just to inform, Boney Kapoor and Salman are very close to each other. When Boney was facing financial issues, Salman worked in his movie "No Entry" without any fee.
Arjun was also standing close to them but as he saw Salman, he went inside. It was clearly apparent that Salman and Arjun were trying their best to avoid and ignore each other.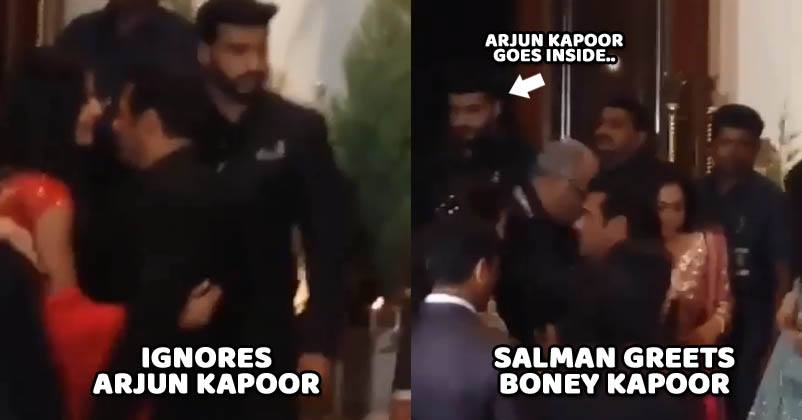 Watch The Video:
Click here to watch this video directly on Instagram
If reports are to be believed, the relation between Salman and Arjun turned bitter due to Arjun's alleged affair with Malaika Arora. When Salman got to know about this affair, he talked to Arjun and reports suggest that Salman holds Arjun responsible for the divorce of Arbaaz and Malaika. Even Boney asked Arjun to make distance with Malaika and some time ago, it was reported that Arjun wanted to improve his relations with Salman. Nevertheless, this video suggests something different and contradictory. What do you say?
Share Your Views In Comments Below