Bollywood & TV
Sasta Jared Leto To Khilji Of 2021, These Memes On Ranveer Singh's Gucci Photoshoot Will ROFL You
The Bollywood actor Ranveer Singh is known to have a quite unique taste when it comes to fashion as he is often seen in bizarre or unusual outfits. It won't be wrong to say that the kind of dresses that he wears can't be worn by anyone else because nobody has the confidence and attitude that Ranveer has. However, it also results in the "Simmba" actor getting trolled by online users quite often.
The "Lootera" star has once again given trollers ample fodder for making memes and jokes as recently he made several posts on Instagram in which he is seen in a blue tracksuit along with lots of gold jewelry. However, what made Ranveer Singh look more stylish or weird (whatever suits you) was his long-haired wig plus he was also carrying a ladies purse.
Take a look at the pics shared by Ranveer Singh:
#1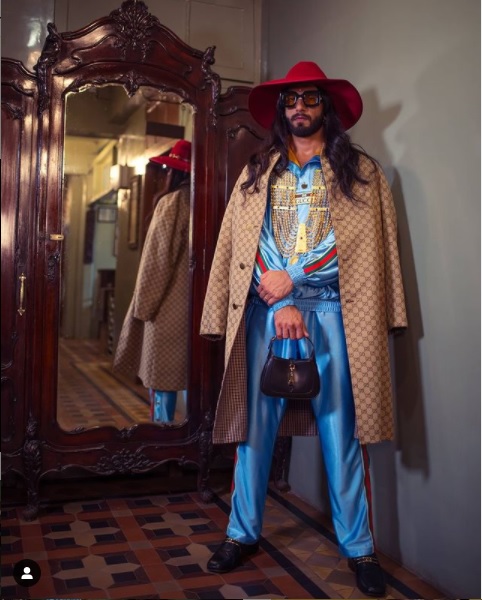 #2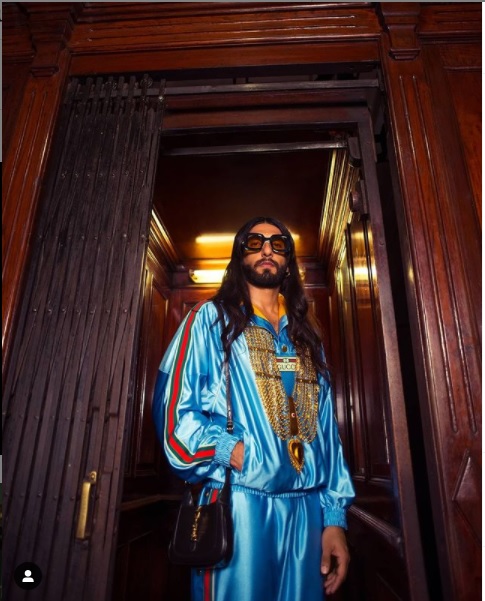 #3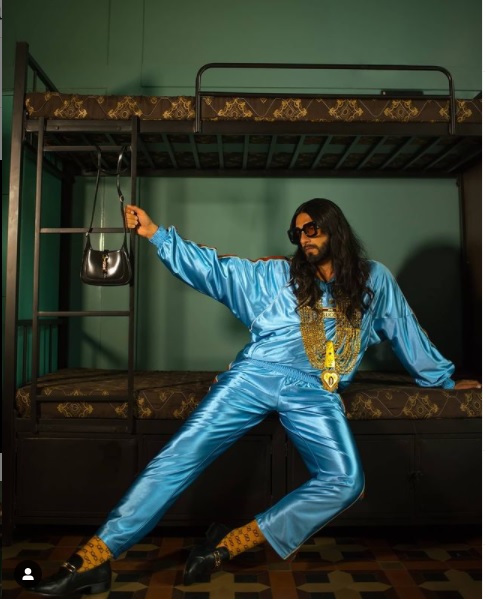 He captioned the posts, "Alessandro, my beloved @gucci @alessandro_michele #GucciBeloved #GucciJackie1961"
Here are the posts:
Despite getting mocked many times, Ranveer Singh has never given any importance to the trolls and over the years, he has become quite a favourite of memers. This look of the actor also grabbed eyeballs and memers had a field day with hilarious comparisons. From calling him desi or sasta Jared Leto to Alauddin Khilji of 21st century and even accusing him of wearing wife Deepika Padukone's outfit and jewelry, netizens left no chance of having fun.
Here are some selected reactions:
#1
class monitor's My
Assignment Assignment pic.twitter.com/ZVetxW2OAE

— Pranjul Sharma🐥 (@SharmaaJie) June 30, 2021
#2
When you traveling in bus "suddenly driver break dava de"#RanveerSingh pic.twitter.com/KEjYKQ2k56

— Pranjul Sharma🐥 (@SharmaaJie) June 30, 2021
#3
#RanveerSingh Posts New Pic😬😶

Meanwhile Deepika Rn be like…
🤦‍♀️😒 pic.twitter.com/vzFHTAFr14

— 👑 Prince👑 (@TheLolnayak) June 30, 2021
#4
When your RAC ticket gets confirmed. pic.twitter.com/j23rwVi8lo

— Sayantan Ghosh (@sayantansunnyg) June 30, 2021
#5
#RanveerSingh
"Deepika buys jewelleries and clothes for her"

Ranveer singh: pic.twitter.com/Erfwc3qOhw

— 𝐆𝐚𝐮𝐫𝐚𝐯 𝐮𝐩𝐫𝐞𝐭𝐢 (@UpretiOfficial) June 30, 2021
#6
#RanveerSingh Jared Leto…who?! pic.twitter.com/W36KPmgD5G

— The Frustrated Idiot (@IdiotFrustrated) June 30, 2021
#7
Side effects of saste Nashe 😂#RanveerSingh pic.twitter.com/OmEoHBZfwd

— 𝐆𝐚𝐮𝐫𝐚𝐯 𝐮𝐩𝐫𝐞𝐭𝐢 (@UpretiOfficial) June 30, 2021
#8
#RanveerSingh to do biopic of old school milton water bottle. pic.twitter.com/FCjOhePoyY

— Saksham Arora (@SakshamAroraaa) June 30, 2021
#9
Perfect combination #RanveerSingh pic.twitter.com/fk60Tl3dp4

— ANKUSH (@swadeshi_memer) June 30, 2021
#10
First day in office after lockdown pic.twitter.com/5z3vpommUz

— Godman Chikna (@Madan_Chikna) June 30, 2021
#11
How would khilji look like in 21st Century??

Here it is – 😂😭#RanveerSingh pic.twitter.com/XfeASYQ81Q

— 🆁🅾🅷🅰🅽♡ (@HeyItsRohantic) June 30, 2021
#12
Crush: Mujhe wo ladke pasand h jinka dressing sense acha ho.
Me: next day#RanveerSingh pic.twitter.com/glJMSryReR

— Shivam Pratap Singh (@Shivampratap018) June 30, 2021
#13
Nothing Special…#RanveerSingh shopping for @deepikapadukone like any other normal day… pic.twitter.com/JCW0q95j9G

— Tweet_Baazz (@itweetbazz) June 30, 2021
#14
If this is fashion😂😂 then it's the most dangerous thing…🤭🤣🤣#RanveerSingh pic.twitter.com/b5J14DOfFu

— Nidhi Pandey ✪ (@Nidhipandey_19) June 30, 2021
#15
*Me reserving seat for my Frnds in General compartment*🚂#RanveerSingh pic.twitter.com/Q5jeNxy7JL

— Tweetera🐦 (@DoctorrSays) June 30, 2021
Ranveer Singh is waiting for the release of his upcoming movie "83" which is based on the story of India's victory in the 1983 World Cup. It was the first time when India won the World Cup under the leadership of former Indian cricketer Kapil Dev. Ranveer Singh has played the character of Kapil Dev in the film while Deepika Padukone has essayed the role of Romi Dev, wife of Kapil Dev.
"83" was scheduled to release on 10 April 2020 but it was postponed due to the coronavirus pandemic and there is no clarity about its release as of now because the makers want theatrical release and they are in no mood to release the movie on digital platform.
What do you think of Ranveer Singh's latest dress? Let us know.
Share Your Views In Comments Below