Bollywood & TV
Sasural Simar Ka's Highly Illogical Choking Scene Gets Viral; Twitter Goes WTF
The Indian serials are full of drama and it won't be wrong to say that there are times when there is no logic in the scenes but still these serials get good TRPs and are aired for long time. We have seen many insensible things happening in the serials and recently a small clip of a show went viral because people were not able to find sense and logic in that scene.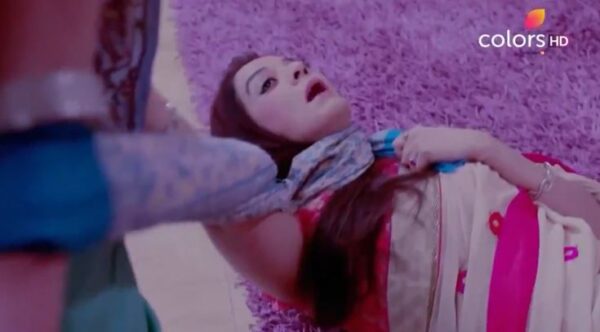 We are talking about Sasural Simar Ka which is quite popular among the daily soap lovers. As far as the scene is concerned, a character Pari is seen asking for forgiveness from her grandmother but the old woman is in no mood to forgive her and she is trying to get rid of Pari. However, Pari gets tangled in the shawl of the grandmother and the latter keeps on pulling her shawl without even looking at Pari and eventually Pari loses her consciousness while grandmother walks out of the room.
Here is the video:
— No Context Violence (@NoConViolence) January 29, 2021
Click to watch this video directly on Twitter
Interestingly, it is not the first time that Pari got entangled in a cloth. In another scene, she is seen fighting for her life after her throat got wrapped in the curtain. Watch the video:
INDIA!!!…We already talked about this! Dats not how cloth works!!! xO Lolhttps://t.co/EQd6dGI25n

— Snappy Pants (@Snappy_Pants) January 29, 2021
Soon, Twitterati started expressing their opinion and called it utter sh*t. Several others raised question on logic and few even went on to say that the person who wrote the scene must be high on something. Here are some of the selected reactions:
#1
I don't know what's more funny the fact that it's the same show, or the fact that it's the same woman his being choked by a random piece of fabric.

— Sweet_King (@Sweet_King0) January 29, 2021
#2
Thank God I stopped watching this $#|t long back 🤷🏻 pic.twitter.com/lSPY7t4YNv

— Mohini (@mohini23451) January 30, 2021
#3
— Chandler Muriel Bing (@VHewze) January 30, 2021
#4
I want to meet person who wrote thus script I think he knows how where to get quality weed.

— Sri ram Prasanna (@SriramPrasanna9) January 30, 2021
#5
sasural simar ka is like covid 19 of indian tv

— moonpie⁷ 💙 (@naamjoonaah) January 30, 2021
#6
— Parth 🏹 (@Parth20april) January 31, 2021
#7
— Swagat_Pradhan 🇮🇳 (@SwagatSpeaks) January 30, 2021
#8
RIP logic😒 pic.twitter.com/NucVPfZrnj

— vaibhav surwade (@vaibhavsurwade5) January 31, 2021
#9
अंग्रेजो भारत छोड़ो,
Ok.
Physics और logic,
तुम भी निपटो साथ में,
😝🤦‍♂️🙏

— RUPAL RANA (@rupal_rana) January 30, 2021
#10
— lifebouy (@mauktikkk) January 30, 2021
#11
😂😂 final destination ultra max pro

— Mahi Rathore (@mahi360000) January 30, 2021
#12
— J🍦 (@jiyaaaaa18) January 30, 2021
#13
@ColorsTV pic.twitter.com/op1wqA9lMs

— Kumar Sourav (@Kr_sourav09) January 30, 2021
#14
Ye kaunsa nasha hai bc 😂😂

— Diabolical 🥳🥳 (@MoodPoison_N) January 30, 2021
#15
— Adrift Gypsy 😎 (@AdriftGypsy) January 30, 2021
You can also share a clip from a serial which you feel is very weird.
Share Your Views In Comments Below