Sports
Sehwag Tweets That He Wants To Become A Selector; Twitter Outpours With Hilarious Reactions
Virender Sehwag, the former Indian cricketer, is pretty active on social media networks and very popular for making funny tweets, especially when he has to offer birthday wishes to any cricketer. Viru's sense of humor is so wonderful that he doesn't mind trolling himself just like he did recently when he talked about the test match which was played in England and he got out for duck in both the innings.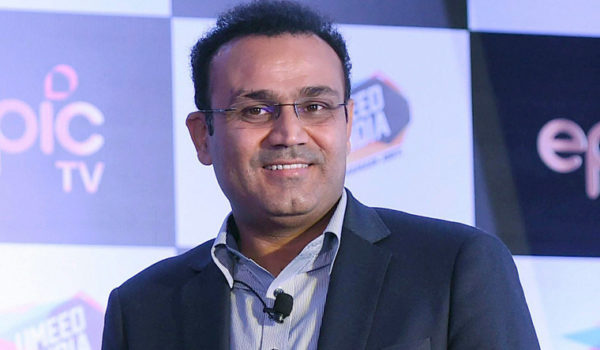 This time again, he has taken to the micro-blogging site Twitter for taking a jibe at the Indian selection committee which is already getting slammed for not being able to select a stable team. The tenure of the present selection committee which is being led by MSK Prasad has finished and the team chosen for the West Indian tour was the last team selected by them.
Virender Sehwag tweeted, "Mujhe Selector banna hai… Kaun mujhe mauka dega? #theselector"
Viru wrote that he wants to become the selector and asked as to who will give him the chance.
Check out his tweet:
Mujhe Selector banna hai… Kaun mujhe mauka dega? #theselector

— Virender Sehwag (@virendersehwag) August 12, 2019
The tweet went viral soon and people started expressing their opinions on this matter. However majority of the Twitter users were of the opinion that he is not eligible to become a selector as a selector needs to be an underperformer rather than a super achiever like him.
Here are some of the hilarious reactions:
#1
Do you have capabilities like MSK Prasad. In particular batting skills.

If No, Don't dream about it paaji…

— अभिषेक त्रिपाठी (@nation_always) August 12, 2019
#2
You are not eligible to be a selector. Aapki performance kafi acchi hai selector k lia under perform krna pdta hai😹😹

— STALKER (@TheRobustGandhi) August 12, 2019
#3
आप इसलिए कोच नहीं बन पाए थे क्योंकि आप रवि शास्त्री से लाख गुना ज्यादा बेहतर थे..
आप सिलेक्टर भी नहीं बन पाओगे क्योंकि आप MSK प्रसाद से कई गुना ज्यादा बेहतर हो..!!

अगर टेस्ट में 319 तथा वनडे में 219 के बजाय आपका उच्चतम स्कोर सिर्फ 90 होता.. 100 से कम मैच खेले होते तो बन जाते

— Abhay Pratap Singh (@SpeakerAbhay) August 12, 2019
#4
Do you have 3D qualities..? 😜

— Cricket Fanatic🏏 (@ACricfanatic) August 12, 2019
#5
Play fantasy premier League! Yaha pe sab selectors hai! @OfficialFPL

— Nikhil Ajarekar (@nik_blgmIND) August 12, 2019
#6
😂😂😂 muje PM bnna hai…koi bnayega?
Graduate hu🙊

— Vɪᴋɪ – Mʀ. Cᴏᴏʟ 😎 (@KhiladiVikas25) August 12, 2019
#7
स्टार प्लस वाले को बोलते है🙋
वही देते है मौका मौका😜😂 pic.twitter.com/rn8c9BV2FU

— समुंदर… (@nicky6676) August 12, 2019
#8
— Cute Kamina (@bittu7664) August 12, 2019
#9
— DIVYANSHU (@MSDivyanshu) August 12, 2019
#10
this man…he can do anything pic.twitter.com/na9cdDzMN7

— prayag sonar (@prayag_sonar) August 12, 2019
Will Sehwag be a good selector if he gets a chance? What do you think? Let us know your views.
Share Your Views In Comments Below