Bollywood & TV
Shaktimaan's Movie Announcement Sets Twitter Of Fire, Fans React With Hilarious Memes
The superhero movies are loved by almost every movie lover and in the recent times, Hollywood has come up with many superhero films which performed pretty well on the Indian box-office as well. Bollywood hasn't tried much when it comes to making superhero movies and few superheroes who have been created by B-Town moviemakers have not been liked by audiences much, except "Krrish", the character played by Hrithik Roshan that has been able to impress viewers to a large extent.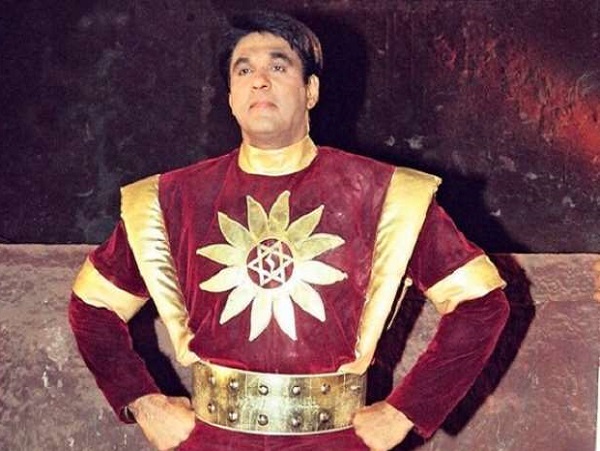 However if you are a 90s kid, you must be aware of India's first superhero Shaktimaan, the character that was portrayed by actor Mukesh Khanna. The serial was first aired on Doordarshan in the year 1997 and 450 episodes were telecasted as the show ran for around 8 years. The star cast included some big names of that time such as Kitu Gidwani, Vaishnavi, Surendra Pal and Tom Alter. The name of the title character was Pandit Gangadhar Vidhyadhar Mayadhar Omkarnath Shastri (Shaktimaan) and he was a newspaper photographer by profession in the serial.
Now after a long gap, the Indian superhero Shaktimaan is all set to make a comeback but this time on the big screen. The teaser got launched yesterday and the movie is being made by Sony Pictures International Production in association with Brewing Thoughts Pvt. Ltd. and Mukesh Khanna's Bheeshm International. The company plans to make a trilogy and though there is no information about the star cast, the reports suggest that a superstar will play the lead role.
Here is the teaser of the movie:
For More Videos, Subscribe Us Now
Click to watch this video directly on YouTube
Meanwhile, the 90's kids were not able to control their excitement which resulted in a hilarious meme fest on the micro-blogging site Twitter.
Check out some of the selected reactions:
Only 90s Kids known what is that**#Shaktimaan #ShaktimaanMovie pic.twitter.com/hacIudMYeP

— Im_babuchak (@im_babuchak) February 10, 2022
Me after watching #Shaktimaan movie annoucement pic.twitter.com/eJGat2YoAB

— Avinash yadav 🌠 (@Memelordavi) February 10, 2022
90s kids after knowing #Shaktimaan is coming on the big screen: pic.twitter.com/WdiOK26F8U

— Angshuman (@angshumorous) February 10, 2022
#Shaktimaan making comeback on big screen…

Every 90s kids RN : pic.twitter.com/Hfhfl4aBgB

— UmderTamker (@jhampakjhum) February 10, 2022
Some Shaktimaan fans also took this as an opportunity to warn the Marvel and DC fans:
Spider-Man after watching #Shaktimaan teaser pic.twitter.com/NtYP3gzAYZ

— SMJ (@iSandesh_mj) February 10, 2022
#Shaktimaan
Marvel and DC super heroes after watching Shaktimaan. pic.twitter.com/W7fknZaZjC

— Kabir Dhillon (@bahotjaadasakht) February 10, 2022
#Shaktimaan The condition of the avengers will be like this with the arrival of Shaktimaan🤣🤣 @actmukeshkhanna @SonyPicsIndia @SonyPictures pic.twitter.com/jqSYECxcyf

— Adarsh Tiwari (@DangerBrahman13) February 10, 2022
The happiness of Indian 90's kids.#Shaktimaan @SonyPictures @sonypicsfilmsin pic.twitter.com/4EbKtMfHWu

— Soubhagya (@storyatstudio_) February 11, 2022
Who will play the lead character was also the topic of discussion among fans as many feel that only Akshay Kumar can do justice to the role. There were also some who believed that Sonu Sood, Vidyut Jammwal or Mahesh Babu should play the lead role.
Only #AkshayKumar Can Justify Character Of Pandit Gangadhar As It Needs High Level Comic Timing, While He Can Also Impress With The Character Of #Shaktimaan 🌟 pic.twitter.com/5cIBytey0h

— Âjju 🌟 (@AKS_Addict) February 10, 2022
I Want #SonuSood as #Shaktimaan
What you guys think. Inse better kaun he ho sakta hai. Use this #SonuSoodAsShaktimaan if you also think so 😁 pic.twitter.com/pUSDQ3nlSH

— DesiNerd (@iamDesiNerd) February 11, 2022
Make this happen @sonypicsfilmsin #Shaktimaan with @VidyutJammwal , it will be more powerfull with #VidyutJammwal pic.twitter.com/GV5LOMO3Sk

— Rahul (Jammwallion) 🌐 (@RahulRa14594206) February 10, 2022
#Superstar #MaheshBabu @urstrulyMahesh is the perfect for #Shaktimaan@SonyPicsIndia ?? https://t.co/9I6argDNGi

— Hemendra Singh Dewal 🇮🇳 (@DewalHemendra) February 11, 2022
Who do you think will be apt for the lead role? Let us know your pick.