Bollywood & TV
Shilpa Shinde Won Bigg Boss 11. Celebs Can't Stop Pouring Best Wishes For Their Favorite Contestant
The season eleven of the reality show Bigg Boss has come to an end with actress Shilpa Shinde emerging as the winner, defeating Hina Khan in a close fight. Both the actresses, Shilpa and Hina, were considered as strong contenders from the very beginning of the show because of the huge fan following they enjoy.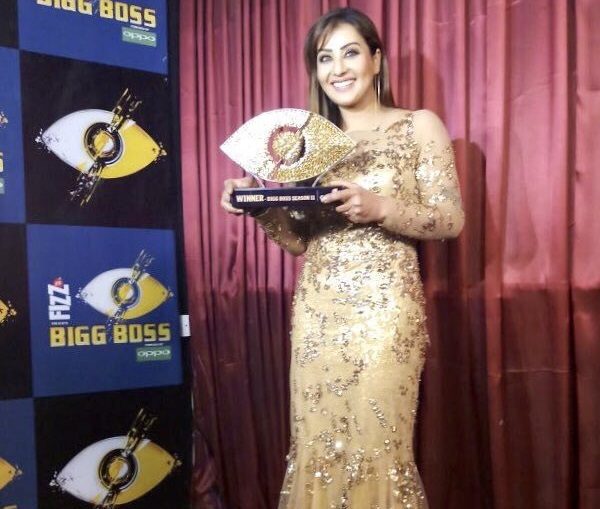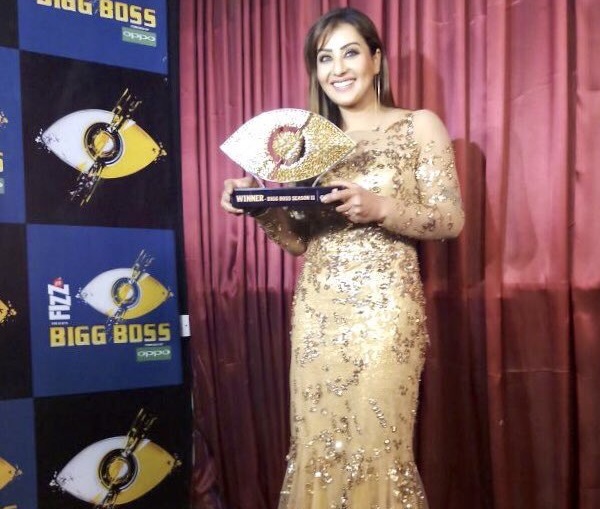 While Shilpa has been working in the television industry for a long time, Hina rose to fame with the TV serial "Yeh Rishta Kya Kehlata Hai" in which she worked for a long time. Shilpa managed to make her place in the good books of people but Hina did many things for which she got slammed and one reporter went on to the extent of calling her "mohalle ki aunty".
When Shilpa entered the house, she was also involved in a controversy related to TV serial "Bhabi Ji Ghar Par Hai!", but she didn't create any controversy inside the house. What's more, some contestants also gave her the status of mother as she appeared to be caring and cooked food for them.
It's an open secret that Shilpa got more support from TV celebs in comparison to Hina and here is how celebrities reacted after Shilpa won the Bigg Boss trophy:
1.
#Congratulations @ShilpaShinde_1 on Winning @BiggBoss Very Well Deserved! All my Love!

— Andy Kumar (@iAmVJAndy) January 15, 2018
2.
Hum JEET gaye ! ✌️🏆

💥Congrats to SHILPA SHINDE & her FANS! 💥 👍@shindeshilpas @shindeashutosh #BB11

UNBELIEVABLE the number of times she & her FANS had to prove themselves to make her a WINNER!#BB11Finale

— Vindu Dara Singh (@RealVinduSingh) January 14, 2018
3.
khaya karo andey tabhi clear honge fundey,
MAA ki respect karo nahi toh padenge dandey,
a big thumbs up to a very true & entertaining Shilpa Shinde👋👋👋

— Baba Sehgal (@OnlyBabaSehgal) January 14, 2018
4.
@ShindeShilpaS Congratulations..n all the best #BB11WinnerShilpaShinde #BB11Finale #bb11 #BB11 #ColorsTV

— hitentejwani (@tentej) January 14, 2018
5.
Well done #ShilpaShinde ! Your sheer perseverance, kindness and patience HAD to pay off. Your unprecedented fan following made sure you brought the trophy home. Bravo. Congratulations #Shilpians ! #bb11

— Kritika Kamra (@Kritika_Kamra) January 14, 2018
6.
Congratulating Shilpa Ji and all her fans for a well deserved win ❤️ #BB11 JAI HO.@lostboy54 waiting to see our rockstar ❤️ u won millions of hearts and their respect Guchipoo 😘

Welcome back all of u to the real world 😘

— Suyyash Rai (@suyyashrai) January 15, 2018
7.
Congrats #shilpa Shinde for winning #BiggBoss11 and congrats to all the fans and well wishers

— Pritam Singh (@iampritampyaare) January 14, 2018
8.
Purity, truth and self respect always wins!!! #BB11 #ShilpaShinde

— Maheck Chahal (@MaheckChahal) January 14, 2018
9.
Love this greetings to all shilpa supporters u all made it tht @justvoot crashed haahahahhahah pic.twitter.com/HXiu6pFIV0

— ੴ Dolly Bindra ੴ (@DollyBindra) January 14, 2018
10.
Congratulations #Shilpa shinde for the win .u have a great career awaiting u.all the best.#FANLOVE

— Arjun Bijlani (@Thearjunbijlani) January 14, 2018
11.
Congratulation @shindeshilpas #BB11WinnerShilpaShinde …. all the very best for future assignment. Good luck 👍🏼

— Manveer Gurjar (@imanveergurjar) January 14, 2018
12.
Most deserving & Best Contestant Wins Tonight with all the love & unconditional support of #Shilpians 🤘🏻God bless 🤘🏻#BB11 #BiggBoss11 #BiggBossFinale #BB11Update #ColorsTV #Fans #BiggBoss #BB11Finale #ShilpaShinde #Shilpa #heartiestcongratulations

— Romit Raj Prasher (@RajRomit) January 14, 2018
13.
Waiting to actually meet the winner, Shilpa Shinde will and should win #ShilpaShindeForTheWin #ShilpaShinde #BB11 #BiggBoss11Winner #BiggBossFinale @ColorsTV @BiggBoss

— स्नेहा WAGH (@the_sneha) January 14, 2018
14.
Congratulations, Shilpa Shinde. Trophy was just a formality, you won long ago. Your simplicity, truthfulness and no-nonsense attitude is unparalleled. Thank you for putting the overconfident vamp who ridiculed "Hindustan and Maharashtra" that gave her everything, into her place.

— Sonam Mahajan (@AsYouNotWish) January 14, 2018
15.
What a turn of events in #ShilpaShinde 's life. After being banned by almost everyone in the industry, she is the WINNER today. Fantastic! Congratulations galore😍 Congrats to @eyehinakhan and @lostboy54 too for making it so far . You both should be proud of urself. #BB11Finale

— Munmun Dutta (@moonstar4u) January 14, 2018
RVCJ wishes Shilpa luck for all her future endeavours!
Share Your Views In Comments Below