Bollywood & TV
Shilpa's Fan Posted Adult Pic Of Hina After Hina Slammed Her. Shilpa's Reaction Will Win Your Heart
Just few days back, popular TV actress and Bigg Boss 11 winner Shilpa Shinde attracted controversies when she posted the link of an adult video on the micro-blogging site Twitter.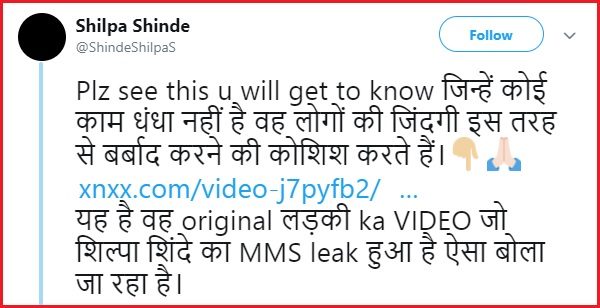 Hina thrashed her for this tweet and now a fan of Shilpa named Shruti (Twitter handle – @Shardha30696758) gave the matter an utterly wrong turn and posted adult pics of Hina. She also threatened to leak Hina's viral MMS.
Check out the tweet: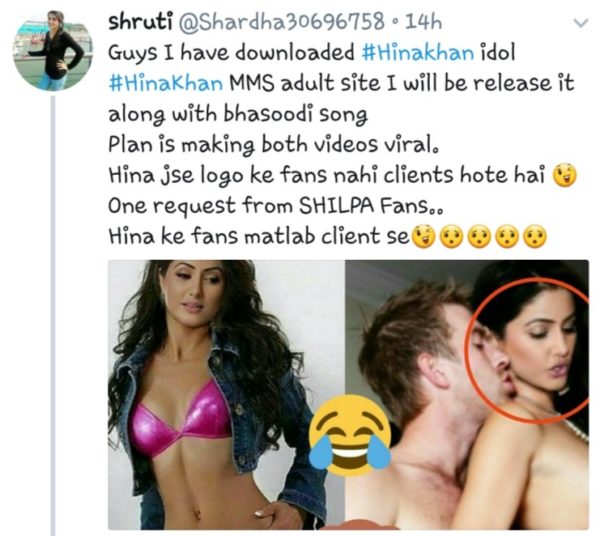 When Shilpa noticed this tweet, she requested her not to do it and delete the tweet. She wrote, "Sweetheart plz don't do this plz if u really love me don't do this"
Here's her tweet:
The fan's Twitter handle is now suspended and her act was unacceptable on the part of Shilpa's brother Ashutosh as well. He took to Twitter and wrote,
"This is bad 😡.. pls don't do this 🙏
Take this off right away.."
This is bad 😡.. pls don't do this 🙏
Take this off right away.. pic.twitter.com/GgWxCFNfqi

— Ashutosh Shinde (@ShindeAshutosh) April 24, 2018
Shilpa's intention was to clarify herself that the MMS which was said to be featuring her was of the girl in the video.
However, her Bigg Boss co-contestant Hina Khan and her boyfriend Rocky slammed Shilpa for promoting adult content on social media.
Check out Rocky's tweets:
@ShindeShilpaS whatever happened with u is unfortunate n u hav a right to Spk abt it but I ask u, do u hav a proof of consent of the woman in ths video tht u can post it? If she's the imposter u claim why don't u go Legal instead of promoting porn on Sm being a responsible celeb? https://t.co/o04BUqh4Kf

— ROCKY (@JJROCKXX) April 21, 2018
Also how do u or any of us can prove that d woman in the video was aware tht she was going to be showcased on any porn sites ?This is heights of irresponsibility! As u claim being a victim of such acts u shud hav never done this!I don't care what fans do or say but THIS IS WRONG! https://t.co/RVTqfi9D1Y

— ROCKY (@JJROCKXX) April 21, 2018
Hina supported Rocky and wrote:
Sad..anyone's fans or regular trolls may get away by saying anything on SM but as a public figure we get a power to be able to reach to millions with just one tweet and at least we should be very careful n responsible. Specially in these times, real life is not a reality show ! https://t.co/T4mro52L5t

— HINA KHAN (@eyehinakhan) April 21, 2018
Nevertheless, Shilpa's fans supported her whole-heartedly even after this and on the contrary, thrashed Hina and Rocky. Shilpa also tried to make her stand clear and said that she shared the link in her defence. Additionally, she thanked her followers and tweeted,
Thank u 🙏🏻Jo mujhe support Kar rahe Hain
Those who think am wrong, where were u, when such wrong videos made viral.
अपने defence मैं कुछ नहीं बोल सकती क्या?
Media took no time in making it viral that time, where r they today?
Thanks SM for giving me platform to speak the truth

— Shilpa Shinde. Risk everything…Regret nothing… (@ShindeShilpaS) April 22, 2018
What do you have to say in this regard? Let us know your views.
Share Your Views In Comments Below