Sports
Shivam Dube Got Heavily Trolled On Twitter For Conceding 34 Runs In An Over In India Vs New Zealand
The Indian cricket team has made history by making a clean sweep in 5-match T20I series against New Zealand. Today in the 5th T20I which was played at Bay Oval in Mount Maunganui, team India defeated New Zealand by 7 runs.
Rohit Sharma led the team as Virat Kohli was rested and once again Sanju Samson was given the chance to open the innings with KL Rahul. This time also Sanju got out early and disappointed his fans. Rohit Sharma was in superb form and he played a blistering innings (60 of 31 balls) and provided a solid base to the team with KL Rahul who scored 45 of 33 balls. The Indian team gave a target of 164 runs to the hosts which they were not able to achieve and could manage only 156/9 within the stipulated 20 overs.
The Indian bowling was quite up to the mark; however, Shivam Dube will like to forget this match as it never happened. The Indian bowler was hit for 34 runs in the one over that he bowled in the match.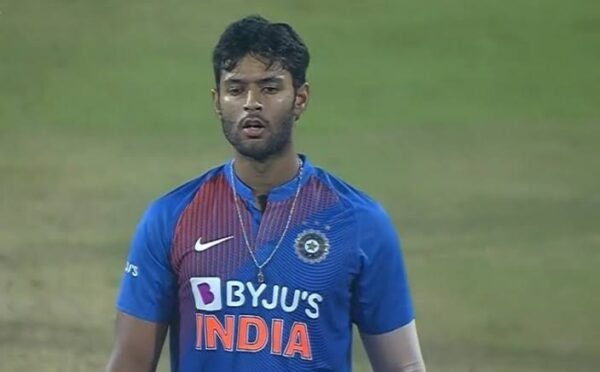 Shivam Dube was given the ball in the 10th over when Tim Seifert was batting. Tim scored 2 sixes on the first two balls, a four on the third one and a single on the fourth ball. Ross Taylor was on strike then, he scored a four on the fifth ball which was declared as a no-ball by the umpire. Ross scored a six on the free hit and then he again hit a sixer on the last ball of the over. Shivam conceded 34 runs in the over and Indian Twitterati went berserk after this unpleasant over.
Shivam Dube was trolled heavily and as he will be playing for Royal Challengers Bangalore, some Twitter users called him perfect for becoming the lead bowler of RCB. Here are some of the hilarious tweets:
#1
Shivam Dube is just a Umesh Yadav who can't even bowl well. #NZvIND

— Manya (@CSKian716) February 2, 2020
#2
Now Shivam Dube thinking about his place in the Indian team next match onwards. #NzvInd #NzvsInd pic.twitter.com/5KNz0jToUo

— Prince Pandey🍁🦜 (@princepandey_) February 2, 2020
#3
#NZvIND
When Shivam Dube bowls, batsmen be like pic.twitter.com/CGPKqKNzkY

— Homelander (@Homelander_30) February 2, 2020
#4
After seeing Shivam Dube's Bowling and batting #NZvsIND#NZvIND pic.twitter.com/6DWOrwrY5k

— OM Rajpurohit (@omrajguru) February 2, 2020
#5
Shivam Dube showing the world why he's the best to lead RCB's bowling attack in IPL.#INDvsNZ pic.twitter.com/29vY28JVtB

— Shamanth BS (@shamant18) February 2, 2020
#6
Kane Williamson to Shivam Dube. #NZvIND pic.twitter.com/zqj5HIpUEL

— Jeswin M. Mathew (@ThJeswin) February 2, 2020
#7
#NZvsIND
* Shivam Dube slammed for 34 runs in an over *
Le Stuart Broad to Dube : pic.twitter.com/O6AhOfB3cK

— Himanshu Malik (@itsHIMANSHUU) February 2, 2020
#8
Shivam dube is on the way to join Dinda academy
He passed with flying colours marks Gave 34 runs in 1 over#NZvIND #INDvsNZ pic.twitter.com/ptjkAom7VX

— OM Rajpurohit (@omrajguru) February 2, 2020
#9
Indians to shivam dube after he conceded 34 runs in a over pic.twitter.com/CHrP9g3MzF

— rAJ (@iamrjstark) February 2, 2020
#10
Shivam Dube- Maine 1 over me 34 run de diya

le Stuart Broad- 👇#INDvsNZ pic.twitter.com/D6ICz1deO7

— Vikas Baghel (@vikas__baghel) February 2, 2020
#11
Shivam Dube Career pic.twitter.com/xEYX1lomN8

— Harshit Joshi (@joshiiharshit) February 2, 2020
#12
1. What we expected from Shivam dube
2. What we almost got.#NZvIND #Shivamdube pic.twitter.com/sHy9AZeniO

— भटकती आत्मा (@iamGuman) February 2, 2020
#13
*Shivam Dube gave 34 runs in an over *

Le Broad: pic.twitter.com/9BBhTflVeD

— Prince Pandey🍁🦜 (@princepandey_) February 2, 2020
#14
Shivam Dube

Bowling – 34 runs in one over
Batting – 41 runs in whole series #NZvsIND pic.twitter.com/4vfPFn8jas

— Pappu Bhai 🌍 (@munna_dixit) February 2, 2020
#15
Meanwhile RCB in OLX #ShivamDube pic.twitter.com/4kSe3Bk9mC

— Vishakan Soundararajan (@Vishak_Sound) February 2, 2020
Which one did you find the funniest?
Share Your Views In Comments Below