Food
Someone Adds Soya Sauce To Jalebi To Make Chilli Jalebi, Foodies Say "Lockdown Ka Effect Hai"
There is nothing wrong in carrying out experiments while cooking food dishes because only then we may come up with some new recipes or enhance the taste of old dishes but there has to be some logic and sense while experimenting. However, there are some people who are making such weird dishes which are even difficult to imagine, for example, orange maggi, chocolate maggi, maggi biryani, ferrero rocher manchurian, sweet maggi with milk, ice cream dosa and so on.
When we thought that such mindless experimentation with our favorite food dishes is coming to an end with the end of 2020, one person destroyed the taste of our loving sweet jalebi. The person added soya sauce, bell peppers and garlic to jalebi and named it as chilli jalebi.
Here is the photo of chilli Jalebi which has been shared by a Twitter user: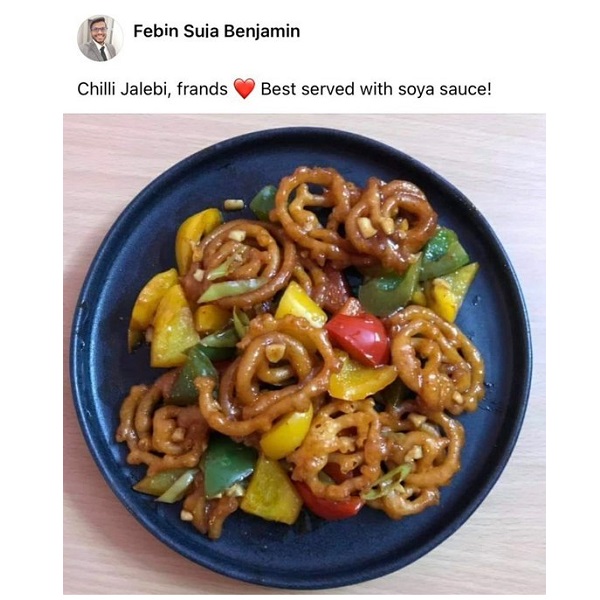 @ikaveri Your views please! 😝 pic.twitter.com/lObXpxcvxN

— Dr. Jatin Anand 🤝🏹¯_(ツ)_/¯ (@drjatinanand) December 9, 2020
Quite obviously, Twitterati lost its cool as soon as this photo was posted on the Internet and netizens started slamming the person who did this to their favourite jalebi. While some said that the person should be arrested for this, several others felt that people have lost their mind in the coronavirus lockdown.
Check out some of the selected tweets:
#1
Tight thappads. Get in line. https://t.co/DHqMkWRCiC

— Kaveri 🇮🇳 (@ikaveri) December 9, 2020
#2
I agree. Thappad is deserved as no dhaniya has been put 😂

— Dupindera Sandhu (@dupisandhu) December 9, 2020
#3
— sriramnat (@sriramnat) December 9, 2020
#4
Arrest this guy 😠

— Sumita (@ExtinctTown) December 9, 2020
#5
— Prabin Baral (@PrabinBaral1) December 9, 2020
#6
Lockdown has truly made some ppl lose their sanity.

— Kripal (@higher_keller) December 9, 2020
#7
This is beyond blasphemous and sacrilege together.

— the R A N J E E T (@theonlyRanjeet) December 9, 2020
#8
I think we've seen everything this year. I don't think nothing will surprise me in Year 2021 🙂

— Srizzler (@srizzler) December 9, 2020
#9
lol and I can't even imagine the taste!

— #SavePriyanshu (@crowngaurav) December 9, 2020
Jalebi is one of the most loved sweet snacks of Indians and it is often eaten in breakfast in North India so such treatment to this lovely dish is certainly beyond imagination.
Will you dare to have chilli jalebi? Don't ask me, I don't even wanna think about it!
Share Your Views In Comments Below