Food
Someone Ate Pizza In Weird Way With Fork & Knife, Twitter Said The Person Should Be Banned Forever
There is a certain way to eat almost all the food items but some people love to have them their own way. Pizza is one of the most loved food items of the world and it is served in a manner which defines its way of eating. It is mostly circle shaped, divided in triangle shaped pieces and a person is supposed to eat it piece by piece. Mostly people like to eat the crust in the end but some people start eating from any side.
Nevertheless, there was one person who ate pizza in such a ruthless manner that Twitterati called it a food crime. In the US, there is a restaurant named Honest Crust Sour Dough Pizza and they posted a tweet in which they revealed the manner in which a customer ate Pizza. The customer used knife and fork and left all the crust in the plate while eating only the middle part.
Take a look: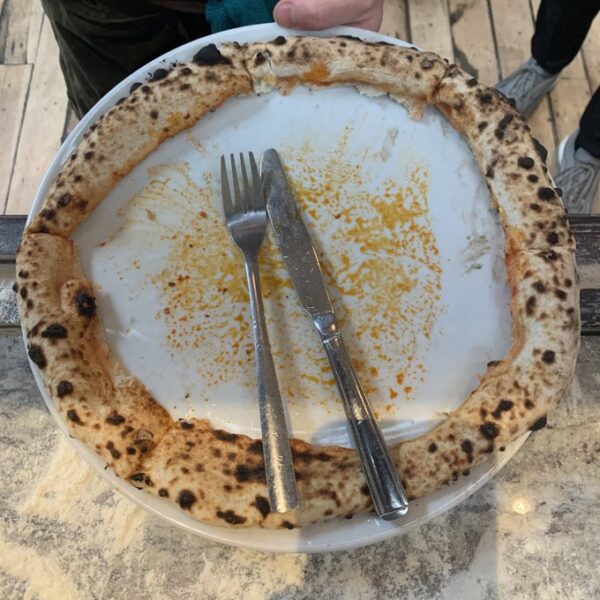 The restaurant captioned the image, "2020, why do you want to hurt us so much?" with a crying emoji.
2020, why do you want to hurt us so much? 😭 pic.twitter.com/Hj8Tn9JlK9

— HCSourdoughPizza (@Honest_Crust) October 24, 2020
Netizens also went crazy after having a look at this tweet and Pizza lovers were so hurt that they demanded the person to be locked in jail or banned from eating pizza forever. Here are some of the selected tweets:
#1
MONSTERS pic.twitter.com/BkJzBgwU2x

— chris (@drygatechris) October 24, 2020
#2
Never trust a person who eats pizza with a knife and fork.

— Nigel Dean (@nigel_dean) October 24, 2020
#3
That is a criminal offence. Man hunt in order

— Jack Brown (@JackN9Brown) October 24, 2020
#4
They probably had their crusts cut off their sandwiches when they were children!

— Stephen Rycroft (@RycroftStephen) October 25, 2020
#5
Find out who that is and ban them for life 😂

— Ryan Brennan (@Brennan719) October 24, 2020
#6
What kind of evil is this?

— Honey Badger Custodian (@DylanWynneJones) October 25, 2020
#7
People who do this should not have pizza https://t.co/vIVo7ewqlY

— Alex Micu (@axelk) October 25, 2020
#8
I would never eat the best part of a pizza with a fork and knife. 😜

— steven – wear a mask | Black lives matter (@stevenbrown33) October 24, 2020
#9
You gotta call the police after seeing this 🚨 https://t.co/8FTFQ1JlH5

— Clay 🎙🎚 (@ClayOnAir) October 28, 2020
#10
Who eats pizza like that?! 😳 https://t.co/iOB6bA6IdX

— London's Pure Country 93 (@PureCountry93) October 28, 2020
However there were some people who had different opinion over this:
#1
How hard can it be to put tomato sauce and cheese all the way out to the sides ? No one wanna eat dry bread… I would do the same with this pizza 4 sure !

— Thomas Marstrand (@sykozrTV) October 28, 2020
#2
Could be a diet or allergy thing? I don't like thick pizza crusts and often leave them.

— Graham Donning (@Greyman49) October 31, 2020
#3
You know that the people of Naples, Italy (where pizza was INVENTED) eat their pizza this way? So, the people who invented pizza eat it wrong??? I don't think you can say that.

— Janelle H (@CiCiNailPolish) October 27, 2020
#4
What's wrong with it… That's how I eat mine….

— Kevin Whitlow (@Kevin_Whitlow) October 27, 2020
There is no denying the fact that 2020 has been a very bad year, we have lost so many lives due to the coronavirus pandemic and such incidents further make food lovers angry. Whatever, how to eat a dish is a person's own choice so people just need to chill!!