Bollywood & TV
Sreesanth Said "Khada Toh Hota Nahi" To Vikas. Twitter Slammed Sree & Asked To Throw Him Out
The atmosphere inside the Bigg Boss 12 house is heating up with Sreesanth's unpleasant remarks and derogatory comments for the housemates like Karanvir Bohra and Rohit Suchanti and guest Vikas Gupta who stepped in the house for some time with the winner of Bigg Boss 11 Shilpa Shinde.
Sreesanth who is already making headlines for all the wrong reasons and misbehaving with other contestants got into an ugly fight with Vikas Gupta and insulted him with offensive words. During the Rangoli task, he called Vikas a loser to which the latter repeatedly termed him as 'badtameez' (ill-mannered).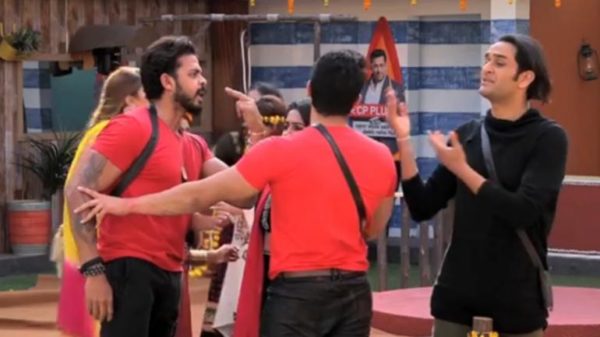 After the heated war of words, Sreesanth lost his temper and when Dipika and other housemates interfered, he teased Vikas by saying that he hides behind women.
Things turned worse when Sree commented on the s*xuality of Vikas and said, "Unko chahiye ladies kyunki mard hone ke liye khada hona padta hai na, khada toh hota nahi..".
Here's a video in this connection:
.@sreesanth36 ne le li hai ab Shinde parivaar ki side aur bhidenge woh @lostboy54 se! Kya naya tamasha shuru hone wala hai ab #BB12 mein? Jaanne ke liye dekhiye #BiggBoss12 aaj raat 9 baje. @iamappyfizz @oppomobileindia @TheGarnierMan @letsdroom pic.twitter.com/8lKp7VU5xq

— COLORS (@ColorsTV) October 31, 2018
Click here to watch this video directly on Twitter
This is indeed a double-meaning sentence that appears to raise questions on Vikas' manliness and by Khada, it seems as if Sreesanth talked about private part. However, here we need to give him benefit of doubt as we know that his Hindi is not good and due to the language issue, he might have unintentionally hurt Vikas and there may be a case that he was not actually intended to say this.
We don't know the actual meaning of Sreesanth's statement and can only make guesses about it, for language problem of course. However, Twitter has already proved him guilty and slammed the Indian cricketer in the worst possible manner for his cheap antics and insulting behaviour.
Here are some selected tweets:
#1
That 'khada nahin ho sakta' taunt at #VikasGupta was a terribly low class thing by #Sreesanth. #ShameonSreesanth

— Bigg Boss101 (@BB11goss) November 1, 2018
#2
@Bhuvneshwarisr1 @sreesanth36
I am not sreesanth hater just i didn't understand
1.his anger for poor people
2.His comments on anybody's sexuality.
3. comment on KV "beechaka"
4. Comment on vikas " mard hone keliye khada hona padta hai"
5. Why he thinks girls are powerless.

— Surabhi Jadhav (@SurabhiJadhav2) November 1, 2018
#3
Sreesanth to #Vikashgupta – "Mard Hai Toh Khada Hoke Dikha"
Sreesanth to #KaranvirBohra – "'Tu Beech ka hai"
Sreesanth to #DeepikaKakkar – "Mein deta nhi leta hai"
Sreesanth to #RohitSuchanti – "Srishty bend hua fruit hai, lene mai kya burai hai!"#ShameOnSreesanth #BiggBoss12

— Shiva Kushwaha (@bloggerShiva) November 1, 2018
#4
I am sure Sreesanth has some upbringing issues. The way he behaves is unpardonable. He told Vikas Gupta something like 'tu mard nahi hai. Khada nahi hota hai'. After vikas protested he tried to cover it up. Now I know Y @harbhajan_singh slapped him. @TheKhbri @mayurdubey

— Sandeep kumar (@aboutsandeep123) November 1, 2018
#5
I think that he should be out as soon as possible otherwise no use of watching a show #bigboss
Should be named #torcherwithsree
N what #sreesanth thinks of himself
Bada mard samajhta h kya apne aap ko jo sabse bolta rhta h k tu to beech ka hai,khada hoke dikha #disgusting

— Shweta (@Shweta83874427) November 1, 2018
#6
He is a loser, I never liked Vikas Gupta in n never supported him during season 11 but things #Sreeshant said about him "mard hone ke liye khada hona padhta hai"..is disgusting.. i hv never seen a loser like #Sreesanth in my entire life.. he doesn't deserve to b in dt house

— Namita Haldankar (@namitahaldankar) October 31, 2018
#7
If you can support a man who openly threatens someone for something he did himself did wrong, tells vikas "tu admi hai to khada hoke dikha". Tells dipika some shit .. shame on people supporting sreesanth.#ShameOnSreesanth

— angel (@angel74433873) October 31, 2018
#8
@Bhuvneshwarisr1 Sreesanth said to KV n Vikas "Khada nahi hota sirf leta hu" Dipika was standing right there! Maybe you appreciate such vocabulary of his in the bedroom but please teach him some etiquette and manners! Apne bachon ka hi sochlo! #BB12 #bb12 #VikasGupta #BiggBoss12

— Nikita Sharma (@TruthSeekerNiki) November 1, 2018
#9
#Sreeshant to #VikasGupta "Khada to hota nahi" aur tali baja raha tha , #Sreesanth to #DipikaKakar "Muje lene me maja aata he dene me nai" ! Sick man !! #BB12 #BB12OnVoot @lostboy54 @BiggBoss @ColorsTV @BiggBossCritic2 @_biggbossfc @BiggBossCritic3

— Sanam Rajput (@sanamrathore709) November 1, 2018
#10
@lostboy54 respect for u dude. Khada nai hota sentence should not be used in a family show. @sreesanth36 u were calling him casting couch.
What about u dude…betting kand bhul gye apna.#hate_for_yoy_sreesanth

— shubam gupta (@shubamg16412865) October 31, 2018
#11
#Sreesanth journey in #BiggBoss12 #bb12 for#ShrishtyRode bend fruit comment on her boobs#VikasGupta Mrd hai toh khada krke dikha#KVB beech ka hai tu#rohit sexuality#DipikaKakar naukr #DipikaKakar pallu ke pichhe chhup ja 2 kv

— naeem bargir (@nbofficiallive) October 31, 2018
What do you think about Sreesanth's remarks and acts? Let us know your views.
Share Your Views In Comments Below