Bollywood & TV
Sreesanth Sent To Secret Room After Mid-Week Eviction. Twitter Is Very Angry & Slamming Bigg Boss
The first ever mid-week eviction of Bigg Boss Season 12 took place last night and the nominated contestants were Sreesanth, Karanvir and Neha.
There is no denying the fact that all the housemates got shocked after the sudden announcement of mid-week eviction by Bigg Boss and the trio was sent to activity area where there were three coffins. Each one of them stood in one coffin and then housemates were asked to name the contestant who they think doesn't deserve to be in the house.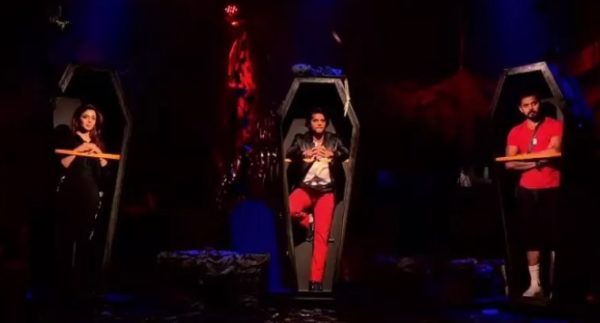 Neha got the maximum votes while no one voted for Karanvir; however, just then Bigg Boss announced that the public's decision will eventually matter and which contestant will be evicted will be determined through votes. Subsequently, former Indian cricketer Sreesanth was said to have got the least votes and hence got eliminated. All the contestants, whether singles or Jodis, were not at all happy Sreesanth exiting the house and many even cried after he left.
Well, we all know that Sreesanth did not leave the show but the main house only and he has been sent to secret room where he will accompany Bhajan Samrat Anup Jalota and will keep an eye on the activity of every contestant.
Sreesanth said that he wanted to come to the secret room to know who thinks what about him. Now it seems that a lot of fun is in store for the audiences in coming episodes of the controversial reality show.
However, Twitter is very disappointed and upset with Sreesanth's exit from the main house and they slammed Bigg Boss for playing game. Check out some reactions:
#1
I'm feeling sad today because sree bhai evicted although it is not real eviction.what you guys think write in comment section. #Sreesanth #SreeFam #BiggBoss12 #BB12 @BiggBoss #Salman
Retweet only those who supports #Sreesanth bhai pic.twitter.com/OCAeEx6saa

— Pratap Kumar (@PratapK07609178) October 10, 2018
#2
#BiggBoss12
Iss Bar Game Contestants nahi Balki big Boss Khel raha hai.
Well played #BiggBoss .#AnupJalota and #Sreesanth now in the Secret Room ..
Ab Dangal Hoga @ColorsTV

— The Arnav Khan (@VampireArnav) October 11, 2018
#3
If anyone, #Sreesanth deserved to go this week but trust @biggboss to save the worst and let go the good ones.
Their desperation for drama is evident this season. Using all the eggs in basket this early in the season to stir some chaos through one way or other. #BB12 #BiggBoss12

— ⚡ (@ThePerfectMess_) October 11, 2018
#4
Although it was not real eviction or somehow we have guessed it earlier that #sreesanth💪 will b evicted for secret room!😐😐

But afterall I didn't control my emotions & cried!🙇

If it was gonna real eviction, literally @BiggBoss kabhi ni dekhti!😎#BB12 #BiggBoss12 #SreeFam

— 👧Minerva// #SreeFam💪//✌✌ (@Pearlygirly4) October 10, 2018
#5
Wtf is happening ??#Sreesanth is Evicted from the "house" ( secret Room ) and #BiggBoss started the voting lines once Again for Eviction between #Karanvir and #Nehha on weekend.
Kya bigada celebs ne Bigg Boss ? 😑

Shock pe Shock #BB12 #BiggBoss12

— 💞 (@Like_my_likes) October 10, 2018
#6
#BiggBoss12 This secret room stuff going too far n getting boring. Eviction is the end of story of the participants. One was enough .Now speed up n send them both to their homes n just move on with the game..

— YSM (@KalmnEazy) October 11, 2018
#7
So #Sreeshant is sent to secret room but a real elimination will still happen this weekend. Then what was the point of this fake eviction #BB12

— ❤-AshVik (@TrueAshvikian) October 11, 2018
#8
Dont be surprised to see few more twist in Eliminations of this week

Only BIGGBOSS is playing, as Contestants are not doing anything #bb12 #BiggBoss12

— Satyam Kashyap (@satyamkshyap) October 11, 2018
#9
This is completely unfair what bigg boss has done is today's episode.
Evicted to #Shreesanth N sent him in a secret and he still nominates the @KVBohra and #NehaPendse
Completely disagree with the #Biggboss decision truly unfair #biggboss12

— Javed Akhtar🇮🇳 (@javed_akhtar7) October 10, 2018
What do you have to say in this regard? Let us know.
Share Your Views In Comments Below