Bollywood & TV
Sshivani Durga Performed Black Magic On Shilpa Shinde? Here's The Truth Behind This News
Bigg Boss 11 is interesting and exciting from the very first week itself, thanks to controversial contestants who are blessed with all the qualities to be a participant of the famous TV reality show. Zubair Khan and Priyank Sharma made news for their activities inside the house and now it's the turn of self-proclaimed Godwoman Sshivani Durga.
Sshivani Durga to be eliminated:
She is the third housemate who is on the verge of elimination and despite the fact that she gained much attention and limelight in the BB house, she is of the opinion that she made it to the reality show for changing public's perception towards the saint community. She has no issues with her eviction but on the contrary, she is pleased with it.
Did Sshivani really perform black magic on Shilpa Shinde?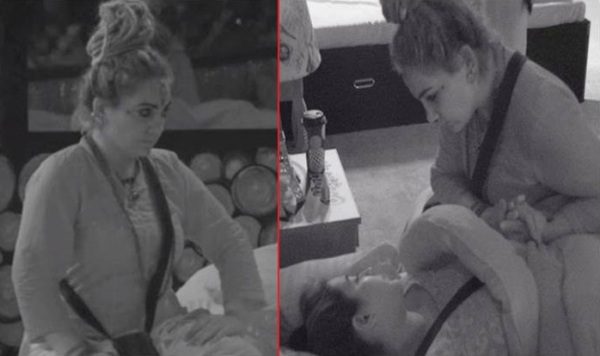 One question that has been troubling audiences is whether Sshivani is actually indulged in black magic and performed it on Shilpa Shinde. In case you missed watching Bigg Boss 11, the Godwoman was seen staring at Shilpa and while doing so, she murmured which was obviously not audible. This made people scared as to whether she did some kind of black magic on Shilpa.
Know the truth from Sshivani:
Sshivani opened up about the incident and here's what she told indianexpress.com,
"Shilpa was the one who was staring at me and I only gave it back to her. That night, the fight was between Shilpa, Hina and Vikas Gupta but I don't know why Shilpa started giving me fierce looks. As for Puneesh (Sharma), I have no clue why he spread the word that I was doing some magic."
Sadhu samaj wanted to disown Sshivani:
When Sshivani entered the Bigg Boss house, sadhu samaj reportedly wished for disowning the Godwoman and called her a fake sadhu. Sshivani condemned this action and said,
"I want to convey my message to these authorities that it's in our shastra that we can use any platform to spread the message of God. I don't understand then how can they question my choice? It's complete hypocrisy. Also, I feel participating in such shows doesn't make us fake but the ones who don't understand their duties nor lets other do it are bogus."
So now we know what's the truth. Do you still doubt her answer? Let us know your views about it.
Share Your Views In Comments Below