Brands
Starbucks Is Selling Filter Coffee For Rs 290+ Taxes, Twitter Rips Apart The Brand
The prices of food items vary from one outlet to another, from one brand to the other but what will you say if you find out that an item which is easily available for Rs. 10-15 at most of the shops is getting sold for Rs. 200 at one shop.
Well, something of this sort is happening on a daily basis as a samosa which is mostly sold for Rs. 10-15 per piece is getting sold at almost Rs. 200 per piece at airports and now Starbucks is also doing the same thing.
Starbucks is an American international coffee chain which has more than 33K stores in 80 countries. Recently, a Twitter user Adithya Venkatesan posted an image of an advertisement in which Starbucks is promoting its filter coffee which it is selling at a whopping price of Rs. 290.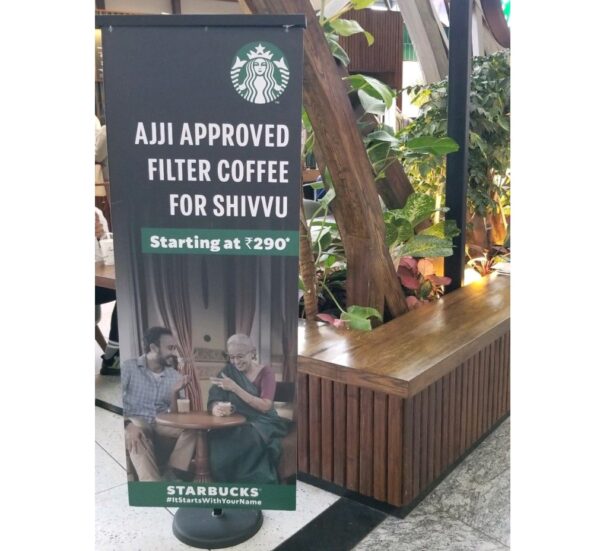 In the image, an ajji (word used for addressing grandmother in Kannada) is seen approving filter coffee for her grandson whose name has been written as Shivvu, Adithya posted the image with the caption, "Dear Starbucks, there's literally no ajji in God's green earth who'll approve a filter coffee for 290 Rs + taxes."
Dear Strbucks, there's literally no ajji in god's green earth who'll approve a filter coffee for 290rs +taxes. 🙏🏻 pic.twitter.com/JtPIhakJdq

— Adithya Venkatesan (@adadithya) January 23, 2023
Tasty filter coffee is easily available in Bengaluru or other south Indian cities in the range of Rs. 20-30 so it was quite obvious that the Indian Twitterati reacted quite strongly. Here are some selected reactions:
#1
Ajji used to masale dose and coffee for around 35 Paisa back in the days
What makes you think she will approve shivu to buy filter coffee at 290₹ 🫡

— Rohith (@bisifilterkaapi) January 23, 2023
#2
Why would anyone buy filter coffee from Starbucks!! Missing the whole authentic element.

— Ritika Patel (@Ritika__Patel) January 23, 2023
#3
Is this for a month worth of supply or just one coffee?! 😂

— Vinayak Hiremath (@hiremathji) January 23, 2023
#4
My mom – "290!!!! It's one month worth of Coffee powder!"

— Anisha (@Anisha_Annamala) January 24, 2023
#5
I can drink one cup tea a day for 29 days for 290 😂

— Mehboob-e-Elahi (@itsmelahi7) January 24, 2023
#6
Taaza Kitchen in Hyderabad – 20Rs in a glass tumbler ( like chai shops ) and Koppiyum Chennai for Rs 17 ( proper stainless steel tumbler + dabara)

— @elanagar (@Vyuhaameddata) January 24, 2023
#7
This ajji is from SOBO part of the 400mn+ middle class identified by Starbucks India :)-

— Sanjiva Jha (@sanjivajha) January 23, 2023
#8
Especially when almost street-end Dharshan's give heavenly filter coffee at 10-12₹!

— * (@SriVastav0402) January 23, 2023
#9
South Ruchi Bangalore sells better organic filter coffee at just 30/-.And it's better than Starbucks. Even mother in law likes it.

— Ravi Kumar (@ravigk24) January 23, 2023
#10
So True..

Just like how they hate ₹300 popcorn at theaters..

As my neighbors friend shared that her aajji literally openly shouts "तीनसौ का भुट्टा…!!"

she said, it's so embarrassing..!! 😅😅@megirish2001 जी, hope you never done that with anyone… 😜

— USA Er. Shinde Samir Ganeshrao (Dudhgaonkar) (@SamGDudhgaonkar) January 24, 2023
#11
Ajji after reading this board pic.twitter.com/pW2LcDZIpl

— Ayush Jain (@jainayush10) January 23, 2023
#12
Remember having paid 1000 for a coffee, milkshake, and one sandwich from the Starbucks at Kempagowda airport. And the coffee was average/burnt.
Literally, couldn't sleep that night!

— ArjunN (@pulsarjune) January 23, 2023
#13
I get very authentic and strong filter coffee near my office for ₹20.

My ajji still thinks that ₹20 is too expensive when I can have at her house for free.

She'd go berserk if she hears it cost ₹290+ tax at Starbucks and remove me from her will.

— Bran and 99 others (@TheLonStRanger) January 23, 2023
#14
This guy gives one of the best filter coffee or tea you will ever have at ₹15 and ₹10 respectively. 😅 Taxes included. Ajji approved. pic.twitter.com/6n1qEUnPrx

— Siddharth's Echelon (@SiddharthKG7) January 23, 2023
#15
Dai Shivvu, you can get 2 of our filter coffee decoction bottles for the same Rs. 290, and make TWENTY cups of coffee with that. I say, just take our decoction to Starbucks, order hot milk from them, and mix it off. Ajji will definitely approve!

— GD Prasad (@gd_vsmani) January 23, 2023
Have you tried the filter coffee of Starbucks? If yes, how did you find it?
Share Your Views In Comments Below