Lifestyle
Students Caught On Camera Performing Wild Stunts On Running Train. Their Parents Will Be Very Sad
Youth is the lifeline of every nation and our country boasts of really talented, wise and progressive young people. However, there's a huge number of youngsters in our country for whom careless is a very small word.
Every day we witness youngsters who are doing nothing but spoiling their life in bad addictions, causing a threat to themselves and society by careless driving, indulging in useless fights and what not.
Stand on the platform of any Mumbai station and you will see teenagers doing life-threatening stunts in the running local trains. We can only imagine how dangerous and how bad it is. Now a video is doing rounds on the social media in which some youngsters are seen doing dangerous stunts in the running train in Chennai.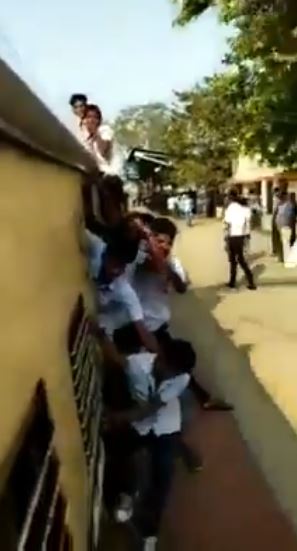 Reportedly, the youngsters caught on the camera are the students of Ambattur ITI and its really sad to see them doing activities like these while they travel from Chennai to Tiruvallur from Avadi station. Watch the video below:
@GMSRailway
This is video just now uploaded in social media . Take action against those idiots #ChennaiTrains #Avadi pic.twitter.com/2XgSNl0yyR

— Selvam Saravanan (@SelvamSaravana3) February 21, 2019
Click Here to check the video on Twitter.
It is not the first time that such activities have been recorded and videos have gone viral on social media. We hope youngsters understand the value of their life and use their energy on something which puts their life towards progress.
Share Your Views In Comments Below