Sports
Suryakumar Yadav Faced Wrath Of Netizens As He Liked Post Criticising BCCI & Virat Kohli
Every cricketer aspires to play for the country at some point of time but sometimes frustration and anger creep in when he doesn't get the call for national duty despite performing great in domestic cricket.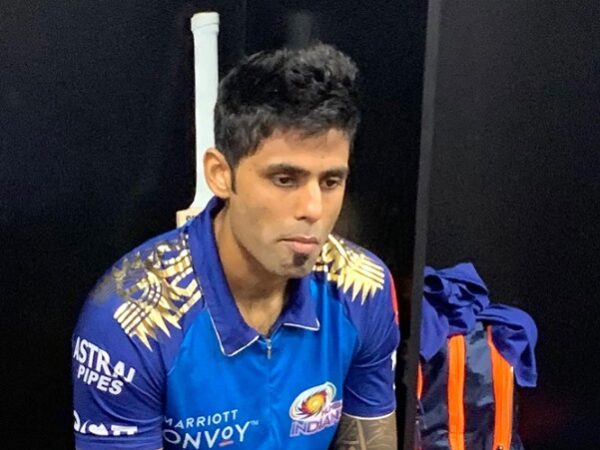 Something of this sort may have happened with Suryakumar Yadav who has created a controversy by liking a tweet made for trolling the Indian skipper Virat Kohli and the BCCI selectors. In the tweet, an image has been posted in which it is shown that Rohit Sharma is standing against the BCCI selectors, the Indian skipper and haters.
The controversial tweet which was liked by Suryakumar Yadav is based on a scene from a Tamil movie "Master". Here it is: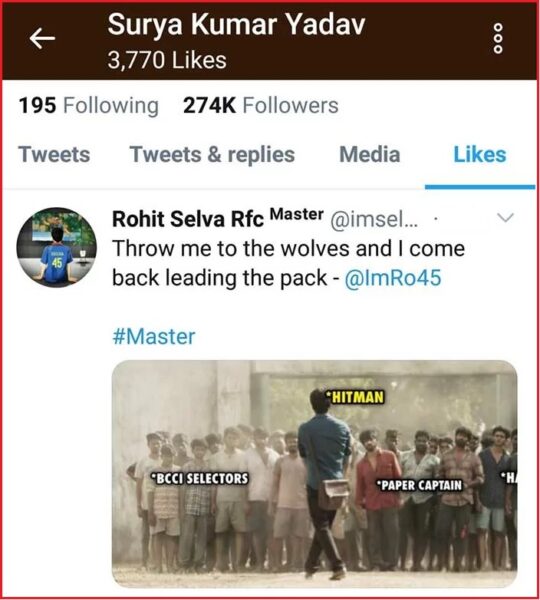 Though Suryakumar Yadav unliked the tweet later, many people had seen it till then and some of them also saved the screenshot. This act of SKY was not liked by netizens as showing disrespect to the Indian skipper is certainly not good, even though there might be a rift in their relationship.
This is how Twitter reacted over the matter:
#1
Hey @surya_14kumar , these things won't even help you a bit, I don't think you will get chance for playing in Indian squad from now. Shame On You! https://t.co/YpFzLEdnLu

— Injured Not Anshuman's lenses are broken (@AnshumaNot) November 16, 2020
#2
OMG SKY liked this tweet
May be #RohitSharma training 🤙🤙 pic.twitter.com/gGRc9osHEM

— IMO (@___ItsMyOpinion) November 16, 2020
#3
@surya_14kumar keep dreaming….with this behaviour u can't even get a spot in the team

— SarkaruVaari_Paata ♥️🔥 (@satvikbolisetti) November 16, 2020
#4
Those who supported@suryakumar yadav. Look at the respect that he gives to the Indian Captain. Now u all will realise who is SKY. https://t.co/GLvnhKOZi1

— Ambrose (@Ambrosedivya) November 16, 2020
#5
Lick your Captain @ImRo45 boots
S*le magne @surya_14kumar
You won't select for Indian Team Forever hope @BCCI see this 🤬🤬

— SURAJ (@Suraj_suri_12) November 16, 2020
#6
Sky Liked this , Ise kabhi mat lena ab team me. Domestic basher hai bashttps://t.co/L4md2D80ex

— Arun (@iArun_) November 16, 2020
#7
In Tamil there is one word called salli paya which means guy who does useless things @surya_14kumar is one of those and his skipper is leading that salli guys pack👌🏻

— Roger_Virat (@RogerVirat) November 16, 2020
#8
If this keeps happening Suryakumar Yadav should play Golf or shift to some other country

— unknownguy (@muhamma75710096) November 16, 2020
#9
A player should not do that, even if he has grudge on anyone or likes anyone more than other, I am not saying about virat only

— Aniket Roy (@AniketR25368385) November 16, 2020
#10
Shame on sky. How can he like this tweet. https://t.co/nELOiAnyDS

— Yash Jain (@YashJai35265057) November 16, 2020
#11
@surya_14kumar
U keep bucketing Rohit👍🏼👍🏼 https://t.co/pogddzfRSq

— SJ | ಸೌರವ್ (@sj_752) November 16, 2020
During the IPL there was a little confusion over Rohit Sharma's fitness level because of which he was not included in the squad for the Australian tour but the selectors did announce that they were monitoring the fitness of Rohit Sharma and Ishant Sharma. But Hitman surprised everyone by coming back on the field after resting for 4 matches. After this, the selectors included Rohit's name also in the squad but he came back to India from Dubai after the IPL got over while the other Indian cricketers took the flight to Sydney from Dubai.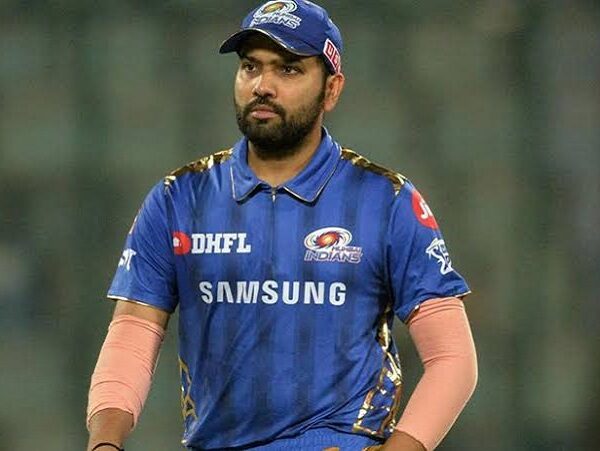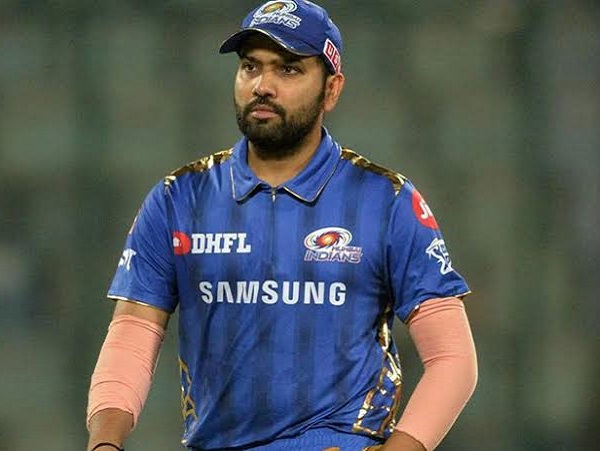 Suryakumar Yadav has been performing well for Mumbai Indians for many IPL seasons and has been hoping to play for India for a long time. In the IPL 2020, he scored 480 runs in 16 matches including four fifties at an average of 40 and played an important role in helping his team lift the trophy.
What do you think of this whole tweet incident? Do let us know.