Marriage is one of the most beautiful, precious and special moments of a couple's life as they are going to start a new phase and it is also true that relatives and friends play a significant role in their journey. While couples love to make their loved ones a part of their most important moment, guests also ensure that they make the couple feel special by gifting some really great and wonderful presents. Mostly the couples are gifted with bed sheets, dinner sets, blankets, jewelry, cash, etc. on the occasion of their marriage but a couple from Tamil Nadu was gifted with very unusual yet useful gifts by their relatives on their big day.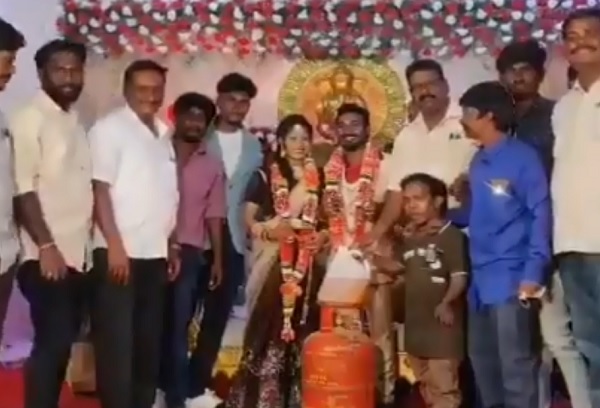 A video is going viral in which the relatives of a couple were seen gifting them items of daily use, such as petrol, LPG cylinder and onions. In this video, the relatives can be seen gifting a can filled with petrol, a gas cylinder and garland of onions to the couple. The couple also showed love for their relatives and their gifts by sporting the onion garlands and posing for camera with their relatives and gifts.
Here is the video:
Couple gets Petrol, Gas Cylinder and Onions as a Wedding Gift in Tamilnadu. pic.twitter.com/IWxqDRXy1s

— ਮਨਰਾਜ मनराज singh (@manraj_mokha) February 18, 2021
Click to watch this video directly on Twitter
There is no denying the fact that these are the items which everyone needs and in the present scenario, they are pretty costly as well. The price of petrol has reached Rs. 100 per liter in some regions of the country, the price of cooking gas cylinder is also on the rise for the past few months and onions were already making people cry with their price. So it can be said that the relatives of the couple are quite intelligent as they provided with those things without which the couple won't be able to start their new life and what can be more expensive than these things.
The Indian Twitterati soon got into action as the video went viral; while some call it the most precious gift, some praised the Tamilians for their wittiness and intelligence. Here are some selected reactions:
#1
Couple gets Petrol, Gas Cylinder and Onions as a Wedding Gift in Tamilnadu. pic.twitter.com/Wczs2EgQSx

— Shivangi Thakur (@thakur_shivangi) February 18, 2021
#2
Haha this is cute though 🤩

— Samina Shaikh (@saminaUFshaikh) February 18, 2021
#3
https://twitter.com/Nicemadhavan/status/1362373432529289218
#4
Rich gift! pic.twitter.com/LUHuldwjVC

— AutoRaja ✋ (@AutoRaja1212) February 19, 2021
#5
Waah Kya scene hai 😄

— Dshhh (@Mon_key_bath_) February 19, 2021
#6
What an idea sirji

— DIPAK DEY (@DIPAKDE98241315) February 20, 2021
#7
Tamil bros are always creative.😀

— ✋Achyuth✋ (@INC4LifeNRI) February 19, 2021
#8
What a Precious Gift!
. https://t.co/ojLY7LiGRG

— Naijil (@naijilnj) February 19, 2021
#9
Best wedding gifts ever!

— Munna (@Munna82313071) February 20, 2021
#10
Literally priceless🤩

— Dr SHAAZ 21@yahoo (@drshaaz21) February 18, 2021
What do you think of the gifts given by these relatives? Truly hatke, aren't they?