Entertainment
Tanishka And Me Are Just Good Friends. Yuzi Denies Marriage Reports, Tells Everyone To Keep Calm
Media is abuzz recently with the reports of Indian cricketer Yuzvendra Chahal and Kannada actress Tanishka Kapoor's affair.
It was being said that both of them are planning to get married and it can happen after IPL.
However, Yuzvendra took to social media and denied all the reports that are going viral these days.
He posted a note on Twitter which read as-
"Hello Everyone. This is a message that I thought to convey from my side that there is nothing going on in my life. I am not getting married. Tanishka and I are just good friends. It's a request to all the media houses and my fans to stop spreading the news and making it viral. I hope you all respect my privacy and me, kindly stop the rumours. Please stop posting about my marriage which is completely baseless. Please verify before posting anything as such. Thank You. Love To All. "
— Yuzvendra Chahal (@yuzi_chahal) April 23, 2018
You can also check the picture below-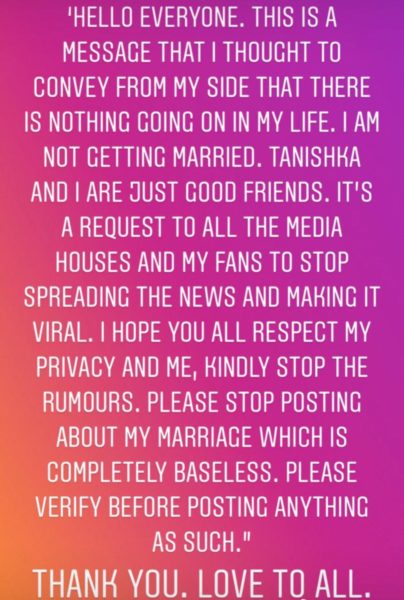 Now this ends all the rumours, right here. What are your thoughts?
Share Your Views In Comments Below