News
Tata Group Gets Air India Back, Amul Reacts To Historic Deal With A Creative Toon
Tata Group is one of the most respected business houses of the country and last week was quite special for the organization as almost after 70 years, the ownership of Air India returned to Tata Group. J.R.D Tata founded the airline in 1932 and it was known as Tata Airlines. In 1948 after India got independent, Tata Airlines was acquired by the government of India.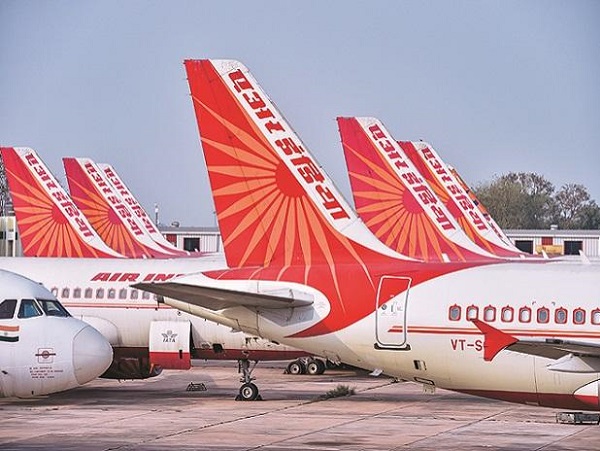 Now, the airlines is back with Tata Group and this historic incident attracted many comments and reactions on the social media networks. Many prominent personalities and politicians also reacted on this matter but the post which was noticed the most by social media users was the one made by Amul, the famous dairy brand.
Amul is known for making funny and interesting posts on different topics whether they are related to social issues, sports, politics, etc. The brand also made a post on this historic deal in which the Amul girl is shown inside the cockpit of the plane in the dress of a pilot along with a cartoon character based on N Chandrasekaran, the chairman of Tata Sons. The logo of Tata group and Air India's mascot Maharaja were also seen in the cockpit. On the top, a tagline is written which is based on a Hindi movie song "Tata Rahe Mera Dil…" (original track "Gaata Rahe Mera Dil") and on the bottom, "In good hands" is written.
Take a look at the cartoon: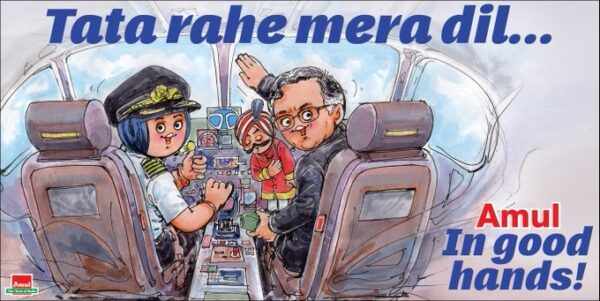 Amul shared it on the micro-blogging site Twitter with the caption, "#Amul Topical: Air India handed over to Tata Group."
Here is the tweet which is getting a lot of love from the online users:
#Amul Topical: Air India handed over to Tata Group. pic.twitter.com/GAOTYTMtXw

— Amul.coop (@Amul_Coop) January 28, 2022
This is how netizens reacted to the post:
#1
Your creative team needs to be conferred with a BharatRatna for wit & positivity🙌

— BharatBala (@BharatBala5) January 29, 2022
#2
Again a great innovation of words and present Indian sentiments by Amul. Full marks.

— Sandeep Aggarwal (@Sandeep34787057) January 29, 2022
#3
They must be singing "Ghar aaya mera pardesi"😂.. n my heart is like "my Dil goes hmm hmmm"❤️❤️

— Shikha Goel (@ShikhaGoel18) January 30, 2022
#4
Definitely in Right hand, hope, Air India will soar again in the competitive aviation market.

— Puspendu_Kayal (@puspendutony1) January 31, 2022
#5
As always amazing #creativity from @Amul_Coop👏 @TataCompanies @airindiain

— PRUTHVIRAJ पृथ्वीराज (@prittss) January 29, 2022
#6
Only Amul can……. Brilliant, as always 👏👏👏

— saurav mishra (@saurava_mishra) January 29, 2022
#7
Fabulous topical!!! Well done Amul…

— Hemant Trivedi (@drhemanttrivedi) January 30, 2022
#8
Cute layout,cartoon has come well,excellent one liner- in good hands.

— kishore m. (@dazzleblu) January 30, 2022
#9
I appreciate the way #amul contributes in everyone's happiness. @Amul_Coop BRAVO!

— RJ LuveenaBIGFM (@rjluveena) January 29, 2022
#10
Best toon so faar

— Uday Pratap (@ps_uday333) January 28, 2022
#11
Dear creators at Amul, I am big fan of yours, I remember two tag lines when I was in engineering.
Ajay de bun
And
Aa abu laut chalen.

Thanks for creating such marvels.

— शैलेन्द्र (@Shailendra_6) January 29, 2022
Tata Group has stated that its first priority will be to improve the on-time performance and also improve the services which are offered to passengers.
This is certainly a creative post by Amul! How did you find it?