News
This Teacher Travels 50 Kms Daily Just For 1 Kid. Heights Of Dedication
Some people set a brilliant example & give us a new meaning to live life. They do such good deeds that we remember all our lives.
One such example is teacher Ranjinikant Mendhe who travels 50 kms daily just to teach 1 kid. Yes, he's a government appointed teacher for a village in Bhor (100 kms from Pune). This village has just 15 huts & there is just 1 student.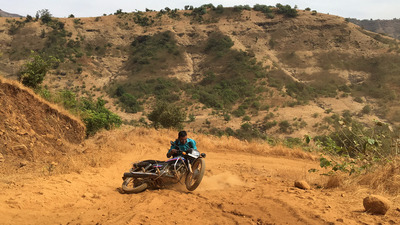 Yuvraj Sangale (8) is the loneliest student as he has to go to school without friends. Mendhe's travel is not as easy as you think. There is a 12 km mud-track and he has to cross hills with 400 ft feet drop on both sides, to reach there.
The first thing that he does on reaching the village is find Yuvraj. It's obvious that the 8 year old is reluctant to go to school because he has no friends & has to sit alone. Sometimes, he hides in trees, while at times, Mendhe has to get him to school from his hut.
During rains, it is extremely difficult for Mendhe to cross that mud track because it gets messy. It is risky to go to Chandar village school in Bhor because the area has many snakes.
Mendhe says,
"One night, a snake dropped on me from the school's roof. A few months later, while riding my bike on the mud track, I fell on a snake. I don't think I will survive a third encounter."
Moreover, there is no electricity in the village. However, he has brought in some improvements in the same. Somehow Mendhe has inculcated "E-Learning" with the help of some wires and a small TV set.
Talking about the improvisation, he says,
"Village officials provided us with a 12-volt solar panel about two years ago. I use it to power a TV that screens downloaded content. I later bought two tablets to boost Yuvraj's interest in the world beyond."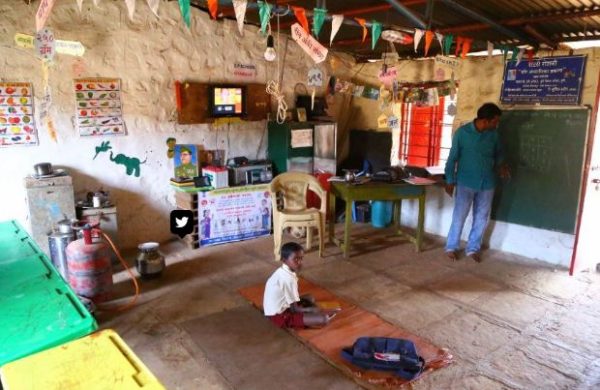 Mendhe feels sad because at this age, children get learning combined with playing, but Yuvraj has to adjust with just 1 teacher, empty desks and 4 walls.
Mendhe is a Zilla Parishad teacher and he can apply for transfer after 5 years. But we salute his dedication levels; just for 1 student, he takes so much efforts & comes all the way.
Share Your Views In Comments Below