Sports
"The Biggest Fraud Of Cricket World," Twitter Roasts KL Rahul With Memes For Dismal Show Vs ENG
The Indian cricket team's opening pair KL Rahul and Rohit Sharma once again failed in giving a good start to the Indian team and this time they failed in the second semi-final of the ICC T20 World Cup 2022 which India lost today against England at Adelaide Oval. Many Indian fans were hoping to see this pair perform well in such an important match but that didn't happen as the team which was considered to be the favourites to win the tournament was completely dominated by England in the semi-final.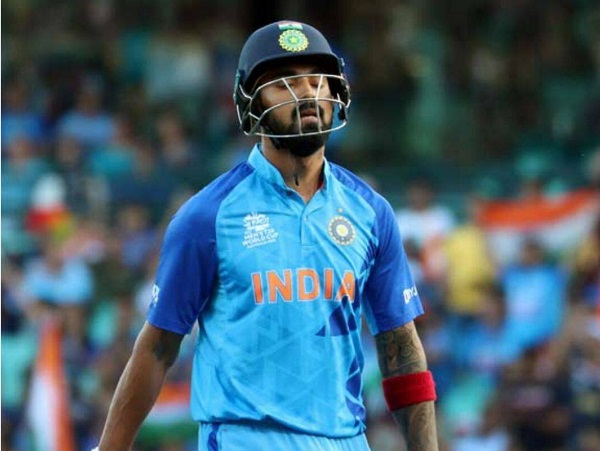 Jos Buttler led team crushed the Indian side as it registered a 10-wicket victory and confirmed its berth in the finals against Pakistan which will be played on 13th Nov 2022 at Melbourne Cricket Ground. KL Rahul is getting trolled a lot on the social media platforms as many online users feel that he bashes minnows only and always fails in the important matches. A lot was expected from the Indian openers especially after Pakistani openers Babar Azam and Mohammad Rizwan came back in form and played brilliant knocks against New Zealand in the first semi-final.
But Indian openers, especially KL Rahul has been playing poor cricket against big teams and today he got out for just 5 runs after giving a catch to Jos Buttler on the bowling of Chris Woakes. Many are of the opinion that the Karnataka cricketer is the biggest fraud in the cricket world because he fails to score under pressure because of which the Indian team has to bear more pressure in important matches.
Here are some selected tweets in which KL Rahul has been trolled after his poor performance in semi-final against England:
#1
I call KL Rahul Fraud for a reason. He is unable to score in important matches and under the pressure. And his non performance pressurises the team ultimately.

This is why
KL Rahul is the Biggest FRAUD in world cricket.#INDvsENG

— Amit Kumar (@AMIT_GUJJU) November 10, 2022
#2
KL Rahul's fav t-shirt: pic.twitter.com/fyid7aAojJ

— Myntra (@myntra) November 10, 2022
#3
We fans demand the immediate removal of Kl Rahul from every indian squad. As fans we have suffered enough because of him opening the batting for our lovely Indian team.
How many times we have to suffer?

*Your every like means you also want kl rahul dropped.#INDvENG pic.twitter.com/QTVuRUMoup

— Passionate Fan (@Cricupdatesfast) November 10, 2022
#4
'KL Rahul is the biggest fraud in cricket#INDvsENG #KLRahul pic.twitter.com/bfMorp5DtS

— Alok Kumar (@PowerAlokkumars) November 10, 2022
#5
BCCI and Whole India's mood right now on #KLRahul 😐 pic.twitter.com/x7HqfvWVjj

— sachin kumar (@sachink50481028) November 10, 2022
#6
Kl rahul gone early
Netizens be like:#INDvsENG pic.twitter.com/ebswe64lfB

— samridh agarwal (@scorp_samridh) November 10, 2022
#7
Yep, we know! #KLRahul #INDvsENG pic.twitter.com/LfaQ0JwMtS

— Poan Sapdi (@VandanaJain_) November 10, 2022
#8
That's what kl rahul form#INDvsENG #KLRahul #ICCRankings #ICCT20WorldCup2022 #PakvsNz pic.twitter.com/HcTQGzkaLH

— Pravin Prajapati (@PravinP_05) November 10, 2022
#9
*Bounce in the wicket*

KL Rahul: pic.twitter.com/wspSXF8TWu

— chacha monk (@oldschoolmonk) November 10, 2022
#10
#INDvsENG
Kl rahul in every important match be like :🥺🥺🥺#INDvsENG #KLRahul #T20WorldCup pic.twitter.com/Ldvf9tIrNg

— Anuj Saharan (@saharan_anuj_) November 10, 2022
#11
KL Rahul after playing one over#INDvsENG pic.twitter.com/eTzuM8DIjx

— Tirthesh Jain (@Tirtheeyysh) November 10, 2022
#12
KL Rahul in every important game #INDvsENG #T20WorldCup pic.twitter.com/dVRZRkblNS

— falling st7r (@i_Falling_Star) November 10, 2022
#13
All the Indians to KL Rahul :#INDvENG #WorldCup pic.twitter.com/QPTqkcvnre

— Nishant verma (@nishantverma589) November 10, 2022
#14
Buttler showing KL Rahul how batting powerplay is used #INDvsENG pic.twitter.com/eyt8P38jZ1

— shashank kumar (@skpunch) November 10, 2022
#15
India needs to win you to bat well in this must win game. #INDvsENG

KL Rahul : pic.twitter.com/b3aBMFOA8L

— Hariom Thakkar👨‍⚕️🩺⚕️ (@hariom_0702) November 10, 2022
As far as the match is concerned, no Indian fan will like to even talk about it because earlier Pakistani fans used to taunt about 152/0 and now England fans will taunt by saying 170/0.
Jos Buttler won the toss and put the Indians to bat first, the Indian side put up a total of 168/6 on the score board with the help of Virat Kohli's 50 runs (40 balls, 4 fours & 1 six) and Hardik Pandya's blistering knock of 63 runs (33 balls, 4 fours & 5 sixes).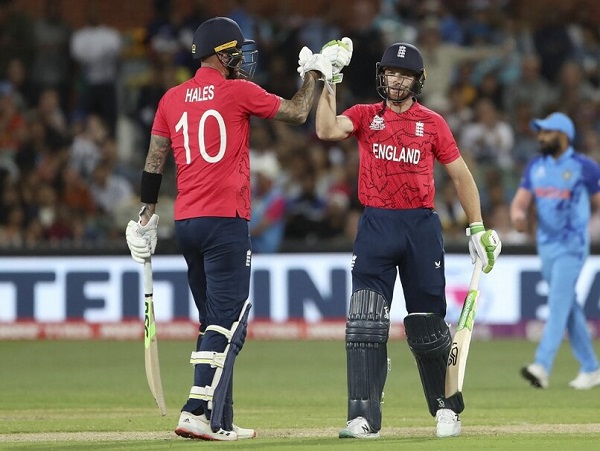 The Indian bowlers were smashed all around the ground by the English openers – Jos Buttler (80 runs not out, 49 balls, 9 fours, 3 sixes) and Alex Hales (86 runs not out, 47 balls, 4 fours & 7 sixes) and they achieved the target successfully in just 16 overs with 10 wickets in hand.
Which team do you think will win the ICC T20 World Cup 2022 – England or Pakistan?
Share Your Views In Comments Below