Featured
The Highlights Of 2019 For Twitter India
Twitter is among the best social media platform. Out there, you can follow the people you admire, learn about their thoughts and if you get lucky enough, you might also get a reply.
Twitter is famous for trending hashtags in favour or against something. People carry out successful campaigns on twitter; the platform is just bliss.
With the end of this year not far, here are some of the best twitter highlights from across every major domain.
What were the most Tweeted about conversations, hashtags, and people in India in 2019?

🥁 please…

Here is our annual Year on Twitter report! https://t.co/W1yU6EoJlr

Follow and join the #ThisHappened in 2019 conversation with these hashtags 👇 pic.twitter.com/LidZBJmsRN

— Twitter India (@TwitterIndia) December 10, 2019

1) The Golden tweet of the year.
सबका साथ + सबका विकास + सबका विश्वास = विजयी भारत

Together we grow.

Together we prosper.

Together we will build a strong and inclusive India.

India wins yet again! #VijayiBharat

— Narendra Modi (@narendramodi) May 23, 2019

The golden tweet of the year is the one which is the most Retweeted one. This decade it was Narendra Modi's tweet after he won the Lok Sabha Elections 2019.
This was also the most liked tweet of the year. The tweet has 422k likes and 118.4k Retweets.
2) Virat Kohli's birthday wish to MS Dhoni.
Happy birthday mahi bhai @msdhoni. Very few people understand the meaning of trust and respect and I'm glad to have had the friendship I have with you for so many years. You've been a big brother to all of us and as I said before, you will always be my captain 🙂 pic.twitter.com/Wxsf5fvH2m

— Virat Kohli (@imVkohli) July 7, 2019

The most retweeted tweet of the year in sports domain was this tweet by Virat Kohli in which he wished MS Dhoni, the former Indian captain, Happy Birthday.
He also mentioned, "You will always be my captain." The line which probably won everyone's heart.
3) The Most Retweeted Tamil tweet.
#Bigil pic.twitter.com/m8dpzSUDla

— Vijay (@actorvijay) June 21, 2019

The entertainment that Tamil movies provide is indeed incomparable. The action was lit as always. This tweet from Vijay about Bigil became the most retweeted tweet with comments in the Tamil entertainment domain.
4) The most trendy Hashtags in 2019.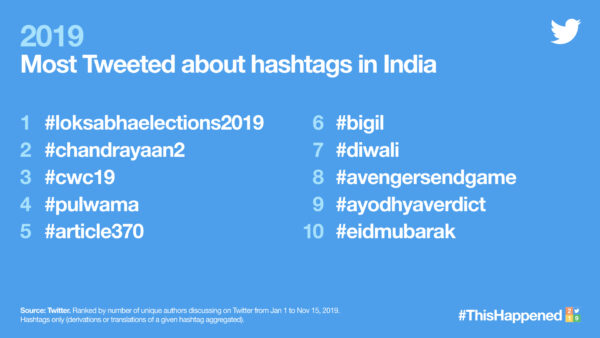 Hashtags are certainly an amazing thing on twitter and 2019 had some very trendy ones. The top most hashtag used was #loksabhaelections2019. Others included were #Diwali, #article370, #chandrayaan, #Avengersendgame.
5) The top most women handles on twitter.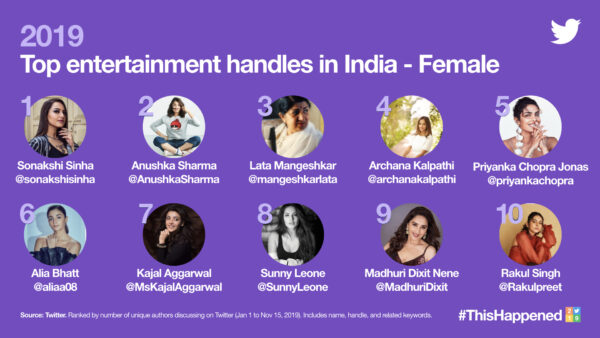 Many women were among the major influencers on twitter. The list included women from all domains like sports, politics and Bollywood.
6) Most tweeted male handles in India.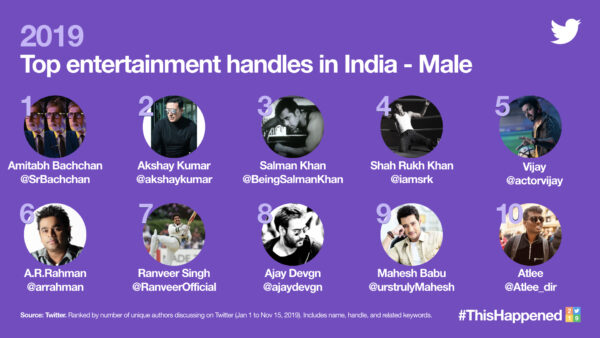 Among the most tweeted male handles, the list included Bollywood stars like Salman Khan, Shah Rukh Khan and Ajay Devgan.
And the list was topped by none other than Amitabh Bachchan.
7) Top sports handles in India: Male.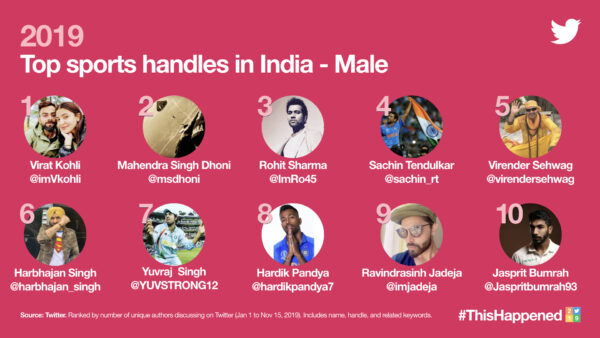 We are a sports country and cricket is a religion for us. Hence, no doubt the list included cricketers only and it was led by who else but Virat Kohli and MS Dhoni.
8) Top sports handles in India: Female.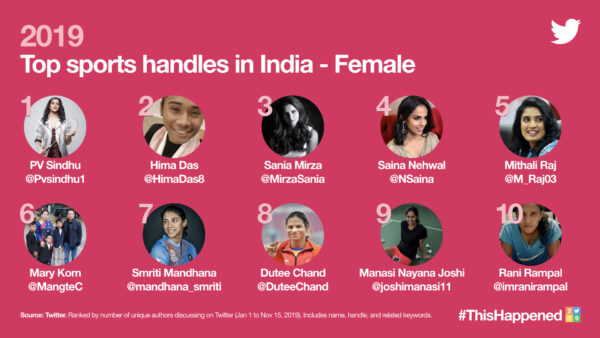 2019 saw a steep curve for growth in women's participation in sports. Women across all games, made India proud. Some of the most tweeted female sports handles included P.V. Sindhu, Hima Das and Sania Mirza.
9) Most tweeted political leaders in India: Female.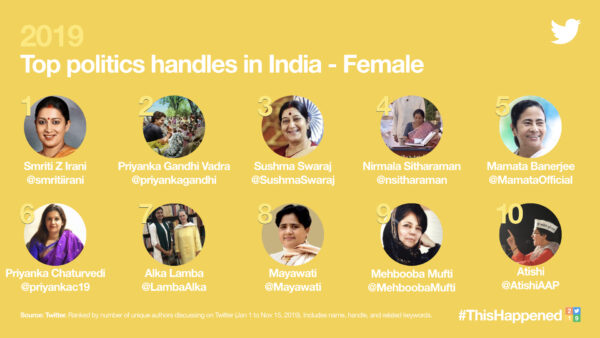 The participation of females in politics witnesses huge growth. The most tweeted political leaders among females were Smriti Irani and Sushma Swaraj.
10) Most tweeted political leaders in India: Male.


This list was led by none other than the Prime Minister of India, Mr Narendra Modi, followed by Rahul Gandhi and Amit Shah.
11) Most used Emojis.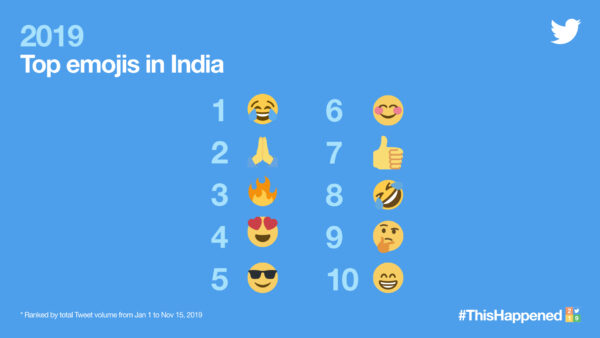 To cap off the highlights, these were the most used emojis on twitter in 2019.
Share Your Views In Comments Below