News
The List Of Most Hard Working Cities In The World Is Out. Mumbai's Rank Will Leave You Amazed
If you have ever been in Mumbai or have a closed one living there, you must have observed that it's one of the busiest cities in India. Often known as the city that never sleeps, Mumbai boats of one of the most hardworking and ambitious people.
Now this observation has been officially proved by a study by Swiss investment bank UBS. The latest study by UBS hs proved that Mumbaikars are the most hardworking people as they work for longest hours in the world.
The study has claimed that Mumbaikars work for an average 3315 hours a year followed by cities like Hanoi, Mexico City, New Delhi, Bagota and Dubai.
As part of its Price And Earnings 2018 report, UBS did the research on 77 cities around the world keeping a number of parameters in mind which also included average annual working hours.
The study has also revealed that the employees in cities like Helsinki, Moscow, Copenhagen, Paris, Rome and Lagos worked the fewest hours.
However, despite so much hard work every Mumbaikar cannot afford basic amenities of life. The research has revealed that a New Yorker can afford an iPhone X after putting in 54 hours of work but an average Mumbaikar needs to work for 917 hours to afford the smartphone. Even that is possible when the rental expense, the cost of living in Mumbai is 46% that of New York.
You can check complete list below-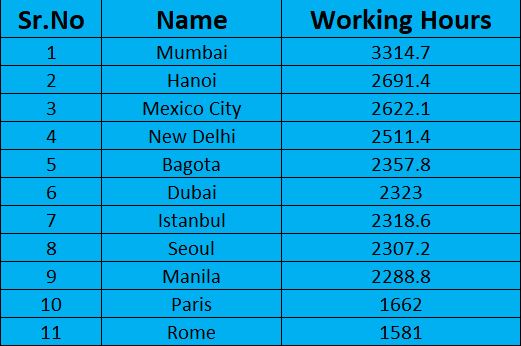 Hard work is cool but we wish Mumbaikars get the real value of their hardwork as well.
Share Your Views In Comments Below