Bollywood & TV
These 10 Bollywood Celebs Had The Most Expensive Divorces
We are habitual of watching happy endings in our Bollywood movies with the hero and heroine getting married and living happily ever after.
However, it is not the same when we talk about reality. There are many Bollywood couples who have got divorced and parted their ways. If the marriages in Bollywood are like big and fat Indian weddings, the divorces are also pretty costly.
Here we are going to tell you about some Bollywood couples who had a costly divorce:
1. Hrithik Roshan and Sussanne Khan
The married life of one of the most adorable Bollywood couples ended on a sad note. It's said that Sussanne demanded a whopping sum of Rs. 400 crore in alimony after separation in 2014 while Hrithik paid her Rs. 380 crore.
2. Karisma Kapoor and Sunjay Kapur
It was in 2014 that the two filed for divorce; however, they legally got a divorce in May 2016. If reports are to be believed, all the expenses of their children will be borne by Sunjay and here's what a lawyer said,
"Karisma will get Sunjay's father's house (in Khar) transferred in her name. Sunjay has to purchase bonds worth Rs. 14 crore for the children, which will attract a monthly interest of around Rs. 10 lakh."
3. Farhan Akhtar And Adhuna Bhabani
The couple got separated in 2017 after living together for 16 long years. Reports suggest that Farhan paid her one-time alimony in place of monthly allowances. Besides, Adhuna wished to keep Vipassana, their 10,000 sq ft bandstand bungalow. What's more, a good investment is made by Farhan for their children's future. Even though the custody of the kids is with Adhuna, Farhan has the right to meet them whenever he wants to.
4. Aamir Khan and Reena Dutta
The couple went against the will of their parents to tie the knot. It's said that they got divorced due to Aamir's wandering ways and as far as the alimony is concerned, it's rumoured to be huge but the real amount is not revealed.
5. Saif Ali Khan and Amrita Singh
There was a huge age gap of 13 years between Saif and Amrita and co-incidentally, their marriage also lasted for 13 years only. Post separation, Amrita demanded a huge alimony and here's what Saif said in an old interview,
"I'm supposed to give Amrita Rs. 5 crore, of which I've already given her approximately Rs. 2.5 crore. Also, I'm paying Rs. 1 lakh per month until my son becomes 18. I'm not Shah Rukh Khan. I don't have that kind of money. I've promised her I'll pay up the rest of the money, and I will, even if I've to slog till I drop dead."
6. Sanjay Dutt and Rhea Pillai
Although Rhea was Sanjay Dutt's second wife, he loved her a lot. Moreover, it's said that Sanju was not guilty for this separation but he had to suffer the most. As per reports, Sanjay had to foot Rhea's bills until they were officially divorced. Besides, he paid her alimony of Rs. 8 crore along with a luxury car.
7. Aditya Chopra and Payal Khanna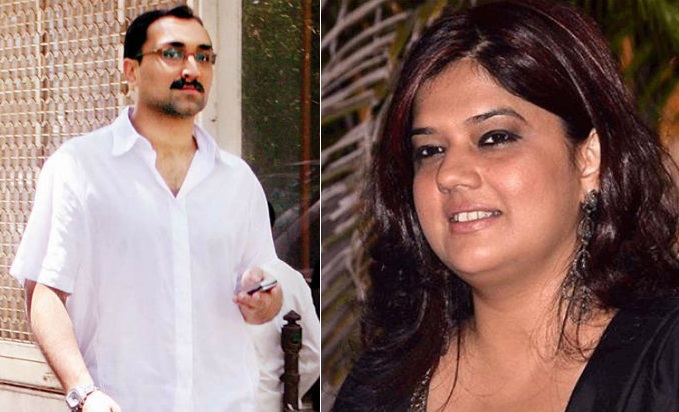 Rani and Aditya are happily married now; however, not many know that they had to pay a hefty sum for it. Aditya's first wife Payal was his childhood sweetheart; nevertheless, things didn't go down well and the couple separated. Their divorce took much time and the reason is huge alimony asked by Payal. Even though the amount of alimony is not revealed, some believe that it's Rs. 50 crore.
8. Prabhu Deva and Ramlath
Prabhudeva is one of the most famous dancers and choreographers of the present time. He had two kids with Ramlath and the couple's separation was settled for alimony worth Rs. 10 lakhs. Besides, he also gave her two costly cars as well as he transferred property of value Rs. 20-25 crore in her name.
9. Anurag Kashyap and Kalki Koechlin
Director Anurag Kashyap and actress Kalki Koechlin met on the sets of movie "Dev D" and felt the connection. They tied the knot in 2011; however, things turned ugly after two years and they separated. They got divorced in 2015 and Kalki demanded a big amount as alimony. It is being said that after Anurag's "Bombay Velvet" bombed, Kalki felt so bad for him that she settled for a small amount but some sources still maintain that a hefty amount has been taken by Kalki.
10. Rhea Pillai and Leander Paes
Rhea and Leander also got separated; however unlike Rhea and Sanjay, their divorce turned out to be quite ugly as they criticised and condemned each other in front of media. Talking of the alimony, a monthly allowance of Rs. 4 lakhs was demanded by Rhea, Rs. 3 lakhs for herself while Rs. 90,000 for her daughter's education.
Do you know about more such costly divorces? Let us know.