Bollywood & TV
These Memes On Anushka & Varun Starrer Sui Dhaaga's Trailer Are Too Hilarious To Miss
Varun Dhawan and Anushka Sharma will be seen together in the upcoming movie "Sui Dhaaga" that is going to release on 28th September, 2018. The trailer of the film was released a couple of days ago and it was loved by audiences as not just the acting of Varun and Anushka but also their chemistry was super awesome.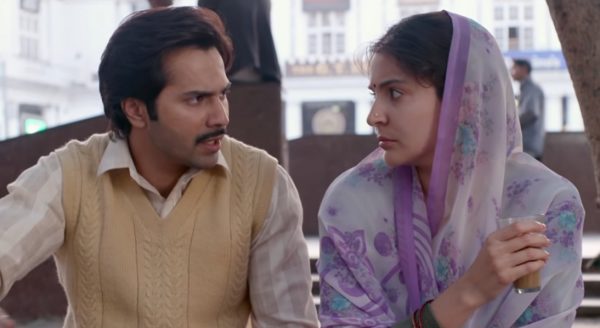 "Sui Dhaaga" is the story of India's small town couple and their dreams and aspirations. Varun portrays the character of Mauji while Anushka plays his wife Mamta. After seeing her husband insulted at the hands of his employer, Mamta encourages Mauji to do something on his own. The movie shows how they together face the problems that come their way and emerge as the winners.
Watch The Trailer:
For More Videos, Subscribe Us Now
Click here to watch this video directly on YouTube
The movie is directed by Sharat Katariya and it is being made under the banner of Yash Raj Films. While people were enjoying the trailer of "Sui Dhaaga" and praising the makers for coming up with another simple and clean movie after "Dum Laga Ke Haisha", Twitterati was busy making memes and jokes on it.
Here are some hilarious memes that surfaced over web and social media after the trailer of the movie got released:
#1
Bhabhi ji after yesterday's match to @imVkohli #SuiDhaagaTrailer #Kohli #VarunDhawan pic.twitter.com/LjitPS6Dgl

— 🕉️ (@iAbhayAwasthi) August 13, 2018
#2
* When she caught virat throwing garbage on the road * pic.twitter.com/2wkAGPfL0A

— Hunट₹₹♂ (@nickhunterr) August 14, 2018
#3
😂😂😂😂 pic.twitter.com/KHn5bti0f8

— sweety sinha (@SweetyS78410659) August 15, 2018
#4
When finally it's your turn to sit on Window Seat in Mumbai Local. 😥 pic.twitter.com/XznwlrhRPy

— Mumbaikar Chikna (@Madan_Chikna) August 14, 2018
#5
one for you @AnushkaSharma @Varun_dvn pic.twitter.com/Sr1PCAhdSa

— Ujala vimal (@VimalUjala) August 14, 2018
#6
When you're suffering from constipation !! #SuiDhaaga pic.twitter.com/mgDqJTAjaY

— Gopal Vishwakarma (@GV_unique) August 13, 2018
#7
Me traveling to work on a weekend. pic.twitter.com/AyrrnwTEYV

— Nikhil (@niquotein) August 14, 2018
#8
When Virat Kohli's decision of taking DRS turns out to be right. pic.twitter.com/MQ2IBo0Jo3

— Kaju Katli (@MonkNxtDoor) August 14, 2018
#9
When you're traveling in a jam packed Mumbai local and people have been crushing your feet pic.twitter.com/wp8pdpJXhZ

— ✪ Veer ✪ (@ClawedHumor) August 14, 2018
#10
When question paper is so damn easy…that you get emotional while asking for an extra answer paper. pic.twitter.com/vhadAmpfVM

— Arjun (@Zoomfatak) August 14, 2018
#11
When someone knocked out you and your best friend is busy looting instead of reviving you 😑 #pubg pic.twitter.com/2eTj425hyp

— noDDy🔥 (@wildest_maniac) August 14, 2018
#12
Mom's reaction after I cleared 12th exams on my 5th attempt. pic.twitter.com/IzJJ8Fz4Yb

— PhD in Bakchodi (@Atheist_Krishna) August 14, 2018
How did you find the trailer? Are you going to watch the movie?
Share Your Views In Comments Below