Sports
These Virat Kohli-Shadab Khan Memes Are More Entertaining Than India-Pakistan Clash
India and Pakistan are considered to be arch-rivals on the cricket field but for quite some time now, we are getting to see that the players of both the nations behave in a very friendly manner and the camaraderie that they share is unprecedented.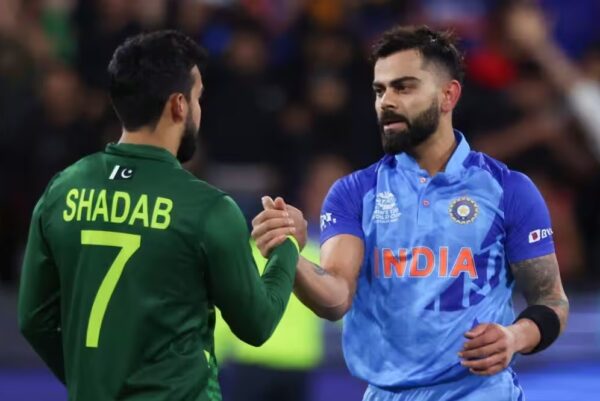 Virat Kohli is certainly one of the greatest cricketers of all times and he is admired by many opposition players as well including Pakistani cricketers. On many occasions, current Pakistani players have praised Virat Kohli and the former Indian skipper has also been quite generous when it comes to praising his Pakistani counterparts. In the Super Four clash which was played yesterday at R Premadasa International Cricket Stadium, Colombo, the spectators witnessed great camaraderie between Virat Kohli and Pakistani cricketer Shadab Khan but it went to such an extent that many felt it was cringe and this gave an opportunity to creative memers to show their creativity and sense of humour.
Virat Kohli-Shadab Khan memes made the day of those who were left upset after rain spoiled the match, here are some selected ones:
kisi roz baarish jo aaye smjh lena boondo mai main hu pic.twitter.com/OPdK6MUhdp

— Rauftar. (@arubah56) September 10, 2023
Anushka Sharma After watching Virat Kohli & Shadab Khan

memes:#INDvPAK #AsiaCup pic.twitter.com/BAtpBtVIG0

— ✨راغب✨ (@bhatragib) September 10, 2023
A massive six by KL Rahul against Shadab Khan.

Look at the reactions of Virat Kohli & Rohit Sharma…!!! pic.twitter.com/d64sKU0Tuy

— Juman Sarma (@cool_rahulfan) September 11, 2023
Virat Kohli and Shadab Khan, Meanwhile Fans and Jay Shah at the same time :#INDvPAK #PAKvIND #AsiaCup #AsiaCup2023 #ShadabKhan #ViratKohli #JayShah pic.twitter.com/h7CdOigoSB

— Dr.Biolistic (@Dr_Biolistic) September 10, 2023
Virat Kohli & Shadab Khan in the press conference after the game #PAKvIND #INDvsPAK pic.twitter.com/bDIwJZUxL9

— Usman Jamil (@thtpakistaniguy) September 10, 2023
Wo virat kohli shadab ka puch raha he k kahe bemar tw nai howa he 🤗 #ViratKohli #ShadabKhan #PakvsInd pic.twitter.com/DtaEdRFCxF

— Umair khan tajik 🇵🇰 (@dr_mairoo) September 10, 2023
Virat kohli after getting shadab khan's phone number: pic.twitter.com/JrCjnWJkpe

— Basit (@iambasit_Ba56) September 10, 2023
VIRAT KOHLI × SHADAB KHAN 🙃 💔 pic.twitter.com/LALgNCoqP6

— Mudassir Khan (@Mudassirkhan090) September 10, 2023
Virat Kohli & Shadab Khan's scene on hai🤣🤣🤣#IndiavsPak #INDvPAK #AsiaCup pic.twitter.com/hAxntJdPqV

— Rimsha Almas🇵🇰 LQ💚 (@rimshaalmas1) September 10, 2023
pata nahi shadab ne khana khaya hou ga ya nahi pic.twitter.com/iO0ggNJ4JQ

— Fzk (@fhatesall) September 10, 2023
Can't wait to see Shadab Khan and Virat Kohli dancing together in #Colombo ground during rain for making insta reel on song, "Main naachoh'n aj cham cham" 😂 #PAKvIND pic.twitter.com/z72q8GB2iT

— Amna Vibes 🦋 (@parh_lo_amna) September 10, 2023
Shadab Khan explaining about his relation with Virat Kohli #ShadabKhan pic.twitter.com/dfLB0DthA7

— سردار صدی احمد ڈوگر🐦 (@jadddi_sardar) September 11, 2023
Virat Kohli worries about shadab Khan and and angry on Rohit for hitting six to Shadab. pic.twitter.com/EZHdafu2UR

— Shadab Khan (@77shadabkhan) September 10, 2023
dur rahiye humary larky se pic.twitter.com/C6FyAYCFP9

— Sara (@sara_pirzadaa) September 11, 2023
As far as the match is concerned, after winning the toss, Pakistan decided to bowl first. The Indians started pretty well as openers Rohit Sharma (56 runs, 49 balls, 6 fours & 4 sixes) and Shubman Gill (58 runs, 52 balls, 10 fours) played brilliant knocks and provided a solid platform to their team by producing a partnership of 121 runs for the first wicket. The match was stopped in the 24th over due to rains; at that time, India's score was 147/2 with Virat Kohli and KL Rahul at the crease.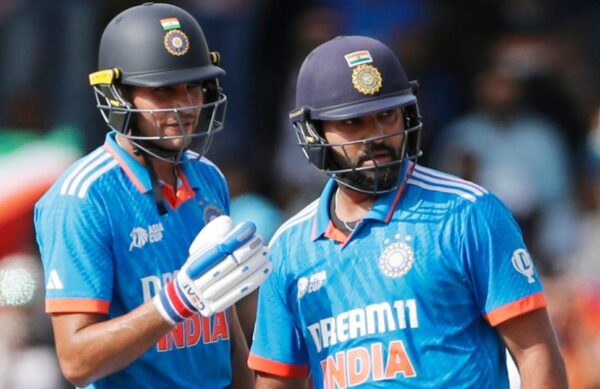 As a reserve day was kept for this match, the match started today from where it stopped yesterday and by the time this article was written, India had scored 243/2 in 39 overs with Virat Kohli playing at 50 runs* (55 balls, 4 fours) and KL Rahul playing at 71 runs* (78 balls, 7 fours & 2 sixes).
As per many experts, there are good chances that the match will get washed out but fans of both the countries are keeping their fingers crossed so that they get to see some good cricket from both the teams.