News
Thief Steals A Student's Laptop And Writes An Emotional Letter. Twitterati Is Having A Great Time
If you have seen a lot of Bollywood films from last millennium, you don't need to be introduced to the dialogue "Bahot gareeb hu saahab, meri amma asptaal mein hai, uska bill bharne ko chori ki". The victim then had a meltdown and excused the guy for stealing his money.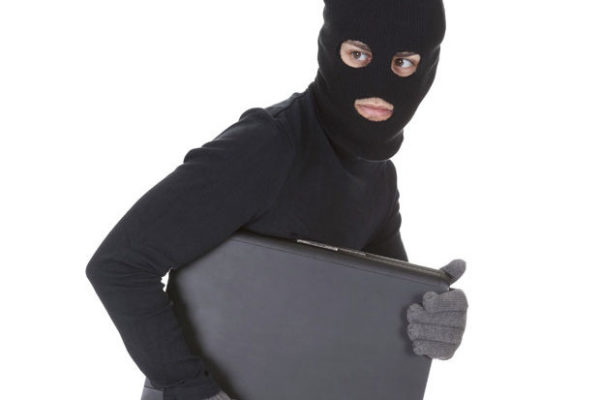 The thief which we are going to talk about seems to be clearly inspired by those films.
It happened so that a guy lost his laptop. He found that it has been stolen after he received an email from none other than the thief himself. The email is now going viral on the Twitter after it was shared the roommate of that guy. The email reads as-
AW: im sorry about your laptop
Notiz an Sie selbst An Sie
hello i am very very sorry for taking your laptop. i am extremely poor and needed the money. i left your phone and wallet so i hope that slightly makes up for something.
can see you are a university student. if there is any files such as university work on here that you need, let me know and i will send them to you here.
once again i am sorry
Notiz an Sie selbst
So my flat mates laptop got stolen today, please pree what the thief sent him 😂😂😂😂 pic.twitter.com/pDhhpmncPz

— Stevie Valentine (@StevieBlessed) November 28, 2018
You can also check the picture below-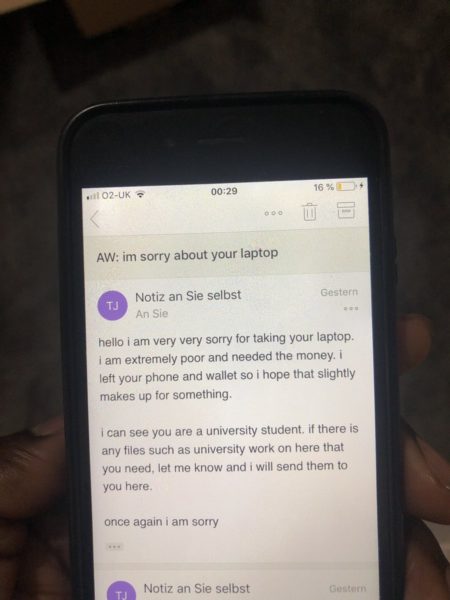 Here's how people reacted after reading the email-
#1
Who else read this in an Australian accent when they saw the word mates 😂 pic.twitter.com/u4HbnEef3W

— Amel 🌪❕ (@AMEL_IS_AWESOME) November 28, 2018
#2
Wow. I get it. And the email seems sweet. But damn you stole from a student. Students are broke too. And now they need to figure out a laptop. Or how to get their work done.

— Derick Vason Swinson (@SwinsonVason) November 28, 2018
#3
"If there are any files such as university work, that you need let me know". MANNNNNN pic.twitter.com/Jud0Mb4UfO

— sulia moses (@suliarmoses) November 28, 2018
#4
This must be the spirit of the thief that followed Jesus into paradise…lol

— Sunesis (@mrsunesis) November 28, 2018
#5
He deserves the charger pic.twitter.com/Lab5L8Me0L

— Olufemi Oyekanmi (@_jimmydneutron) November 28, 2018
#6
The thief sending the documents back pic.twitter.com/1qjzFJRMSZ

— Lemphorwana la Bojalwa (@Roooosta) November 28, 2018
#7
I actually feel so bad for the theif lol

— Mojimorire👑 (@JireAgbetunsin) November 28, 2018
#8
Buy the laptop back or send him the charger.

— . (@mrbluesnow) November 28, 2018
#9
wow, this is the nicest theif I've ever seen 😂😂😂

— Eghonghon (@rafreo_) November 28, 2018
What's your instant reaction after this?
Share Your Views In Comments Below