Lifestyle
This Girl Has Lost 27 Kgs In Just 6 Months, See Her Amazing Transformation Here
While we aren't supporting the concept that thin is beautiful, you must admit, being obese has its own set of disadvantages. For instance, being morbidly fat brings along a set of ailments and diseases which are potentially damaging.
The moment you go online, you're greeted with tons of workout tips and special diets which can apparently help you lose weight. In fact, you come across these supplements which can magically reduce weight.
But let me tell you, these rarely work. Look, the idea is simple. You need to lose weight in a healthy way so as to make it sustainable in the long term.
On Twitter, Dayla (@daylachka) has set an example for millennials on how to lose weight in a natural and organic fashion. Following her own policies, she lost 60 pounds (27 kgs) in just 6 months and looks downright glam in her recent pictures.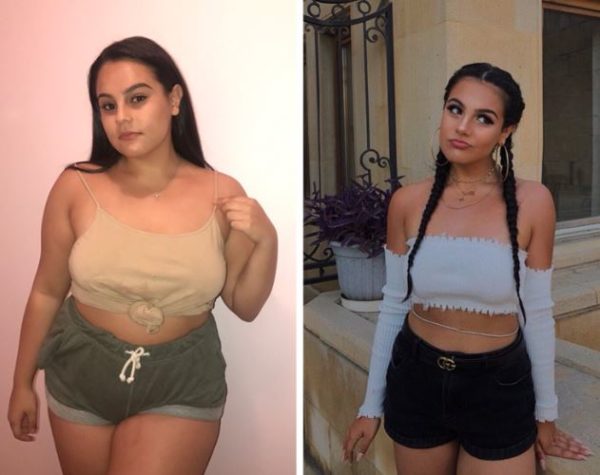 And she did it naturally, as per her tweets. She cut down on carbs, exercised regularly and simply followed a healthy lifestyle. She also has certain tricks up her sleeve, which she has shared in the tweets below.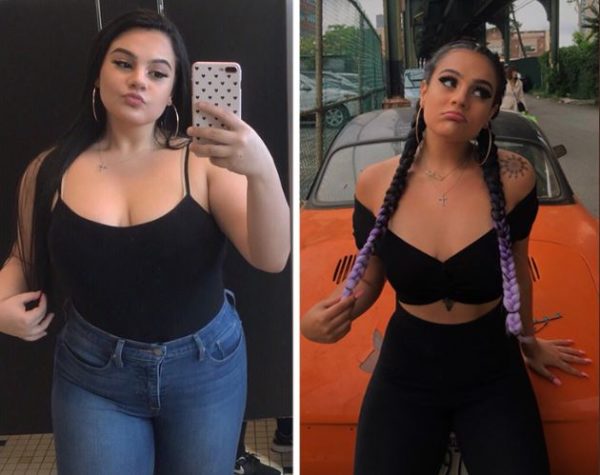 Dayla says,
first, you needa get rid of your overall body fat. If you want your face to look less fat, you need to lose fat overall. spot reduction of fat isn't real to accomplish with diet alone, you'll need this too https://t.co/vfP0owXKbX‼️

— dayla (@daylachka) November 25, 2018

This is true. There is no shortcut to success. And spot reduction really is a myth. You must work on losing your body fat, otherwise there's no point, really.
This is her advice to you:
🍳Eat fewer calories throughout the day, so that your body will use up fat as stored energy. If you do that, you will start to lose weight in the face too.🥗

— dayla (@daylachka) November 25, 2018
This too:
avoid food with a lot of salt such as:
-junk food as it's loaded with salt🍪🍭
-processed foods 🍩🥫
-salted nuts (not the healthiest)🥜
-soda/soft drinks🥤

— dayla (@daylachka) November 25, 2018
Look at her amazing transformation:
how i lost face fat 🤪💓 pic.twitter.com/xzDX59n7RZ

— dayla (@daylachka) November 25, 2018
You can see her hard work paid off:
YOU CAN DO THIS 🤩😜🤪😝 pic.twitter.com/iAKnksfzzZ

— dayla (@daylachka) November 26, 2018
So this is how she got those fab cheekbones:
chew gum/bubblegum. The constant chewing action will use many muscles in the face and if you enjoy chewing gum like me it's not going to be hard to do n keep up with. make sure u chew sugar-free gum to avoid adding any more sugar to your diet than needed.💓

— dayla (@daylachka) November 25, 2018
Exercise is certainly not everything, guys!
instead eat real food! 🥗🥦🍅i cannot stress this enough! Make sure that you don't think ya can eat junk food just because exercise "will take care of it." Losing weight is mostly diet, although exercise will definitely strengthen ya body and improve ya overall health‼️

— dayla (@daylachka) November 25, 2018
She's been sharing the story of her transformation to help others:
🏋🏻‍♀️Once u start changing your diet and exercising, your body goes after the fat first in the neck, jaw and face. So if ya cut down on calories and do it in a healthy manner, you should have a less full face in no time. 🏃🏻‍♀️

— dayla (@daylachka) November 25, 2018
Inspired yet? 'Cause we sure are. We're going to start following her advice. Are you?
Share Your Views In Comments Below