Humour
This Guy Thought His Girlfriend's Thermometer Was A Pregnancy Test, You Can't Miss His Reaction
Someone once said that boyfriends are like children, but they're also drama queens. They're total pros at throwing tantrums and creating a scene.
What happened with this guy is hilarious. Turns out, his girlfriend had a fever and wanted to tell her boyfriend about it. She sent him a picture of her thermometer to convey the message.
But this guy, in a fit of panic, mistook the thermometer to be pregnancy test and thought the test results had come positive. Of course, he freaked and the conversation, as you can see is hilarious.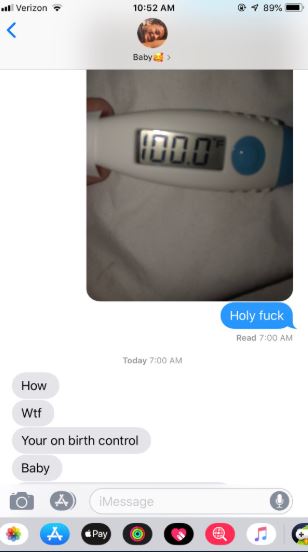 The girl posted the same on Twitter, and of course it went viral. Check out how people reacted to it:
#1
He was finna dip😂✌🏽l pic.twitter.com/qVfSir5pqs

— kaimen🤫🚀💦😌 (@CKaimen) February 6, 2019
#2
therMOMeter

— M|N (@Madisonneilly) February 7, 2019
#3
comes down to… he's not ready for a child babygirl 😅

— ❁ (@_aresendiz) February 6, 2019
#4
LOL same pic.twitter.com/ZO2yCMbytR

— Michelle (@MichelleyIsLove) February 6, 2019
#5
It's sad that so many of y'all saw this and auto assumed he was finna leave her. Y'all don't know what love is? pic.twitter.com/A61A4qYfiZ

— Biggz Hundo (@djjaybiggz) February 7, 2019
#6
he saw it as you're 100% pregnant and lmao I'm dead😂😭

— robindabank (@k0urtnei07) February 6, 2019
Please guys, the next time you receive a similar message, make sure you know the difference between a thermometer and pregnancy test!