Sports
This Is The Reason Why Australian Cricketers Will Wear Two Jerseys In T20 World Cup 2021
The Australian cricket team will be playing its first T20I match in the ICC T20 World Cup 2021 on 23rd October against South Africa and the Aussies have already shown that they are well prepared for the tournament by defeating New Zealand in the warm-up match.
However, what is catching everybody's attention is the fact that for the first time, the Australian cricketers will be donning two different jerseys in this ICC event. In the match against New Zealand, they wore their alternate jersey and on 23rd October when they will face South Africa, they will once again wear their alternate jersey.
The Cricket Australia had to redesign its kit which was worn during the 2019 ICC ODI World Cup because their jersey is quite similar to the jerseys worn by some Associate nations and as few Associate nations don't have enough resources to produce two kits, the International Cricket Council asked Australia to come up with an alternate jersey. Australia's main kit is designed in gold and black while the alternate kit is designed in yellow and green. The ICC has instructed the Australian cricket team to wear their alternate kit against South Africa and also against Scotland, Namibia and Papua New Guinea, if they have to play a match against them.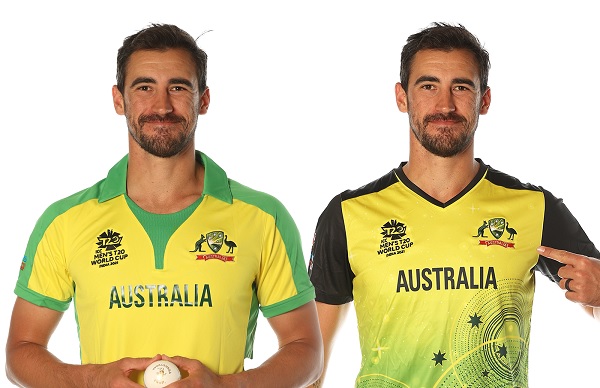 As far as the match between Australia and New Zealand is concerned, the Aussies won the toss and decided to bowl first. The Blacks Caps managed to put up a total of 158/7 on the score board in their 20 overs and in reply, the Aussies won the match by 3 wickets with one ball remaining. Though team Australia won the match, it won't be wrong to say that it has its area of concerns and one of them is David Warner's poor form which has been carried forward from the IPL 2021. In the warm-up match also, David Warner failed to perform and got out on the very first ball that he faced.
Which team has the best chance to win the T20 World Cup according to you? Let us know your pick.