News
This Man Gave Rs 30,000 To A Roadside Barber For Rs 20 Haircut. Reason Will Make You Respect Him
In the modern day world, people have become self-centered and virtues like kindness and generosity have become things of past but there are still some persons who are working hard to keep the humanity alive. Today we will tell you about one such person who is full of love, compassion and kindness and he doesn't mind sharing his hard-earned money with a poor person.
We are talking about Harald Baldr, a YouTuber from Norway who travels a lot and makes videos on different topics. His latest video was shot in Ahmedabad where he had a haircut by an Indian street barber/hairdresser who charges Rs. 20 per haircut.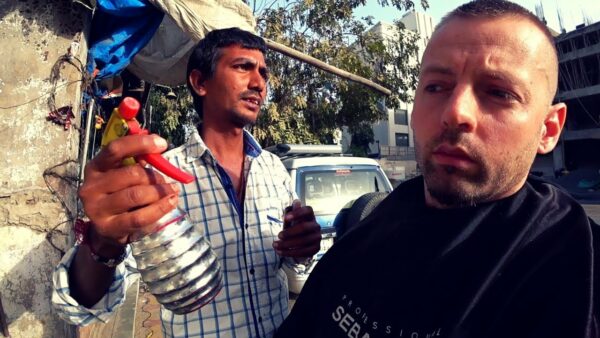 When Harald asked about his charges, the barber told him the correct rate and didn't increase the price which people usually do after seeing a foreigner. Harald had a haircut and was very happy with the working style of the barber as he was looking into each and every detail and was fully immersed in his work.
When the haircut was complete, Harald paid him Rs. 30,000 instead of Rs. 20 as he was very much impressed with his honesty and dedication. Harald took the help of a local person for translation and made the barber understand that he was donating money so that he could buy some new tools and do something good for his family.
Watch The Video:
Click here to watch this video directly on YouTube
The YouTuber explained to everyone in the video that he is starting a new series in which he will be donating the money that he will earn through www.patreon.com every month. The donation will be made to any entrepreneur or needy person whom he will meet while travelling.
He also said that earlier he was using this money for himself but as he is earning good from YouTube now, he feels that he should do something good for the society. The name of the series hasn't been decided and he is open to suggestions from the public about his future videos.
We need more such people like Harald Baldr to make this world a better place to live!
Share Your Views In Comments Below