Dogs are considered the best friends of humans and there are examples which have proved that their loyalty and unconditional love are unmatchable. However, it is humans who are not able to prove themselves worthy of this friendship as there are many people who don't take proper care of their pet dogs while some individuals abandon them once they become old or for some other reasons.
Fortunately, the good thing is that the world has a number of animal lovers as well and they are constantly making efforts to provide a better life to homeless animals. There are numerous shelters which take care of such animals, especially dogs until they are adopted by someone.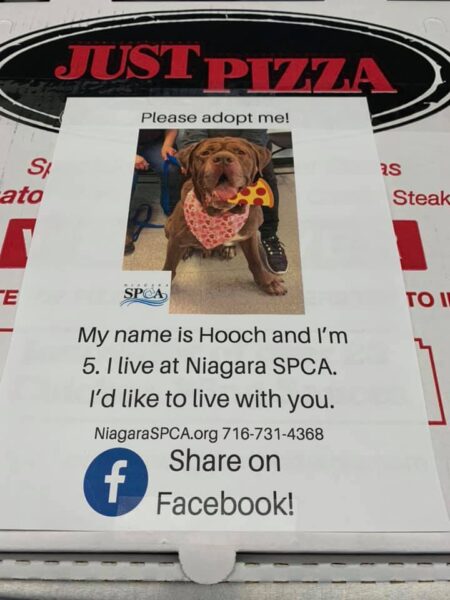 Usually the pizza boxes contain the name of the company and logo but there is a pizza company which is attaching flyers with information of friendly and lovely dogs that are available for adoption.
https://www.facebook.com/yourniagaraspca/posts/2798790643533392
A franchise of Just Pizza in Amherst, a town in Massachusetts, United States, is running this campaign in collaboration with the Niagara Society for the Prevention of Cruelty to Animals (SPCA). It all started when Mary Alloy, the owner of the Pizza shop who is an animal lover, started volunteering with Niagara SPCA and she along with Kimberly LaRussa, the shelter owner, started trying to find the ways to speed up the adoptions of dogs.
One night, Kimberly sent a message to Mary telling her about the idea of putting photos of dogs on the pizza boxes. Mary loved the idea and she got in touch with the franchisee in this regard and as they got the permission, they started this noble work.
Here are some posts from their Instagram page:
#1
https://www.instagram.com/p/BaFuaiIn-sd/
#2
https://www.instagram.com/p/BqsNdDQnwPc/
#3
https://www.instagram.com/p/BUyAueeh3BY/
#4
https://www.instagram.com/p/BYeVUyBBSZt/
#5
https://www.instagram.com/p/2YK4iWrtU9/
This initiative has not only helped in increasing the adoption of dogs but also resulted in bringing more business to the pizza shop.
The world needs more people like Mary Alloy and Kimberly LaRussa! Kudos!