News
This Pakistani Chaiwala Used Abhinandan's Photo In Banner. Twitter Praised His Marketing Strategy
Abhinandan Varthaman, the Indian Air Force pilot, is a pretty known face now and there are many people who are copying the style of his moustaches. The Indians are loving him for showing courage and valour when he fell into Pakistani territory after MiG-21 Bison was shot and he was arrested by the Pakistani security agencies.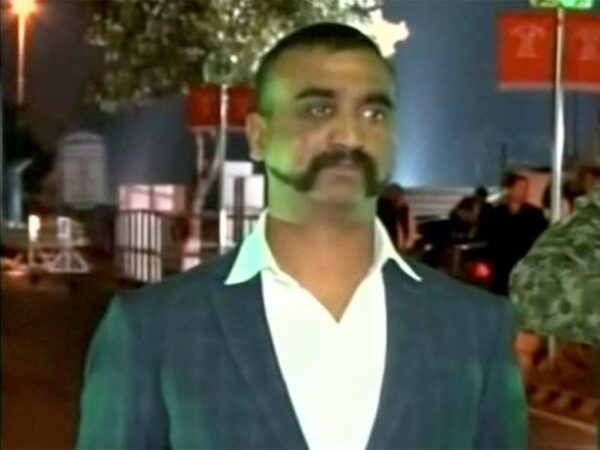 However, Abhinandan stayed calm and strong even in tough conditions and the good thing was that he was released by Pakistan after 2 days of his arrest. While he was in Pakistan, some videos were posted on social media by Pak in order to make pressure on India; however, their plans didn't work. In one of those videos, Abhinandan was seen talking about the tea that he was served during the captivity and now a Pakistani tea-seller is taking benefit of that image which went viral few days ago.
Yes, you read it right! A tea seller from Karachi is using a banner in which he has used the image of Abhinandan having tea with the caption, "Aisi chai ki dushman ko bhi dost banaye (A tea that turns an enemy into friend)".
Check out the banner: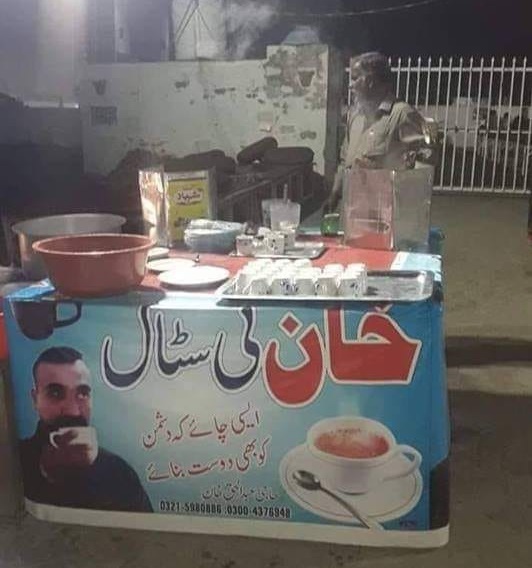 The language used in the banner is Urdu and we are not sure whether this marketing gimmick will help the vendor in increasing his business but it has definitely made him famous on the social media networks.
Here are some reactions on the micro-blogging site Twitter in relation to the banner used by the tea-seller:
#1
This Pakistani uncle has got some serious marketing skills. The small roadside tea stall has a banner with the following text: 'Khan's Tea Stall – A tea that makes foes turn into friends' with the image of Indian Air Force pilot #Abhinandan – #IAF pic.twitter.com/ldQVG6brI7

— Wajahat Kazmi (@KazmiWajahat) March 12, 2019
#2
Khan Tea Stall—Special tea that may even turn foe into friend—😎#abhinandan pic.twitter.com/vVRaC6ZTyf

— Rauf Klasra (@KlasraRauf) March 12, 2019
#3
That's an interesting name for a tea stall ☕️😀#Abhinandan pic.twitter.com/lrpIl6EiZJ

— Danyal Gilani (@DanyalGilani) March 12, 2019
#4
*Marketing Skills
Overloaded 😂#Abhinandan pic.twitter.com/R5aSj5ekBM

— Atif Raza 🇵🇰 (@ATif___RAza) March 13, 2019
#5
Found this one on Facebook. Apparently a sign at a tea stall somewhere in Pakistan which reads: "Khan Tea Stall: aisi chai ke dushman ko bhi dost banaye." Pure advertising genius. #Abhinandan pic.twitter.com/0u5zt93ALe

— Sayantan Ghosh (@sayantansunnyg) March 13, 2019
#6
For those who can't read Urdu :
Khan Tea Stall – aisi chai ke dushman ko bhi dost banaye ! #Abhinandan #Pakistan #Chai pic.twitter.com/UlpqxaXXCT

— Rishabh Nagpal (@rnagpal89) March 13, 2019
#7
Tea stall in #Pakistan with #Abhinandan's photo- "Aisi chai ki dushman ko bhi dost banaye"😂😂😂

Abhinandan should ask for royalty. Uski wajah se bahuton ko fayda hua. Kisi ne chai bechi, kisi ne image building ki, kisi ne uski photo laga k politics kia. + #SayNoToWar happened. https://t.co/S7nJf3acYe

— Pragya Narang پرگيہ نارنگ प्रज्ञा नारंग 🇮🇳🕊🇵🇰 (@PragyaNarang) March 12, 2019
#8
Somewhere in Pakistan.
😀😜😁😂
Khan Tea Stall – "Aisi chai ke dushman ko bhi dost banaye".#Pakistan #India #Raw #ISPR #PakArmy #PakistanZindabad #AbhinandanVarthaman #Abhinandan #GeoNews pic.twitter.com/GkzbSx7Dh4

— Ali Qureshi (@ImAliQureshi) March 12, 2019
#9
A hero for #pakistan as well#Abhinandan#AbhinandanMyHero

Tea stall in Pakistan depicts Wg Cdr Abhinandan as harbinger of friendship https://t.co/KHnz7AaFnd pic.twitter.com/KgCkGA7m9q

— Mridul Das 🇮🇳 ☭ (@mridul122) March 12, 2019
#10
#Abhinandan Tea stall 😂 Pakistani people are not coming slow. #TrollingKaSceneOnHai #Captured #IndianPilot #EnjoyedTea #Mig21 #Pakistan #India #PulwamaAttack pic.twitter.com/sUDjEjUIRo

— Shafi Ullah Khattak (@khattakSaaab) March 12, 2019
#11
#Abhinandan The Brand #Ambassador of #Khan Tea Stall
Aisi Chai k dushman ko bhi #dost banai pic.twitter.com/yrGiGNhUVl

— Muhammad Abubakar Jalal (@jellykhankhel) March 12, 2019
#12
Khaan Tea Stall
Aisi Chai ki Dushman ko bhi Dost Banaye…#marketingstrategy #Abhinandan pic.twitter.com/6sUlEg4BST

— s tanwar (@sushtany) March 12, 2019
The Indian government has asked YouTube to remove the videos featuring Abhinandan and the Indian Election Commission has also asked Facebook to remove political posters that include an image of Abhinandan.
What do you think of this Pakistani tea seller's marketing strategy? Do let us know.
Share Your Views In Comments Below