News
This Pic Of A Twitter User's Parents Ready For The Flight Much Before Time Is All Over Now
Parents are the most wonderful people in your life and the most beautiful gift by the God. They love you unconditionally in this mean world and that's seriously a blessing. We all remain busy in our own lives and don't give them the time they deserve.
But sometimes when you feel tired, just observe the small things your parents do and it will refresh you completely. They are different from us and most of the time fail to understand our work culture but that's the beauty. They are far from greed and don't relate with the worldly material. All they care about is love, respect and discipline. Haha. The last one is so true.
We are always in hurry and never reach our workplace and home on time but parents are superhumans. They can do anything and everything in time, God knows what's the hidden power inside them which we didn't get in genes.
Coming to the point, a Twitter user posted a picture of his parents and told how they were all set for the flight at 10:33 AM when the time of flight is 3:10 PM.
My parents at 10:33 a.m. for a flight at 3:10 p.m. pic.twitter.com/SW3Q6gMNjC

— *Vishnu* (@vishnu_somebody) September 2, 2018
You can also check the picture below-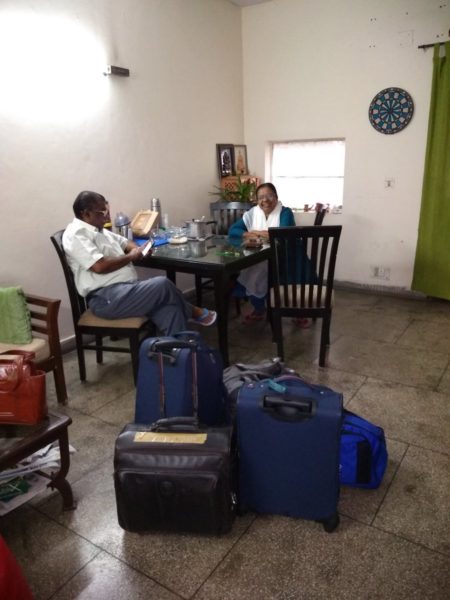 Other Twitter users could easily relate to it and started reacting. The tweet went viral in no time and received so many reactions. Have a look at some of them-
#1
Every parent in the world. https://t.co/J7oDPuovTL

— Atharav Chowdhary (@atharav) September 3, 2018
#2
Why is this literally my family 😂 https://t.co/8xu3PdbBqy

— н α α и υ (@HaanuMita) September 3, 2018
#3
Very similar in my house…. everything is ready one day before

— D Prasanth Nair (@DPrasanthNair) September 2, 2018
#4
My parents on 3 September before their flight on 12 September. My dad texting me to remind me for the 55,000th time to check their mail and the house while they are away. https://t.co/2E5vKtNCNr

— Ami A (@mrstripplea) September 3, 2018
#5
My whole family all together waits at the aiport like this https://t.co/zP8g43OpFv

— Mushfiga Waheed (@MushfigaWaheed) September 3, 2018
#6
My parents a week before I travel: "Have you packed yet?"https://t.co/wIZ9xjqGEy

— Sathnam Sanghera (@Sathnam) September 3, 2018
#7
In case of my mother it's almost a day before journey

— Auto Lawyer (@man196) September 2, 2018
#8
You've not met Nigerian parents. They are already at the airport by 8a.m for a 3p.m flight.

— Wale Adetona (@iSlimfit) September 3, 2018
#9
Good ur mom could atleast sit n relax.. Thanks to ur dad… Some moms r made to run around before starting on a journey..

— Chatur Farrago (@Chatur_PiDi) September 2, 2018
#10
kahaani ghar ghar ki

— Ajay Awtaney (@LiveFromALounge) September 2, 2018
Isn't that awesome?
Share Your Views In Comments Below