Entertainment
This Teacher's Hilarious Notice Warning Students Not To Give Avengers: Endgame Spoilers Goes Viral
Avengers: Endgame is getting loved and praised by the audiences all over the world and in India also, it has created a storm on the box-office as it collected Rs 53.10 crore on the first day while on the second day, it earned Rs 51.40 crore. In fact, the trade analysts are of the opinion it will cross the Rs 150 crore mark in the first weekend itself.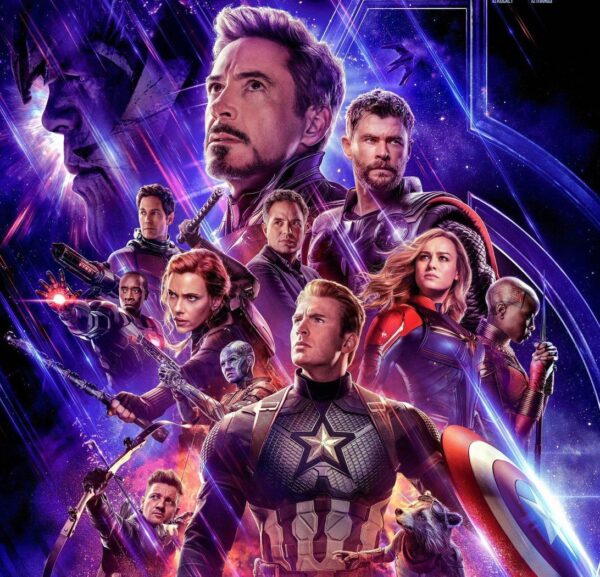 No Marvel fan will like to get his experience of watching the movie spoiled because of the spoilers given by someone who has seen the flick.
In a weird incident, a teacher who seems to be an ardent fan of Marvel Superheroes has given a warning to the students for not giving out spoilers and has put up a funny notice outside the class.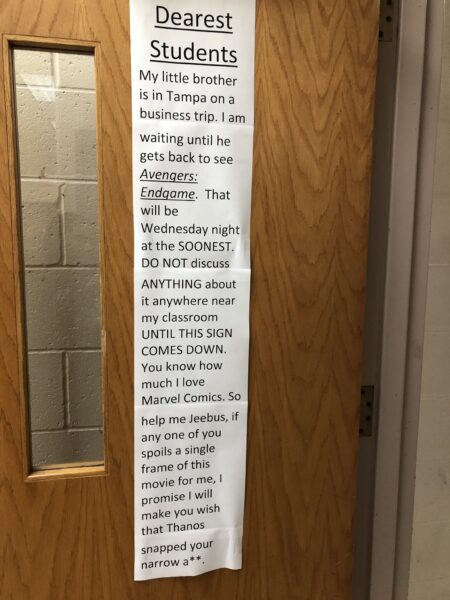 This is what the notice reads:
"Dearest students, my little brother is in Tampa on a business trip. I am waiting until he gets back to see Avengers: Endgame. That will be Wednesday night at the SOONEST. DO NOT discuss ANYTHING about it anywhere near my classroom UNTIL THIS SIGN COMES DOWN. You know how much I love Marvel Comics. So help me Jeebus, if any one of you spoils a single frame of this movie for me, I promise I will make you wish that Thanos snapped your narrow a**."
It has been shared by a Twitter user with caption, "My teacher is so serious he just had to make note of it😂 #AvengersEndGame"
My teacher is so serious he just had to make note of it😂#AvengersEndGame pic.twitter.com/ghoNheDIIW

— Kamilious🤩 (@kamiilious) April 26, 2019
The tweet has been retweeted for more than 1.2 lakh times and has received over 4.7 lakh likes.
Other social media users also shared their experiences, here are some of them:
#1
and I thought my English teacher took it seriously pic.twitter.com/Nzx5nI21Er

— Wario the Legend (@LegendaryWario) April 26, 2019
#2
I asked my students (high schoolers) today if anyone saw it. As soon as a few of them raised their hands, several others started shouting "no spoilers, no spoilers." I didn't have to say a thing. 🙂

— Karen (@CamaroWRX) April 26, 2019
#3
My son got such message verbally from his teacher in the class today. Students will get two negative points if found discussing A Endgames 🤫

— ambreena11 (@ambreena1502) April 26, 2019
#4
Must be a nightmare! I'm worried that my son will say something and that's nowhere near as likely as being in a school. Good luck.

— MarkWor (@Markwor08193580) April 26, 2019
#5
This sounds serious…NO SPOILERS ALLOWED IN THE TEACHER'S UNIVERSE…

— Malaika H. Kambon (@serious2020) April 26, 2019
#6
My high school physics teacher did the opposite when the Force Awakens came out 😂😂 pic.twitter.com/2FstfZvH6k

— El Clapitan (@puerto_minican) April 27, 2019
#7
this is what one of my teachers had lmfao pic.twitter.com/Bxd7mF9zsc

— ☿️JACKIE ☿️ (@jackielml570) April 27, 2019
#8
LM*O! My oldest came home from watching #AvengersEndgame last night and the rest of the family turned to look at him as he came into the house and either shushed him verbally, with hand gestures 🤫 or outright yelled "Not one WORD!" at him.

— 🍀 Tracy Corrigan 🍀 (@tcoreagain) April 26, 2019
#9
My history teacher gave someone 2 in schools yesterday because they spoiled it

— josephshmoe (@josephshmoe7) April 26, 2019
#10
my teacher did all the way around, he said: ir any of you talk during my class, i'll spoil it for you

— paralela♡ (@lelaecheverria_) April 28, 2019
#11
My teacher threatened to fail us 😂

— Jacqueline Mitchell (@Curlyhead_03) April 27, 2019
Have you also experienced any such incident? Share with us.