Sports
This Telangana Taxi Has A Live IPL Scoreboard On Its Top. Even ICC Tweeted About It
There is no doubt that the Indian Premier League (IPL) is one of the biggest cricket tournaments of the world and it is followed by not just the Indian fans but cricket lovers all across the globe. The success of IPL can be understood by the fact that ICC allots a separate window for organising it during the year and this year, we are enjoying the 12th season of the tournament.
In IPL 12 also, we have seen some really close matches and the fans are leaving no stone unturned in supporting their favourite teams but here is one photo which is going viral on the Internet and social media and it once again proves how crazy people are for IPL and cricket in India.
First of all, take a look at the viral pic: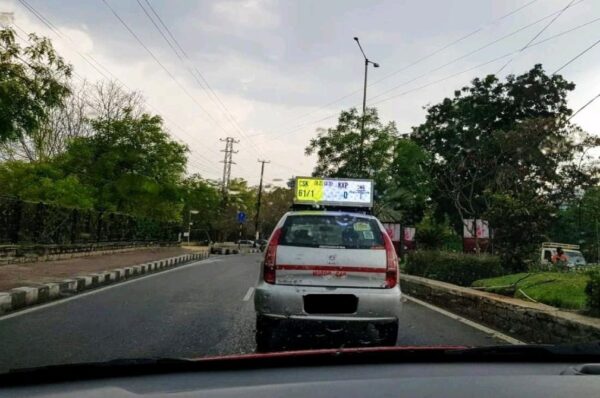 This image features a taxi from the roads of Telangana but what makes it special is the live scoreboard on the roof of the taxi. If you focus, you can see that the electronic scoreboard is showing the live score of the match which was played between Chennai Super Kings (CSK) and Kings XI Punjab (KXIP).
The photo was originally posted on Reddit and even ICC got so impressed with the taxi that it shared the pic on its official Twitter handle with caption,
"When cricket is life 😄❤
(via R/India)"
Check out the tweet:
When cricket is life 😄❤
(via r/india) pic.twitter.com/ZZLSCkmXmV

— ICC (@ICC) April 7, 2019
Soon many cricket lovers also started expressing their opinion about the photo. Here are some selected reactions:
#1
Cricket and Indian people are the best .

— Lutfullah Sediqi🇦🇫 (@imlutfullah) April 7, 2019
#2
Corrections sir…. When cricket is religion 😊

— bholu kaka 🧐 (@AggarwalAkask) April 7, 2019
#3
Tats ipl fever……

— Rashwanth (@rashwanth8888) April 7, 2019
#4
Lovely people
Lovely place
And
Lovely India

Strong supporter of Chennai Super King
🇮🇪💪🇦🇫

— Mirwais Ghawsi 😘🇦🇫 (@MirwaisAyoubi) April 7, 2019
#5
Passion for cricket in India

— Upendra Chaudhary (@Ch_Upendra) April 7, 2019
#6
This could happen for team like CSK only, RCB fans never get bother.
👍👍👍👍👍

— घमंडी (@abhionline9) April 7, 2019
#7
ipl is the life of every indians..it promotes brotherhood and harmony

— chandan kumar (@chandankanj) April 8, 2019
#8
The mad crazy cricket loving psycho's here in India

— abhidas000 (@abhidas000) April 8, 2019
#9
When @msdhoni is Life..!!🙈🏆😘❤️🙌🏏 pic.twitter.com/nH2VJDNgN8

— Avinash Singh Rajput (@iamAviCr7Msd) April 7, 2019
#10
That happenes only in india

— flamboyant stm (@imstm7) April 7, 2019
#11
IPL craze🤘

— pavaN TR (@pavanchowdary_) April 7, 2019
Indians are definitely passionate for cricket and this image proves it! Agree?
Share Your Views In Comments Below