Entertainment
Today's IPL Match Between CSK And KKR May Get Cancelled For This Reason
Chennai Super Kings has returned into IPL after a ban of 2 years. After winning the 1st match against Mumbai Indians, they are set to battle Kolkata Knight Riders who were also the winners in the last match.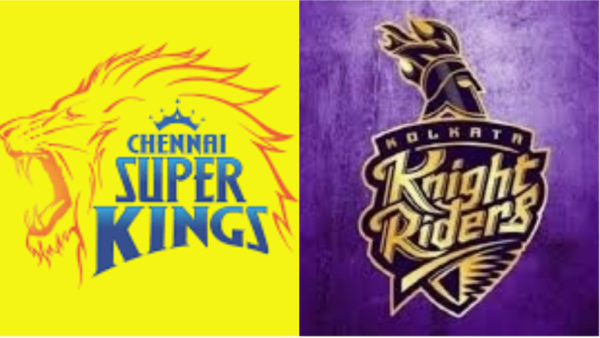 The match is going to be huge and there is a great excitement among IPL lovers for it. However, the match has faced an equally big roadblock which can even lead to its cancellation.
CSK vs KKR is set to happen in Chennai's MA Chidambaram stadium today but the Cauvery issue has become a huge threat to it.
A Pro-Tamil outfit named Thamizhaga Vazhvumurai Katchi (TVK), led by T Velmurugan, has issued a threat against the match. The outfit has warned the organizers that it won't be responsible if something happens to the players.
T Velmurugan said-
"When we are fighting for our basic rights, we don't want this to take place here."
Now, this is a big threat and no one wants to take a risk. But cancelling the match is also a hard decision so heavy security measures are being taken before the match.
As per Financial Express, Tight security will take place inside and outside the stadium so that the match doesn't get affected. The use of mobile phones, transistors, computers, cameras, or any other audio visual recording equipment, for recording and or communication of match details, statistics, images etc. are strictly prohibited. The fans have been asked to cooperate with Chennai Police and Security Guards.
However, the bigger shock has come from Tamil film industry which has also expressed it's unhappiness against the match being held in Chennai.
Superstar Rajinikanth was quoted as saying-
"It is an embarrassment to think of IPL at the present situation in the state. At least the members of the Chennai Super Kings should wear a black band during matches to express solidarity with the protesting groups."
He also added that in case the Chennai Super Kings management and the BCCI are not comfortable doing this, fans should wear black clothes to support the protests while going to watch the match. Kamal Haasan has also led his support to the silent protests.
Meanwhile, Chennai Police has asked BCCI to stop people wearing black clothes from entering the stadium.
On the other side, Kerela has come ahead as an alternative option for the forthcoming matches to be held in Chennai. Jayesh George from The Kerala Cricket Association told media on Sunday that talks on this matter have started-
"Last night, CSK CEO K.S. Viswanathan spoke to me about this and today top officials of the BCCI and IPL, including Amitabh Choudhary and Rajeev Shukla, also talked to me. We have expressed our willingness to stage IPL matches in Thiruvananthapuram and Kochi. We will hear from them in the next few days."
At the same time IPL chairman, Rajeev Shukla said that the matches will be held in Chennai as per schedule. He requested to not drag IPL into politics.
What are your thoughts on it?
UPDATE: Match will be telecast today, although there's a 15 minutes delay due to toss.
Share Your Views In Comments Below