Entertainment
Trailer For PM Modi's Biopic Is Out, Netizens Respond With The Most Hilarious Memes.
With the Lok Shabha elections, just around the corner, the much awaited trailer of Omung Kumar's biopic on Prime Minister Narendra Modi titled as 'PM Narendra Modi' is finally here. Actor Vivek Anand Oberoi as PM Modi, is under several prosthetic, depicting a poised but determined PM Narendra Modi.
The makers will release the film in 23 languages, produced by Sandip Singh and Suresh Oberoi on 12th April, just some days before the Lok Sabha elections. The first posters and also Vivek Oberoi's nine different looks created quite a buzz, after their respective releases.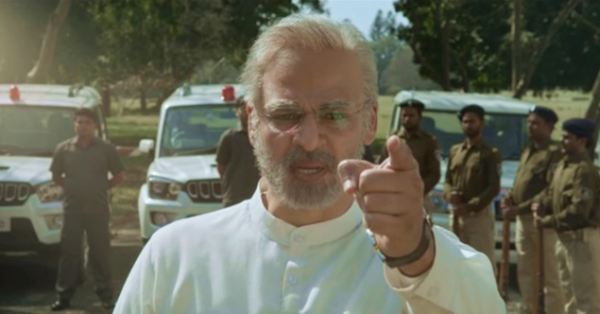 So, when the official trailer got out, we got a glimpse into the various stages of our PM Modi's life, starting from his early childhood and chronicling up to the present years in his life, when he is one of the greatest leaders in the world. This film significantly will also portray his early life with the Rashtriya Swayamsevak and even when he was a chaiwala.
When the story is praiseworthy and significant for getting a visual representation on the big screen, for the masses to witness, the actor playing PM Modi, became the ingredient to recent memes and sarcastic dialogues. Soon, Twitter reactions started to flow in, where everyone is mocking, how Vivek Oberoi is looking anyone but PM Modi, in kurtas. Vivek's casting as the biopic's protagonist, is receiving the majority flak.
#1
I really like @narendramodi but still after watching #PMNarendraModiTrailer. The first question pop-up in my mind – WHY WHY WHY & Who created this shit. LMAO#PMNarendraModi

— Swetabh Suman (@swetabhsuman8) March 21, 2019
#2
Thought @vivekoberoi gave his personal best but still not a good actor than @narendramodi #PMNarendraModiTrailer

— Kapil Matwa (@kapcasm) March 21, 2019
#3
Everything is wrong with #PMNarendraModiTrailer , starting from it's name. Why is movie named PM Narendra Modi and not Chowkidar Narendra Modi?

— rahulmallipudi (@rahulmallipudi) March 21, 2019
#4
If Vivek Oberoi is Modi than I am Bill Gates 😂#PMNarendraModiTrailer #NarendraModiBiopic #VivekOberoi #NarendraModi

— sadik khan sk (@sadikkhan0107) March 21, 2019
#5
My notes after my boards exam#PMNarendraModiTrailer pic.twitter.com/FjuzVzxkVM

— Isha ambani (@ishambani) March 20, 2019
#6
Mr. Omung Kumar should be banned from making biopics. First he reduced the spectacular life battle of the legend Mary Kom into a melodrama and now this!!! #PMNarendraModiTrailer

— Chowkidar Tyler Durden (@Rockbaaj_) March 21, 2019
#7
Where is supporting cast ? Where are my sudhir chaudhari and Arnab Goswami 😂😂 just saw #PMNarendraModiTrailer major missing #Nagpur @ShashiTharoor @narendramodi @dhruv_rathee @thepeeinghuman @kunalkamra88 #PMNarendraModiTrailer

— Tilak motghare (@Tilakmotghare1) March 21, 2019
#8
What a horrible trailer of PM Narendra Modi. When you use all the best dialouges of the movie in the trailer and they all suck. #PMNarendraModiTrailer #VivekOberoi

— Tanvi Chitnis (@TanviChitnis) March 21, 2019
#9
"Jo decision 1 minute me nahi hota wo decision nahi hota" Now I understand how decision of #Demonetization had taken. 😂😂#PMNarendraModiTrailer @narendramodi @akashbanerjee

— Amritesh Pratap (@stark_ap) March 20, 2019
#10
#PMNarendraModiTrailer
Shahjahan to the Labourers, when they asked for Payment.. pic.twitter.com/6nwXKC0hLV

— N I T I N (@theNitinWalke) March 20, 2019
#11
#PMNarendraModiTrailer has done more harm to BJP then any other combined together!

— Siddhant Mishra (@adv_siddhant) March 21, 2019
#12
Me after my crush posts "Save the date" pics#PMNarendraModiTrailer pic.twitter.com/eyGLbZ2nZu

— Rohan Shrikhande (@ShrikhandeRohan) March 21, 2019
Here is the trailer for you.
So, what is your opinion on this?
Share Your Views In Comments Below