News
Train Took 4 Years To Complete Journey Of 42 Hours. Even Railway Officials Are Confused
Trains getting late in India is nothing new and it is a matter that needs to be addressed by the Indian Railways on an emergency basis.
However, a train broke all the records of getting late when it completed its journey of nearly 1400 kms in around 4 years instead of the stipulated time of approximately 42 hours.
A goods train wagon no. 107462 carrying 1316 fertilizer bags containing Di-Ammonium Phosphate (DAP) left the Visakhapatnam (Andhra Pradesh) station on November 10, 2014, and reached Basti station (Uttar Pradesh) on July 25, 2018, leaving all the station officials in the state of shock and surprise.
Sanjay Yadav, the Chief PRO of North Eastern Railway Zone, feels that it may be the case of a wagon or ferry going unfit or sick and being sent to yard. Sanjay Yadav told that the consignment was sent by Indian Potash Limited, Vishakhapatnam, for a businessman Ramchandra Gupta in Basti.
As per Gupta, he has not paid for the consignment and the matter is now between the Indian Railways and the company.
Speaking on behalf of the Indian Potash Limited, DK Saxena, the Assistant Marketing Manager, Gorakhpur, told that a rake was booked in November 2014 but it went missing and the cost of the consignment is Rs. 10 lakhs or more.
DK Saxena also said that the company has filed a claim on Railways and the trader is not ready to take the consignment as the material has decayed.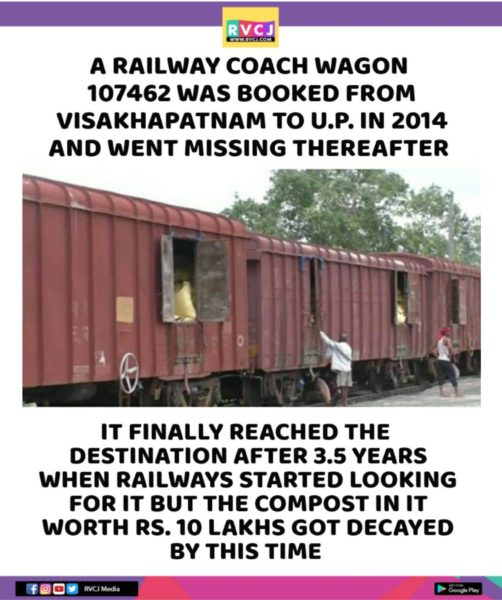 4 years is a really long time and an inquiry should be done as to how it happened and what the officials were doing at that time. What do you have to say in this connection? Let us know.
Share Your Views In Comments Below