Extras
Trishala Dutt Posts Heartfelt Message For Her Late Italian Boyfriend
The gorgeous elder daughter of Sanjay Dutt, Trishala is going through a rough time right now. Daddy's precious girl who lost her mother at the age of 8, again lost someone special to her a few days ago.
Recently she posted a photo of her boyfriend who passed away on 2nd July. He was Italian and was constantly seen in almost all of her posts, which she deleted after his demise. Trishala wrote, "My heart is broken. Thank You for loving me, protecting me, and taking care of me. You have made me the happiest I've ever been in my life. I'm the luckiest girl in the world to have met you and beyond blessed to have been yours. You will live in me for eternity. I love you and I will miss you. Until we meet again. Forever yours, xo your Bella Mia."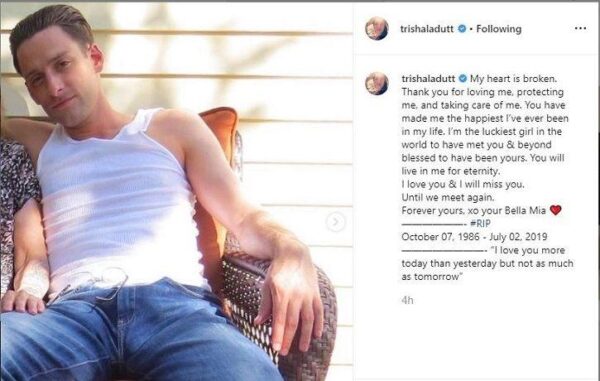 Trishala lives with her maternal grandparents in the US. She is very active on Instagram and frequently posts photos with friends and family. She has thousands of followers on Instagram and she is an internet celebrity.
Trishala has currently no plans of joining the film industry but she has the looks for it. Her photos on Instagrams gets lots and lots of likes. Her profile is private but here is one of her stunning pictures.
Share Your Views In Comments Below