Bollywood & TV
Once Again, Troller Shamed Taapsee Pannu! Her Reply Made Him Delete His Tweet!
Taapsee Pannu doesn't only give power-packed performances in movies but also gives power-packed answers. She shuts trollers like a boss and are in love with that style of hers. Without getting irritated or angry, Taapsee uses her wit to get rid of unwanted trollers.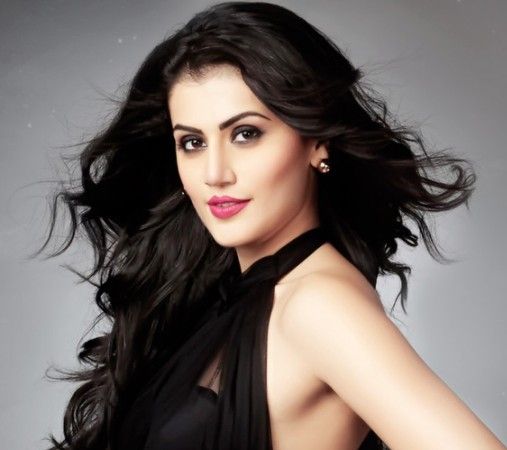 Well, recently she posted her pics in a beautiful blue floral bikini but got trolled by a user who asked her to stop uploading "Gandi" pics on social media.
However, Taapsee gave it back to him in style with just 1 tweet.
But wait, this doesn't mean that others have stopped trolling her. Yet another jerk has come in her way and has slammed her for her pics. Check out what he tweeted…

LOL, he had to delete his tweet because Taapsee gave him a reply he will never forget. After reading this cheap comment, here's what Taapsee replied;
Sorry Bhai hai nahi varna pakka puch ke bataati. Abhi ke liye behen ka answer chalega ???? https://t.co/Snv6dlNhWj

— taapsee pannu (@taapsee) September 13, 2017
The tweet read, "Sorry Bhai hai nahi varna pakka puch ke bataati. Abhi ke liye behen ka answer chalega "
And Twitter absolutely loved her reply. Here's how they reacted…
Haha!
Nvr knw tht bhai ka garv is directly proportional to the length of sisters dress..
U learn smthng new on twitter every day ..

— Abhinav Shukla (@JustShukla) September 13, 2017
Ignore him!
Taapsee ignore him
These creepos are always present

You focus on your work #AaTohSahi ❤❤❤

— Sherwyn Fernandes (@sherwynferns) September 13, 2017
Bahut karara jawab!
Bahut he karara jawaa diya hai. Well done.

— Devendra Pandey (@pdevendra) September 13, 2017
Sick mindsets need to change!
Is India really developing? Or ISRO is the only way we calculate our development? Our sick mindsets need to change for once to really grow.

— Gurtej Batra (@IMGurtejBatra) September 13, 2017
Trolled him like a queen!
Wow @taapsee u trolled him likr a queen .. No matter what u wear thats Ur choice … This is why ILU .. Much love

— Neeraj Karan 💞💞 (@neerajkarncool) September 13, 2017
He's a shit!
This man is just shit
Well done @taapsee you don't need to focus on such things

— Pinch Hitter 🇮🇳 (@Anku_2052) September 13, 2017
People actually need to change their mentality, don't you think so?
Share Your Views In Comments Below