Entertainment
Troller Told Divyanka, "Besharam, You Purposely Wear Vulgar Clothes". She Shut Him With This Reply
Divyanka Tripathi has been very active on social media and time and again, she voices her opinion on important issues. Often, we have even seen her give it back to trolls in the sassiest manner.
Recently, she posted a pic on Instagram with husband Vivek Dahiya and we were shocked to see how people started trolling her.
Yes, she was body shamed to a large extent due to her tight fitting dress. There was one troller who asked her to stop dressing vulgarly. He highlighted that she's purposely wearing a dress that's tight near her chest area.
First, have a look at the pic that she posted;
Click here to check the pic directly on Instagram.
As soon as the troller saw this picture, he commented;

He wrote, "Always vulgar dressing of yours. Looks like you deliberately wear tight fitting clothes near your chest area. Sooo cheap and vulgar does it look. Sudhar jao thoda besharam.'
Instead of taking this shit, Divyanka gave him a bold reply. Here's what she said,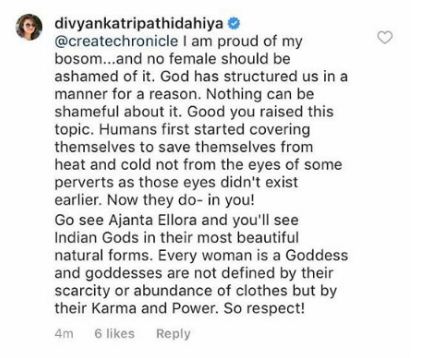 The reply read,
"I am proud of my bosom…and no female should be ashamed of it. God has structured us in a manner for a reason. Nothing can be shameful about it. Good, you raised this. Every woman is a goddess and goddesses are not defined by their scarcity or abundance of clothes but by their karma and power."
We loved this reply by Divyanka. Hope bodyshamers stop such cheap comments. Don't you think so?
Share Your Views In Comments Below