Bollywood & TV
Trollers Called Shama Sikander's Body Parts Juicy & Melons .She Had An Epic Reply For Them
Shama Sikander has been an active celebrity in the entertainment sector. As an actress, she has worked in Bollywood films, TV and even Web Series in 20 years long career.
Her career may have never touched a high in these 20 years but she has struggled like a true warrior and has survived till now. Like most of the celebrities and humans, even she likes vacations and like most of the actresses even she likes to feel comfy and wears beachwear when chilling beside the seashore.
Shama Sikander is quite active on social media so recently when she enjoyed a new year holiday, she posted some pictures on Instagram in which she can be seen wearing a beachwear.
As soon as she posted the pictures, she got badly trolled for it.
However, Shama Sikander decided not to stay silent and posted another pic of her on Instagram in the same look. Along with the picture, she Hit back at the trollers with a strong message. She called off all the trollers who commented on her body and called her names. Have a look-
Also read her caption in the snapshot below-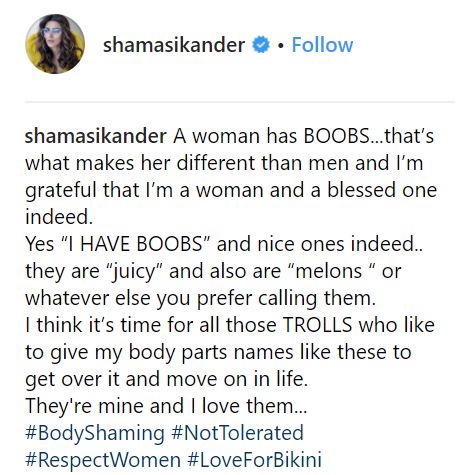 What are your thoughts on it?