Sports
Trollers Said Manish Pandey Should Be Dropped From SRH Team. He Gave A Strong Reply To Haters
Sunrisers Hyderabad have shown some awesome performances in IPL and they are enjoying a good position in the IPL table. Manish Pandey has been one of the most expensive players in the auction; he was sold for a huge 11 crores.
Sadly, his performance isn't up to the mark and often, he is trolled for the same. He has played 10 matches but has scored just 189 runs. He has failed to score a century and has got just 2 half centuries.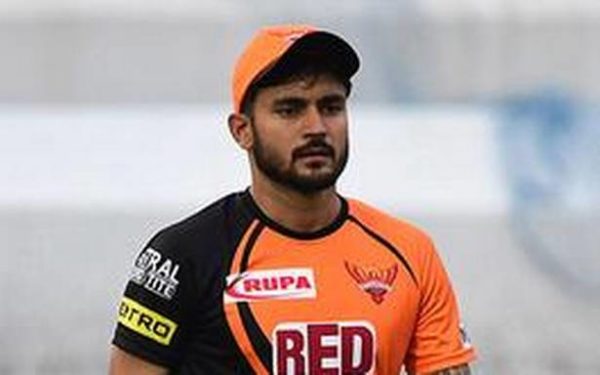 Trollers are criticizing Manish Pandey for his poor performance in the whole season. Since he's sold for such a whopping amount, people expect him to play well and justify.
Here are some trolls against him;
Overrated!
Karun yadav is good test player & he is also had nice domestic season ! It looks like he is not suitable for IPL whereas manish pandey is so overrated, i dont even know what he is good at

— . (@Baba_Tharkii) May 14, 2018
Drop him!
@SunRisers orange army should drop manish pandey and bring in sachin baby to strengthen middle order

— Sarthak Mangalmurti (@SarthakMangalm2) May 14, 2018
Kick him out!
All these are fine, but why did we lose y'day match, kick @im_manishpandey out of the team. he is waste of money, not even worth to a tissue paper!!

— Suman Narayana (@NarayanaSuman) May 14, 2018
Only in dreams
Manish Pandey getting runs can only happen in commentators dream for this season at least 🙂

— rajesh (@crajeshwnp) May 14, 2018
Take retirement!
@im_manishpandey why did you take 11cr totally utter flop performance. You take retirement immediately

— Barri rajshekar (@BarriRajshekar) May 14, 2018
For such performers, Manish Pandey has a very strong message. He took to Instagram to shut their mouths.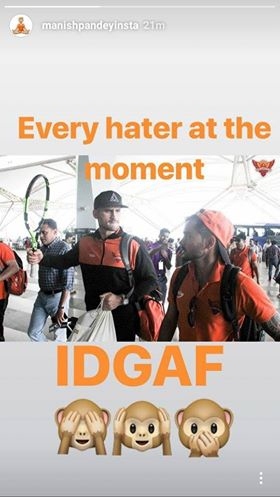 He wrote, "Every hater at the moment. IDGAF i.e. "I don't give a f*ck".
Manish Pandey showed that he doesn't give a damn to these trollers. He deleted the story later but till then, the message had clearly reached the ones trolling him.
We love you Manish Pandey for this attitude. Hope to see some best of innings in the coming matches.
Share Your Views In Comments Below