Bollywood & TV
The Tweets Of These 12 Bollywood Celebs Shows Us Their Level Of Idiocy
Sharing thoughts on social media platforms is highly appreciated these days. It has become a mandatory modern ritual. Check-ins, posting photos, sharing corporal feelings, etc has become a part of our lives. But there are also people who post senseless things on social media platforms.
The social media handles of the Bollywood celebs are always under critical observations by the media and the audience. We keep a track of the slightest details of their accounts. These days every celebrity thinks for a million times before posting anything because there are high chances that they can get trolled for some insignificant post of theirs.
There are few celebs whose Twitter posts will prove that they are on a different level of senselessness.
1. Twinkle Khanna
Good morning and I guess here is the first scene of Toilet Ek Prem Katha part 2 #WhenYourWalkGoesDownTheToilet pic.twitter.com/tfyTQs8BFM

— Twinkle Khanna (@mrsfunnybones) August 19, 2017
Her hilarious tweets done as Mrs Funnybones is massively liked by the audience. She thought to help her husband for his movie promotion "Toilet Ek Prem Katha". So she posted a photograph of a man who was freshening up on the beach. She tweets sensible things on Twitter but what happened here?
2. Sidharth Malhotra
To all the people of Haryana , please stay safe. Hope you can see our film soon #Agentleman #PeaceAndLove

— Sidharth Malhotra (@S1dharthM) August 25, 2017
When the whole country was praying that the upheaval caused by the Ram Rahim followers in Punjab settles down ASAP, Sidharth's mind went on a brainless rampage and he started promoting his upcoming movie tweeting that he hopes the people can see this movie soon. Was he drunk?
3. Hema Malini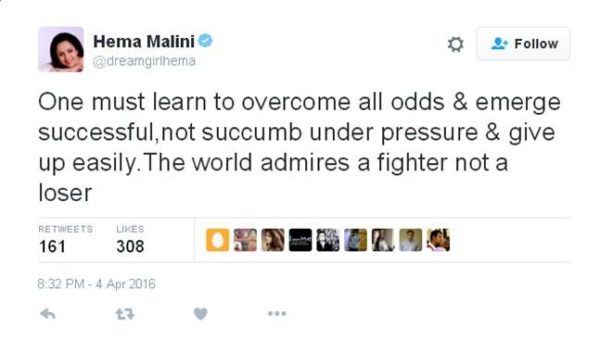 She tweeted this when Pratyusha Banerjee committed suicide after personal issues. She couldn't handle it after a limit and decided to end her life. Hema Ji's tweet was sheer insensitive because did she even know what Pratyusha even went through?Instead of sharing her condolences she blamed the beautiful girl.
4. John Abraham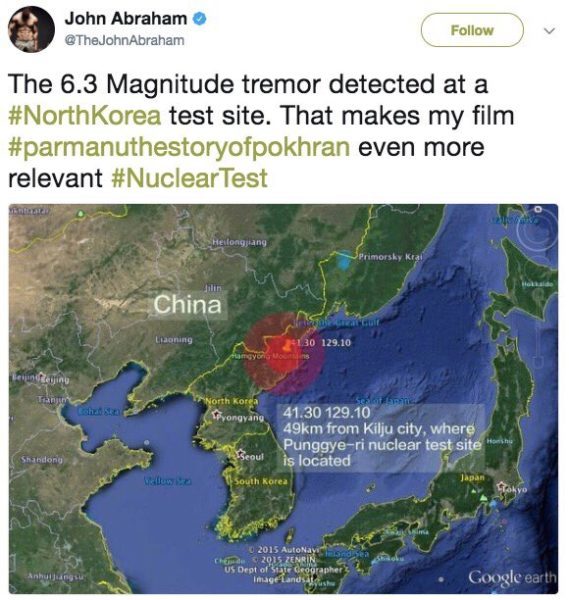 Even though he is one of the hottest actors of the Bollywood industry yet this type of tweet was not expected at all. He promoted his upcoming movie which is based on Pokhran nuclear tests.
5. Anushka Sharma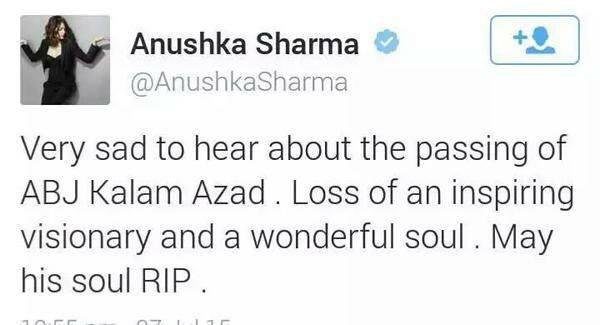 We all understand that the Bollywood celebs are under a lot of pressure and stress but who on the earth will write the name of such a legendary person wrong. We understand that she too was sad but Anushka should learn the art of proofreading.
6. Abhijeet Bhattacharya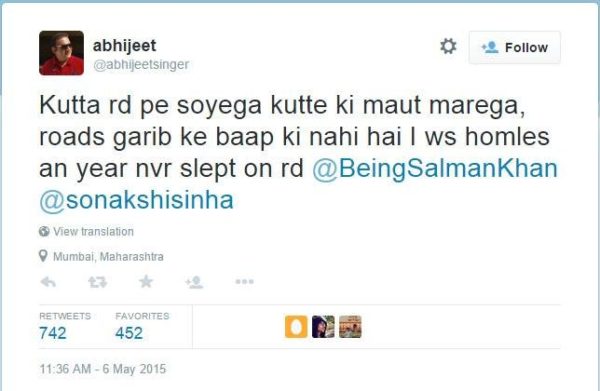 He has been tweeting nonsensical tweets since a long time. This tweet was posted in context with the Salman Khan hit and run case. Abhijeet is loved by millions of music lover but he lost respect when he tweeted this insensitive piece.
7. Uday Chopra
If I have a son I will name him Hashtag. Hashtag Chopra, I like the sound of it or just #Chopra

— Uday Chopra (@udaychopra) November 15, 2014
After reading this tweet of his I can only felicitate him as the king of the mindless clan. Twitter is not his cup of tea it seems.
8. Paresh Rawal

Paresh Ji no one can match your acting skills but in real life, you need to get out of your Phir Hera Pheri character. You have some moral responsibility towards the society in which you live. He came up with his own conclusion of the two different matters combining them as one.
9. Deepika Padukone

One of the finest actress of the Bollywood industry but she definitely needs grammar lessons.
10. Farhan Akhtar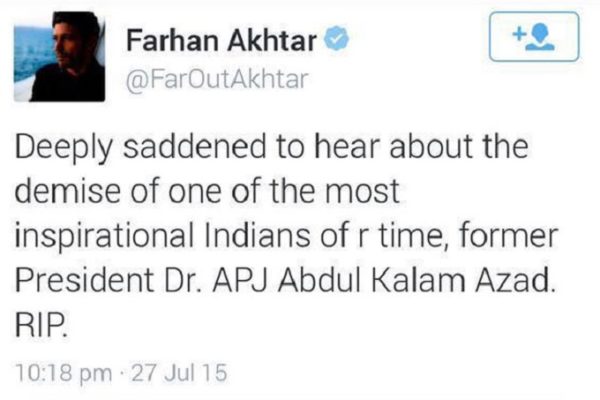 Farhan not you! We all had high hopes. Farhan too mispelled the name of the celebrated Indian leader.
11. Ameesha Patel
Lovely afternoon with darling @BeingSalmanKhan on sets of PRem Ratan Shan Paul pic.twitter.com/aPiAinHtGH

— ameesha patel (@ameesha_patel) September 21, 2015
It might be her career's biggest goof-up. PRem Ratan Shan Paul, like really? We highly advise her not to tweet when you are sleepy.
12. Salman Khan
The most heinous crime is killing an innocent

— Salman Khan (@BeingSalmanKhan) December 19, 2014
Salam forgot to mention here, "Pun Intended".
Share Your Views In Comments Below