Bollywood & TV
Twinkle Heavily Slammed For Trying To Troll Sadhguru Over His 'Golden Shower' Post For Hima Das
Twinkle Khanna, former Bollywood actress and wife of actor Akshay Kumar, may not have been able to achieve success in her acting career but as an author, she is definitely doing a great job. Moreover, she is also quite active on social media networks where she is famous as Mrs. Funny Bones.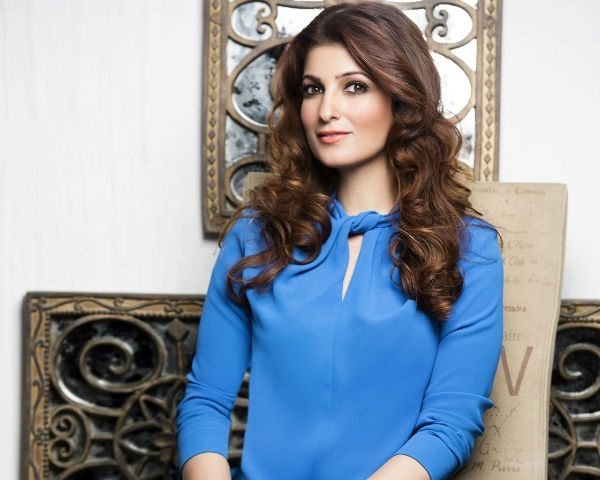 Recently, Twinkle Khanna was in the news but for all the wrong reasons as one of her tweets was not liked by Twitter users.
Unless you have been living under the rock, you must be knowing that Hima Das, also popularly known as Dhing Express, has made the country proud by winning 5 gold medals in a span of nearly 20 days and people from all the corners are congratulating her.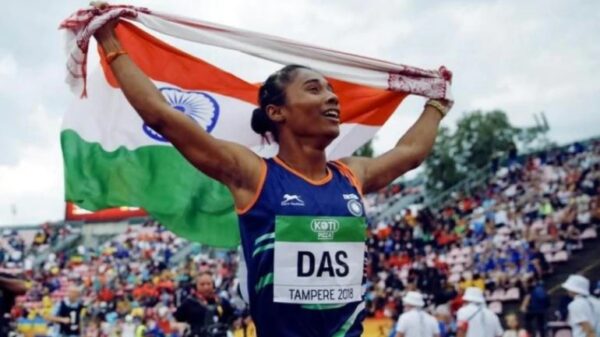 Famous religious leader and Indian yogi Sadhguru also took to the micro-blogging site Twitter on July 18 to congratulate and praise Hima; till then she had won 4 gold medals.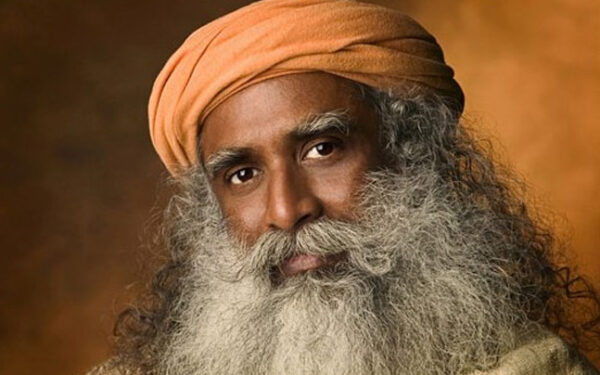 This is what Sadhguru tweeted, "Hima Das, a Golden shower for India. Congratulations and Blessings. -Sg"
Hima Das, a Golden shower for India. Congratulations and Blessings. -Sg @HimaDas8 #HimaDas https://t.co/lKtlDWkUFd

— Sadhguru (@SadhguruJV) July 18, 2019
Twinkle Khanna retweeted it but she added the caption which read, "And here I thought we were all only into Gomutra:) #HimaDasIsTheGoldStandard."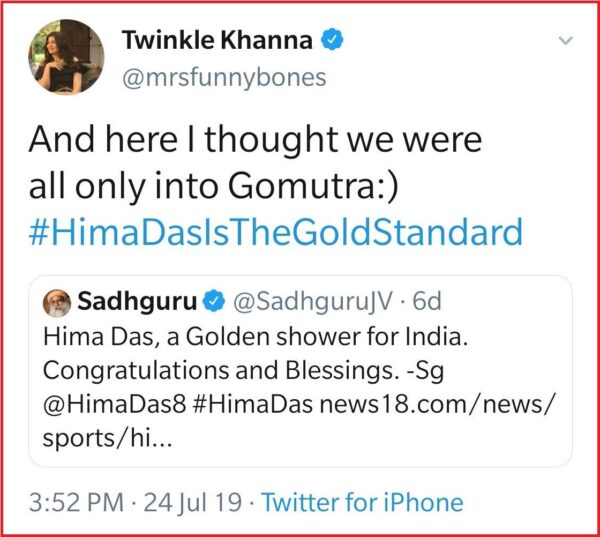 This tweet was not liked by many Twitter users and although Twinkle deleted it, there were many who took its screenshot and used it for trolling and slamming Twinkle. Even the movie director, Vivek Ranjan Agnihotri was not able to stop himself and tweeted, "The real #Intolerance is here friends. Even if disguised in Funnybones."
The real #Intolerance is here friends.

Even if disguised in Funnybones. pic.twitter.com/DDOerzDKOK

— Vivek Ranjan Agnihotri (@vivekagnihotri) July 24, 2019
Soon, the online users started slamming Twinkle, here are some reactions:
#1
Very very sick tweet from you Twinkle @mrsfunnybones . This could have gone as a dialogue in the soft porn movie your dad made. pic.twitter.com/RAKJaPJvEo

— Vishal. (@1vishalpandya) July 24, 2019
#2
@mrsfunnybones what's yr achievement in entire life other than gain everything from nepotism. U r flop actress, dumb with brain. When ppl get you then play women card. I wish you get some help from doctor before its too late…..
Get well soon pic.twitter.com/8zhXONT98M

— Anubhav Choudhary (@anubhavch07) July 24, 2019
#3
@mrsfunnybones
2 lines for you
Funnybones for Famesake
Achievement in life only Namesake 🤣🤣🤣

— Vikas Raina (@rainavikas) July 24, 2019
#4
It's makes me so surprised that how a girl like @HimaDas8 is became nations pride and the other hand an woman like @mrsfunnybones is a big shame…both are women but choose their own path one won the hearts of the millions and other????
She knows better 😏#shameontwinklekhanna

— Amrita Singh (@Amrita30935463) July 24, 2019
#5
Ye kya hai @akshaykumar? It's really shameful that @mrsfunnybones is making fun of Hindu religion. pic.twitter.com/brJiUefQkF

— Sameer Dubey (@sameerdbhakt) July 24, 2019
#6
So You Coward @mrsfunnybones deleted your this tweet; right??

I've seen many kinds of Perversions, but its peak!

Do @akshaykumar works so finely in righteous ways to hide your wrong-doings & perversions..??

Or you are so skewed that you don't even sense that you are sick now? pic.twitter.com/1DwrBU41t2

— Aarya (@Sanaatan_Shunya) July 24, 2019
#7
@akshaykumar
teach Ur wife @mrsfunnybones
some manner .Hima is a pride of India and Ur wife is a disgust to civilized society.Who can only crack double meaning jokes #IntoleranceGang #Intolerance pic.twitter.com/1XkdQGxtlG

— SB (@imsumeetbhati) July 25, 2019
#8
Weird humour like this has to be treated with GOMUTRA @mrsfunnybones ! pic.twitter.com/zaiVnMwAzE

— Karuna Gopal (@KarunaGopal1) July 24, 2019
#9
So cheap thinking really too much disgusting 😡

— कुलदीप चौहान KD (@kdsingh987) July 24, 2019
Think before tweeting is the mantra that should be followed by these celebrities. What do you say?
Share Your Views In Comments Below