Bollywood & TV
Twinkle Khanna Takes A Dig At Mallika Dua Again On Twitter. Gets A Reply From Her
The Akshay Kumar-Mallika Dua controversy is showing no signs of calming down. It's becoming complicated each passing day. Netizens trolled Mallika Dua & Vinod Dua left and right after they slammed Akshay Kumar.
Even Twinkle Khanna took to Twitter to defend her husband and to explain that humor should be taken in its context. We wouldn't have seen a tweet from Twinkle Khanna, but her fans unnecessarily dragged her in this matter by tagging her & forced her to share her views.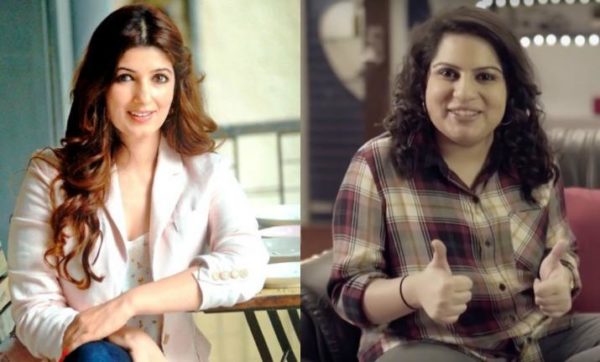 She didn't personally attack Mallika Dua but her views were crystal clear. If that was not enough, Twinkle launched one more indirect attack on Twitter by sharing 2 lame jokes. Yes, her main motive was to laugh on lame jokes and not create unwanted controversies over them.
Here's what she shared;
I couldn't resist these two and after this I am done 🙂 #LameJokes pic.twitter.com/3mMckTtmDu

— Twinkle Khanna (@mrsfunnybones) October 29, 2017
By using the words "Bell" and "Dua", we know what she means, but she's clever enough to not launch a direct attack.
Guess Mallika Dua understood what she meant and so, she dismissed her jokes with a tweet;
HAHAHAHAHAHAHAHAHAHAHAHAHAHAHAHAHAHAAHAHAHAHAHAHAHAHAHAHAHAHAHAHAHAHAAHAHAHAHAHAHAHAHAHAHAHAHAHAHAHAHAHAHAHAHAHAHAHAHAHAHAHAHAHAHAHAHAH No. https://t.co/x1GRbWCHkX

— Mallika Dua (@MallikaDua) October 30, 2017
Her taunt i.e. her laugh was enough to pass on the message to Twinkle Khanna.
God knows till when this controversy will go on. Every now and then, we are getting to know some new statements on this issue. Let's wait and watch.
Share Your Views In Comments Below